Archive for October, 2008
So it turns out that you can get Best Buy Reward Zone points for shopping online at places other than Best Buy…I spent some time last night researching where you could get them at, haha. I don't know why they don't advertise that more because you can get 3 pts for the dollar at Zappos, 4 pts for the dollar at Endless, and I think one point to the dollar at Wet Seal, Alloy, and Delias. I spent a lot of time looking at the Wet Seal site…holy crap they have a lot of awesome and CHEAP stuff. As I realized that I won't be off the Sunday after I get paid when we had planned to go shopping(My schedule will probably be Saturday through Wednesday, which kind of sucks as it means I'll get home from training at midnight on Friday and then have to get up and be at work at eight the next morning), I decided I'll just do most of it online. This DOES take a lot of the spontaneity out of it but allows me to indulge in my list-making obsession, haha. Because I actually went and dug through the clearance at every site listed in the apparel partners section on the Best Buy site, and I found a LOT of good stuff. Which makes me glad I did that, because a lot of them are places I would NEVER look normally (the Buckle?). I guess that's a lesson for the best of us. Anyways. I made a list of everything I liked and the prices, and then found them when I got home and added them to Polyvore to see what kind of outfits I came up with. This let me immediately see what was worth buying and what wasn't. Here's the results:
(side note: I always feel like a big twit publishing my Polyvores. everyone elses' are these little works of art and intricate mood boards, and for me it's just a quick and easy way to put outfits together and see how something will work for me)

dark school girl by declinedesigns

punk schoolgirl by declinedesigns

black and blue by declinedesigns
(the Hot Topic shirt looked like crap – you can see it here )
(again, here's the HT shirt)
Yeah, that's a lot. I was really surprised – I put the blazer in my items on just a whim and it turns out I actually found a lot of good uses for it. I also realized that I apparently have an insane love of turquoise and pink, especially together. I also realized that it seems I am just not drawn to long-sleeved shirts. I guess my style tends more toward layering than just wearing a long sleeved shirt to beat the cold. I'll probably get one or two in basic colors anyways. I also went ahead and ordered the two Hot Topic shirts (that didn't show up right) because they were marked down to half off clearance (sweet!) so it figured up to $10 each with shipping.
So, here's how it stacks up – once I buy everything (I will probably end up waiting 'til my second paycheck for some of it, but a lot of this stuff is clearance so I want to buy all the sale stuff ASAP) I'll have spent $235. For a jacket, a blazer, five skirts, two dresses, four shirts, and a cardigan. Which figures out to about $15 an item. Not bad! Accessories are another matter entirely, and I counted leggings as part of accessories…so yeah. That's an extra $50 or so. Still pretty good for a near-total wardrobe overhaul. And I also want to get a few pairs of shoes too haha.
I'm planning on getting a cashmere blend sweater off eBay still, and probably getting one more pair of jeans from a thrift store, as well.
But now! I have to go put my makeup on for the Halloween party tonight at work! I'm not doing anything exciting after I get off work, so I'm pretty psyched about dressing up. Pictures will come tonight or tomorrow.
No outfit post for today either because it's more of the same. See how bad I need new clothes? haha. It's the zebra cardigan with the black tank, black pants, and Irregular Choice flats. again. I was going to wear my Day of the Dead heels but I wore them to go get my car inspected (which took like 30 minutes longer than I thought it would and I ran out of things to do halfway through, bah!) and I think I am finally giving up on them. No matter what I do they still make my feet sweat terribly and they're a little too big despite the added insoles. Coni and Courtney and maybe Alicia if I can talk her into it (but she probably has to work) are coming over this weekend and we're trading clothes and etc. so I'll probably end up giving them to Coni. The thing I'm most annoyed about is that I put a pair of Insolia insoles in them and was stupid enough to *ahem* superglue them in because they kept slipping. And now that's a waste of $10 insoles. GRR.
Oh, I forgot to add to the list of great sites from the article: ShopStyle is AWESOME! Probably old news to everyone else, but it searches across several hundred websites to find what you're looking for, and then you can narrow it by price/color/etc. They also have a function where you can keep a "look book" and make a "look", kind of similar to polyvores. Pretty stinkin' neat!
I think I've found the boots I want. It's either this pair:
or this one: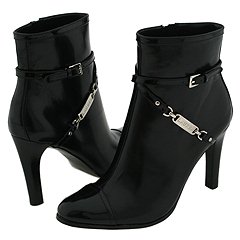 I wanted something with a chunkier heel originally because I'm afraid of slipping and falling, but neither of them look SUPER stiletto so I don't think it'll be a problem. I'm leaning towards the first pair right now. I might order both and try them on, and then ship back whatever pair I don't want.
I also found this pair of Vans flats: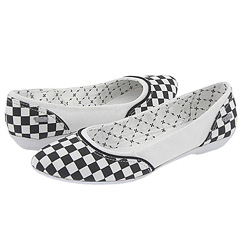 Which are totally effin' cute and I think I'll probably get them instead of the Madden Girl zebra flats I had in mind. I think these would go with more things andddddd I'm a sucker for checkers, what can I say.
Anddddd I did some trawling on the Hot Topic site, I think I'll probably be getting this skirt instead of the black pleated one with the pink skull in my polyvore. I like the black and pink one but I don't want to pay nearly $60 plus shipping and handling (which would probably be another $10-20) for a skirt when I have no idea if it's going to fit right or what the quality of it is or etc. I'm definitely still getting either the tattoo print pink scarf or the pink leopard print scarf though. Looking at the VS sweaters again, they only have up to a medium in the silk and cashmere one, and I'm not sure if a medium would fit me without getting that clingy-sleeves feeling that I hate. Lame lame lame. And I must have been REALLY tired (on second thought, I think we were watching Dark Angel, which probably explains it) when I looked at the other one, because I don't remember it being sixty bucks. I don't know if I want it THAT bad, especially since I can't actually see it in black first.
I am such a procrastinator. I'm going to be making my Halloween outfit tomorrow…haha. except for the cloche, all I gotta do there is sew on the sugar skull and finish the ribbon, and it is good to go. (and so freakin cute!)
Sahweet. Someone just messaged me on flickr wanting to trade for my Transport London kitten heels!
I can't wait 'til Saturday when I can put some color on this hair and liven it up. I cannot BELIEVE how much it's faded in just a little over a week. I've shampooed it twice fer cryin' out loud! It kind of pisses me off.
Now it's off to work. Tonight should be awesome, because I didn't take my normal mid-day nap. I've been up since around eight. Tried to go back to sleep but I couldn't, so yeah. I wish I had some caffeine.
Alliteration FTW!
So I swiped a coworkers magazine last night at training and found an article on saving money or something similar. Point is, it had several links to sample sale sites. If you don't know, these are the online equivalent of sample sales, where you can score higher end stuff for crazy marked down prices, and the sales only last a matter of days(two to three). The magazine stated all of them as being invite only, and I remember one of them not seeming that way last night, but that was last night and I'm way too tired/lazy to go recheck now. I'm including the invite code/URL listed in the article but if that expires, I'd be more than happy to send an invite to anyone wanting one. I signed up for all of the ones listed last night (except for ideelia, which I might have written down wrong as it redirects to a German site) and here's my thoughts so far:
Gilt (you can sign up, I'm not sure for how long, here)
Signing up was easy enough, but it seems to me like they decided to go for a good look with the webdesign instead of making it easy to navigate. I might just be dense though. There's also only three sales listed. It looks like most of the prices are very close to half-off of retail, with a few exceptions.
RueLaLa (can sign up here)
The markdowns vary all over the place depending on the line you're looking at. In one boutique, many of the markdowns were only $50 taken off or so, in another, there's a pair of Theory shoes that were originally $645 marked down to $249 (!!!). They also have a nifty feature where you can preview an upcoming boutique and have them email you a reminder before it opens. Navigation is intuitive and easy.
HauteLook (www.hautelook.com invite code: stylewatch10)
Most of the markdowns here are 50-75% off, so great savings. I like the site layout – it's not as pink as RueLaLa, but still easy to navigate. You can preview upcoming sales, but there isn't a feature where you can have them email you to remind you (which would be AWESOME, I am so forgettable). It looks like there's a new sale starting almost every day.
There were also some links in the article to some other useful sites…
ShopItToMe – You fill out the brands you want to be notified about, your size, and how often you want to receive emails, and they send you updates (ranging from daily to biweekly to weekly to monthly, etc.) via email about what stores haveare carrying the brands you're interested in on sale. I signed up last night and got my first email this morning (I set it to biweekly) – there's a good variety of retailers in the email, I remember Zappos, Nordstrom, Macy's, and a ton of other ones.
There's also eBates.com, where you get a certain percentage of your purchase back by using their site to visit retailers, essentially. I signed up for it but haven't tested it yet.
After I get a few paychecks under my belt, I fully intend on utilizing most of these sites (for research purposes only, of course!), so you can probably expect a follow-up review in a month or two.
no outfit today either. I took a nap and overslept and woke up with a fever and feeling like a truck had run me over. so it's black pants and a long-sleeved shirt for me today.
I got an email back from the people at Bronx and I guess that style isn't carried anywhere North America at all. She said they closest they had to it available was something like this. Which is cute and all but I wanted something with a heel. Sigh, pout. Back to the drawing board. Now I don't even know if I want the Nina boots or not because I got my heart set on an ankle boot haha. I've also added these stilettos to my "want" list, after seeing them on galadarling's blog. They show one of the only things I don't like about online shoe shopping, because I'd seen those shoes before and thought "cute, but not cute enough to get". However, they look SO much better on an actual person.
Anyways, I've gotta get ready for work. yay.
Called into the school today and talked to Sharon, and all I have to do is come in tomorrow and sign some papers and it's final. That's a huge load of stress of my shoulders. Although I still have to pay for the color that gave me a chemical burn and has already faded 2-3 shades lighter than it started out (and this is permanent color! seriously, I've got semipermanent stuff that works better than this!) but whatever.
I think I found the two other long sleeved shirts for my shopping list, at the Victoria's Secret website of all places. This one for sure, and either this one or this one (probably the first, after looking at the second again, it's a bit too long for my taste). In black, of course. I'll probably order a large in both to match my bust measurements (side note: I find it a bit ridiculous that I'm a large in VS sizes) and because I HATE super-clingy sleeves that are tight all the way down to my wrists – one of the reasons I avoid wearing long sleeved shirts very often actually. I also think that I can probably just get one skirt and one dress, as I still am planning on making that skirt to sew the t-shirt design on, and I'm also making my Halloween costume which will involve a dress, so I can probably cut the skirt off the dress and wear it or just wear the dress itself. The b/w striped sweater I'll probably just buy off the Wet Seal website so I can get the exact one I found on Polyvore, as it's  my favorite I've seen. It's proving to be really hard not to plan everything out before getting some money and leaving spontaneity in the shopping, as you can see! I might just limit myself to accessories and makeup when we go shopping. I def. need a waist belt, I was going to make that obi belt but changed my mind because I'm too afraid of doing it wrong, I think the leather is probably far too light for it. I've seen one very similar to what I want on UrbanOutfitters.com but it only comes in brown. LAME.
So I've been trawling the internet for blog posts and articles on finding and developing a personal style (post coming soon, don't worry), and stumbled across this little gem. The whole premise of that post was that the blogger found some other blogger's post about fashion "rules" and took issue with several of them (rightly so, I might add). However, what really pissed me off was this (the bolded part is the fashion "rule" from the other blogger) :
"If you wear anything larger than a size 6, then skinny jeans are not for you."
I agree in one context, and disagree in all others. If your plan is to wear a shirt tucked into said skinny jeans and you're not thin… that's a bad thing. However, if you're above a size six and want to partake of this trend, you can. Don't listen to this person. They know not what they speak of. I think of skinny jeans as neutral leggings. You can wear them under a tunic, a dress, a big sweater, etc. Any of these items will work well since the modified shapes that the eighties revival have brought us are still in full effect. Whereas I don't want to see big girls in tight pants, I have no problem seeing big girls in a sweet short sundress with skinny jeans and a pair of wedges below. Sheesh.
Okay. In the first sentence, the blogger just comes right out and says (or VERY heavily implies) that anyone over a size six is "not thin". WTF mate – a size six is pretty skinny for the majority of the population. I'm a six, most of the time, but I'm also like, five one, which has to be taken into consideration here. I mean, I'm not calling myself fat by any means, but I'm sure not a stick figure either, hah. Anyways. My second large issue with this excerpt is in the second to last sentence (or, I suppose, last full sentence) – "I don't want to see big girls in tight pants".
Well, gee, excuse me, but I'm pretty sure they didn't fucking ASK you if you wanted to see them in any damn thing they wore. They don't need your fucking permission. You took one idiotic rule and replaced it with another. Have you seen Beth Ditto in half of the things she wears? She breaks all the "fat girl" rules and looks SMOKIN' doing so. Jesus.
Anyways, outfit for the day:
(this is so crooked it kind of makes me dizzy! damn self-timing camera tilting all by itself…)
Boots: eBay
Shirt: by GAP, thrifted
Belt: from Hot Topic
Skirt: Target, severely modified
coat: dad's army jacket passed down to me (i.e. stolen from his closet a few years ago)
I know, kind of blah. I was going to wear a checkered bandana as a headband but no matter how I tried adjusting it it was too wide and made me look like that landlady from Three's Company. and then it made my hair all flat. grr.
and now it's off to work. toodle pip!
Because I feel like CRAP and don't want to think about what clothes I'm wearing and will probably end up wearing the exact same thing I wore last Monday. I don't know what the deal is, if it's because I didn't get enough sleep last night and ended up sleeping from 9:30 or 10 (I had been laying in bed since about eight thirty, but I'm actually a huge dork and read the wikipedia overview of the grudge yesterday and kept imagining something coming to kill me under the covers so I had a hard time falling back asleep.) to one off and on or what but I'm headachey, nauseous, feel slightly feverish, just generally shitty. I'm seriously considering telling Sharon I want to go on a leave of absence until training is over (which is ya know, like a week and a half, so it wouldn't be THAT long). I'm prone enough to getting really sick once every winter without lacking sleep, which not only tends to lower my immune system but also fucks with my blood sugar. I'm sure it'd piss her off though and I'm not sure if she'd let me do it. Half of me just wants to say "fuck it" and put my hours on hold now instead of waiting until the end of the year. I still haven't explained that whole thing to my parents, I'm not looking forward to it – I'm sure I'll get a lecture about how I'm a huge flake and a quitter and rawrawrawr but it makes sense, without both of us working full time there is no WAY we'll be able to afford getting married and moving, especially so close to each other, not to mention that if I stayed in school I would end up getting my license RIGHT before moving, so I would end up trying to get a job straight out of school in a city where nobody knew anything about the school I came from. There's also the fact that when I decided to re-enroll, Matt and I would be married, and thus I wouldn't be a dependent any more, and would be able to get financial aid, instead of ending up with quite so many thousands of dollars in student loans to pay back.
On a lighter (kind of…) note, I was hearing some funny noises in the kitchen earlier today and walked in there to see Giles playing with something. I went to say something along the lines of "Giles, what the hell are you doing?!" which he is used to hearing from me, along with such affectionate phrases as "DAMMIT CAT" and "you little shit!" ahem. But I stopped midsentence because he was playing with quite possibly the biggest damn wolf spider I've ever seen.
(the best picture I could get, Giles wouldn't stop batting the damn thing about)
I'm not squeamish about spiders, I grew up in a house where my dad told me to let the wolf spiders be because they ate the brown recluses (which I've been able to recognize since maybe 10 years old, oh living in the country is fun). But dear GOD this thing EFFING. HUGE. After Giles accidentally stepped on it and crushed the last bit of life out of it, I swept it up into a dustpan to flush down the toilet and took another picture.
It doesn't look that big here but seriously. It was enormous.
Also I would just like to say that whatever god/dess gave me my shoe taste was a cruel one, as the first pair of shoes I've seen that I thought "I GUESS that could be a suitable alternative to the Bronx boots if I can't find them" is this one. Which as you can see is nearly $300. Again, I know Frye is good stuff and all that jazz but I'm not sure if I can justify that one to myself. heh. There's also these, which could easily be toughened up a little with a skinny studded strap wrapped around the ankle a few times. And are much more affordable. I'm still going to keep hunting for the Bronx boots though!
Oh awesome. My phone appears to be not working as well. Any time I try to make a call it just hangs up in my ear. GREAT!
was not so productive after all. Worked an hour and a half on a skirt that ended up looking like crap and is actually too small for the applique that consists of the design from a t-shirt that's too small. I got frustrated and I've been sitting here on the couch watching the first discs of Dark Angel with Matt since. We also rented Amelie which probably won't get watched until Tuesday or Wednesday. It's on my list of movies to watch – I'm coming up with some movies that I want to watch for the aesthetic if nothing else, and kept seeing Amelie everywhere. Sounds like a good movie too.
Matt's been going on about Dark Angel for a while and it's actually not too shabby. The writing could be better (but then I hold everything up to Whedonverse standards), but the premise is interesting and the characters are strong. Also, Original Cindy KICKS ASS.
The failed skirt attempt will probably become the dropped-waist skirt of my flapper dress. I think, using it, I have enough fabric to make the dress with. The only thing is I need to come up with some kind of cover up because I'm going to be freezing my ass off, I'm sure. Maybe I'll just wear some leggings with it, haha.
I'd really like to get some of wire and clips so I can hang up inspiration photos (I have TONS of clippings from magazines) in my sewing room. I was going to try and find a picture of what I want to do, but I can't, rest assured it looks really cool though, according to my fine tastes and hey, what better judge is there, amirite? Or maybe I'll be a lazyass and just get a huge corkboard. I need to do SOMETHING though because we moved at the end of August and 75% of our posters are still lying in a pile in the bedroom.
Anyways, it's now almost midnight and I should probably go to bed so I'm not dead to the world tomorrow. I'm sure I'll just end up coming home from school early and taking a massive nap, but eh.
Because I just NOW realized that the Soviettes broke up. (well, went on an undefined hiatus and have stated they probably won't end the hiatus…). IN 2006. WHERE WAS I AT DURING THIS?!
That makes me so sad. They were such a good band. Also, I want ALL of the clothes from this video. Freaking all of them. Watching it has reignited my want for a pair of zebra print pants/leggings. There's an American Apparel pair but $42 for a pair of leggings is a bit much…however the reviews say they aren't see through so I could use 'em as pants too. I don't know, I'll debate overpriced leggings later.
I guess the DIY day is off – Courtney's being forced to do laundry instead and Coni is keeping her company. Which is TOTALLY lame and a whole 'nother rant. Not mad at them, but at the situation, I guess. I can definitely at least get my skirt done today…so I guess I'll go off to have at least an hour of productivity and probably post again later tonight.
I have a feeling this is going to become an addiction:

pink/white/black by declinedesigns


fabulously 80's by declinedesigns
I have no qualms about admitting that I love 80's fashion, haha. (this one I entered in the iCiNG contest as well)
Although – semi-surprisingly – it's kind of a really useful tool in several ways. It helps me see how I put an outfit together for one thing. And it definitely lets me immediately see what I would actually wear or is versatile and what isn't – I added a ton of things to my items, thinking "oh how cute!" and then when I went to put something together, I was left staring at the screen going "yeah, it's cute, but none of it goes together. shit.". It's helping me narrow down my shopping list – so far I've got (yes I know this is obnoxious and I just went over it last night, I am an obsessive list maker so you can feel free to skip it):
a black and white striped button up sweater
1-2 other long sleeved shirts
the aforementioned shoes (update on the booties! I found the website for Bronx shoes and emailed them about the issue, and a girl on PRD, who lives in Finland I believe, said she will keep an eye out for 'em for me, and will let me know if she sees them so I can pay her/have her buy them and ship them here.) one pair each of heels/flats/boots. any other new shoes will be thrifted.
at least three pairs of leggings (this is depending on how many I can find at thrift stores) – the blue/black leopard print pair from Forever 21, for sure, as well as a black pair and another solid color, probably pink or green.
the London Calling shirt from above, and probably one other t-shirt or short sleeved top.
the pink skull skirt from above, one or two other skirts, and one dress (at a total loss where to go with the dress. Some lacy black confection so I can pair it with my oversized camo jacket, some bright leggings, and motocycle boots? or a leopard or tattoo print in a retro cut?).
a new pair of jeans, probably in a medium wash (washed the thrifted Converse jeans today which completely solved the fit problem – yay!) and a pair of black skinny jeans. maybe a pair in an obnoxious color.
a few large square scarfs, maybe the one in the Polyvore above, and a few new hair bows (those I can/will DIY though, most likely, although these are pretty badass and probably something I will keep in mind). oh and probably 2 bracelets (the handcuff one from above and the Etsy one).
and the bras of course!
As far as productivity goes, today was a total waste. BUT Coni and Courtney, as well as a girl from training at work (oh god my house is a mess, she will think I am a slovenly pig) are coming over for some DIY'n tomorrow, so hopefully at least the skirt will get done. We just watched Chasing Amy (which is the only Kevin Smith movie Matt hadn't seen yet) and I really should have been crocheting on my cloche or the swap hat, but instead I was coming up with a shitload of awesome and informative stuff in IFB's archives to read. Which I am off to do now!
Oh and I almost forgot to add – apparently Google has an office in Austin, how cool would it be if I could get a job there?! Not sure how I'll get there from a Best Buy call center, but that doesn't mean I can't try, right? hah.
So, we're making progress on the boots. With the help of the luverly girls at PRD, I figured out that the site is in Polish and the cost of the shoes is about $75 USD. Totally affordable. I emailed them to see if they do international shipping. Which will probably cost an arm and a leg, but I WANT. And really that's a lot cheaper than I was expecting.
So Milla over at FashionSanity posted a picture of Daniel Radcliffe
and um. WHOA. I didn't recognize him at first. DAMN. (his appearance is probably nothing new to people who don't live under rocks, but I haven't seen a picture of him since the Equus photos came out)
I thought most of the night at work (it's training – it requires NO thought, for serious) about ways to expand my closet without buying any more actual clothes. I mostly came up with leggings/tights, socks to wear with heels (there has to be a smoother word for those – but heel socks just sounds lame), and belts. Like I said, I'm making an obi belt for myself (or will finish it eventually, when I stop waffling on what to make the strap out of – I'm still afraid using leather will have a bad result, maybe I'll post about it on craftster), but I think I could use a corset style one as well, like this:
But I don't know. Not sure if I'd ever actually wear them, ya know? I also think I could probably do with some more jewelry. But I'm pretty limited to bracelets or rings, as I'm always wearing my ankh necklace, so unless I'm wearing a long necklace the two hit each other and that annoys me. I found a cool bracelet on Etsy (which I'm not linking to, as it's a limited edition thing and I'm paranoid someone will buy it – or already has – before I get paid
) but that's about it in the jewelry department so far. I'm trying to come with a set list of the things I want/need from my wardrobe so I'm not just aimlessly dropping money once I get paid, and so far I have:
-more long sleeved shirts – sweaters or cardigans would be nice for layering. HT used to have a cute cardi, maybe it's on sale by now. Actually, nope, still $36, so I'll probably pass. It's not THAT cute. A classmate at school mentioned she got her striped button up sweater at Kohl's for $16 and I think she said they have B/W, so I'll probably go see if they still have them when I get paid. Probably 3 long sleeved shirts/sweaters/cardigans all together.
-more shirts in general. I have like, four. I could probably use 1-2 t-shirts(the London Calling shirt can fulfill one of these, and probably another band shirt, both to recon), and 1-2 half or 3/4th length sleeve shirts.
-more SHOES dear god. Probably at least one more pair each of heels, flats, and boots. So far I've got:
and either the aforementioned dream booties, or these:
or both…haha. yeah I have a boot thing. But probably just the booties if I can get my grubby lil paws on 'em.
-at least two new, GOOD bras – all of my bras now suck, and I think I might have gone up a size (which I hope not, because I'm sure 34E is a pain in the ass to find anywhere…)
- one more pair each of dark jeans, medium or light jeans, and black pants. I'm really annoyed because these Converse jeans I got at the thrift store and subsequently took in to make skinny jeans fit PERFECTLY – ohsogood – when I first got them and now they're super loose. I've worn 'em a few times without washing so maybe they're just stretched out, I sure hope so, because then I can cross off dark jeans.
- I would also like to get more skirts and dresses. I've got a t-shirt I've been meaning to recon into a dress, and a skirt will be made this weekend, but I'd like one more of each.
I'm trying to keep these fairly vague because we're going to spend a whole day shopping at thrift/vintage/mall stores in Springfield, so I don't want to have it all planned out before then and be so anal about sticking to a plan that I lose some good finds, but I really don't want to go out without a budget or a plan and just spend $300 on junk, ya know? Of course, I won't be buying this ALL at the same time (wish my paycheck was big enough for that!) – it'll probably be gradually over 2 months or so.
Along expanding my closet line, I have a pair of heels that I LOVE to wear and are super comfortable when I put on – but something about them makes my feet sweat. Haha, TMI, I know. They're made of leather, so they should breathe. I cannot figure it out for the life of me but as soon as my feet start sweating, they get slippery and then it's all downhill from there.
Swapping is also a thing, I need to actually go post my intro post on that flickr group and put some of my stuff in there. One of the girls on PRD flaked out (GRRR) on a swap for some Vision Streetwear shoes, so I should put those up too, along with a pair of skater shoes I've worn maybe three times. I'm just not sure anyone will want them as it doesn't look like many people on that group share my style, so to speak.
I also REALLY need to finish the swap hat and art doll this weekend. I have nothing to stuff the damn doll with though, and I'm so broke it's not funny, so I'm not sure how I'll solve that predicament.
and now I really, really need to go to bed. I didn't realize how long this had gotten or how late it is (2:08 AM!! yikes!!).