First off, I think it's absolutely disgusting what happened at the Long Island Wal-Mart. I know I joked about the evils of Black Friday yesterday but seriously? If you walk on someone on your way in the store and don't stop to help them up because of the fear you might not get the sale items you want? I think everyone who stepped on him and didn't help him up should be charged with manslaughter, unfortunately, there's no way to know who did and who didn't.
Anyways, we didn't hit the mall until nearly nine. I got a pair of bracelets (from Steve and Barry's, I think by Bitten), a cashmere/cotton blend sweater at Pac Sun ($13 - originally $40 - helllllll yeah!), a faux-leather bomber-type jacket ($16 on clearance), and a clearance t-shirt and set of hair clips at HT. Not a lot, but it turns out I'm a rather discerning shopper. Who would have guessed?
And now, some pictures: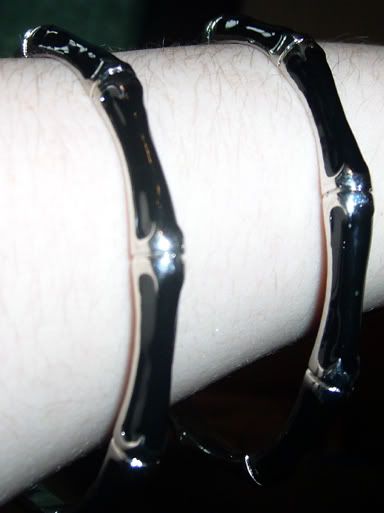 the bracelets…I like them because I thought they looked like bones. not sure if they're supposed to though.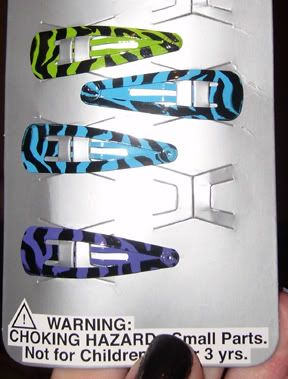 the clearance hair clips - marked down because there were some stolen. I probably won't be wearing the blue for a while for obvious reasons but I'm wearing the green and purple right now.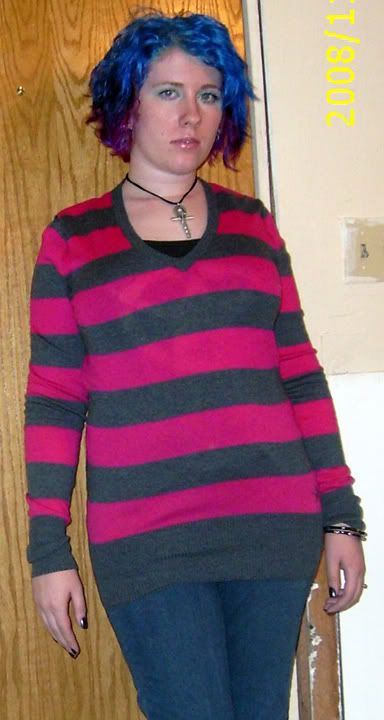 the sweater. so soft!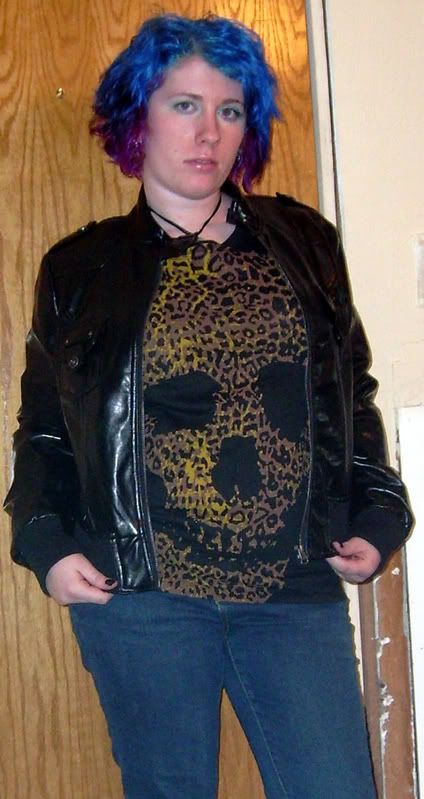 jacket and t-shirt. Alicia told me it looked like a biker jacket, but in a good way. and Matt said that shirt looked like the Punisher shirt but in leopard print. Raspberries to both of them! pbbthhh!
My fingernails are painted for the first time in FOREVER - Black Diamond by Sally Hansen. It looks like a super glittery iridescent black in the bottle and goes on a little less glittery, which is disappointing. I put it on Sunday and it didn't start chipping until today though, which is better than I've had most nail polishes fare. I tend to be a bit rough on the nails. I really like having them painted though, I might stock up on nail colors I like and change it once a week, that's low enough maintenance for me.
I got the Sofft shoes today. ARGH I was so frustrated because when I called, they told me that 7.5 wasn't available (in wide or normal sizes - they're almost completely out of normal width in black patent, so I ordered wide, which is fine as far as I can tell) so I ordered an 8. Well, the eight is WAY too big on me. Even with a ball-of-foot insole it's too big. I looked online and tada, the 7.5 wide IS available. I had called and talked to a rep as soon as I realized they didn't fit, and was told that I could just go through the return process (since I already exchanged once, I can't exchange again), get store credit, and immediately buy the other size, since there's only two left. I go to do that and never got the option for store credit, so I call again. This time I'm told that since I already exchanged once, I'm just going to have to return it and wait for it to be credited to my account (which, like I said yesterday, I was told could take up to two weeks). I got a little annoyed and the rep hastily added that he could just do one more exchange. I don't know if this is just bad luck, because I've heard RAVES about Zappo's customer service everywhere, but jeez. For one, two weeks for money to get credit is absolutely ridiculous. I've worked retail for three years now and never heard of it taking that long, online or off. What's more is that if I exchanged instead of returned, the extra money was processed immediately and I was told it should be in my account in 2-3 business days, which says to me that, again, there's no reason it should take two weeks for money to get credited. And the only reason I had to exchange it again was because I was told my size wasn't available, when it was! Sheesh.
I also got the Hard Candy order too. Apparently I ordered two lipglosses, I'll just stick one in Ashley's presents. I'm liking it so far, although the eyeshadows go on a LOT lighter than they appear on the palette and require a lot of building to get them beyond a sheer pastel. Example: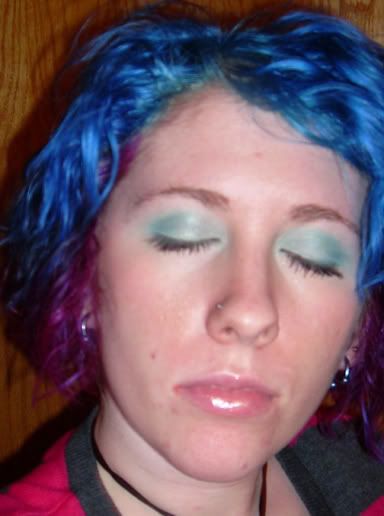 This is Snow Cone in the eye shadows, with a Jane turquoise eyeshadow on the crease and outer edge. It probably took 2-3 minutes straight of putting eyeshadow on each eye to get it to THAT level. It is a pretty color though - just not as bright as I'd hoped.
And now I have all kinds of fun stuff to do - drop the shoes off at UPS, drop overdue rented movies off and maybe rent some more, and do laundry. Hope everyone else had a great Thanksgiving and Black Friday!!