Archive for November, 2008
Do I have a problem? Very possibly…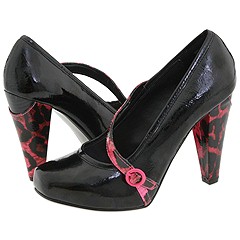 I've been craving leopard print lately if you can't tell. The first one I probably wouldn't wear but I'd like to buy the second one at some point.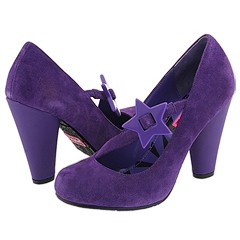 I really like these…
but they're $245, which is a bit much. So I started looking for something similar that was a little closer to my price range… (even though it's the middle of winter and strappy stilettos are NOT the most practical thing to own now)
I also found these…
Don't know if they ship to the US though.
And some truly hideous wingtip-inspired peep-toe brown-on-brown wedges I saw online made me want to find some wingtip-inspired heels that weren't hideous. Here's what I got: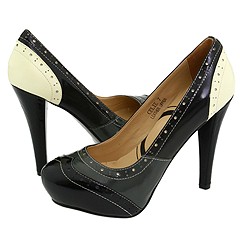 Also, I'm pretty psyched because Trashy Diva has some dresses on super-sale…I might get my retro style LBD after all! sahweet.
For some reason, I've decided I want to try hat-making, even though I haven't even sewn anything (except for the broken purse strap) in two weeks. We were watching Leatherheads and the cloches Renee Zellweger's character wore throughout the movie were absolutely divine.
And on a totally un-fashion-related note, I am kind of annoyed at Planned Parenthood right now. When I went in to get birth control in the first place, I told them that I needed something that would help with cramps. Because seriously folks, I have killer cramps from the ninth level of hell. They told me the pill they were putting me on would help, and that if it didn't, I'd be able to switch to a different pill no problem. Well, it doesn't help. I mean, it helps, but in a takes-the-edge off kind of way, not in a happy cramp-free sort of way. So I tell them that about a month or so ago when I went to pick up a new pack, and NOW they say that if I want to change pills I have to schedule a consultation, which is $40, first. The pill packs are already $27 apiece. I was just planning on going straight from pack to pack without taking the placebo pills until I got insurance and then going to the doctor and getting something that would actually help with cramps, but as it turns out, you can only sign up for benefits and insurance once a year and that's in December. I won't have been there for 90 days until late January-ish. SO I won't have insurance until Matt and I get married in May. GRRRRR. Anyways, I totally lost track of the reason I'm currently annoyed, which is because they were closed on black Friday when I went by to get another pack, which means that I couldn't skip my placebo pills this month, which means I'm in for three hellish days in the next week. lame. as. hell.
After reading Sal's latest post about accessories, I started thinking. I LOVE her example of the LBD – how "a punk, a prep, and a princess" would each make it their own. So I started thinking – how would I make it my own? This is what I came up with:

Little Black Dress by declinedesigns
Of course, I picked a retro-looking dress with a huge circle skirt instead of a sheath dress. But it's still a black dress, amirite?
How would YOU accessorize your little black dress of choice?
Here's what I wore today:
sweater from Pac Sun, jeans from HT, studded belt from Wet Seal, boots from eBay, necklace from Etsy, jacket from DEB
Yeah, apparently the picture gods were not with me today, because the picture with Giles in it was the best one I could get. And then we have this gem:
mhm. I told Matt to go in front of the camera, and he waited until the last second to do so. What a dork, right?
as for the gratuitous cuteness:
Yeah. Wesley is still getting the hang of the whole, eating from a bowl thing.
When I started this blog, I meant to post a lot more DIY. I had tutorials in mind and everything. Unfortunately, since starting my new job (which, as you may recall, happened around the same time as the beginning of this blog), I really haven't had a lot of time for DIYing. It makes the heart sad. I promise I'll try my best to have at least ONE tutorial up before Christmas, even if it's a totally simple cop-out one like shredding your tights
But today, I'll be writing about a topic near and dear to my dorky little heart: vintage sewing machines.
"What?!", you say. "Why by vintage?! I can get a new one for $60 at Wal-Mart!"
True, you can. Also true is that the $60 machine from Wal-Mart will most likely have trouble sewing through two layers of denim. Recall the post where I mentioned my vintage sewing machine sewing through four layers of leather with no problem.
That, my friends, is just one reason to buy vintage. Older machines, like many things "back in the day", were made to be repaired, not replaced. There are several machines which have all-metal gears, which lets them sew through just about anything you'll need to sew through. They're usually cheaper than new machines if you can find them in the right spots, and you're also being sustainable by buying something that a. would have been thrown away normally and b. won't be thrown away for years if cared for properly, unlike a lot of the "plastic wonders".
Now that we've got the benefits down, here's more information:
Vintage machines are NOT more likely to break down if you get the right one. If a machine with all metal parts is taken care of properly (yes, you will have to oil it from time to time) it can last ages. Hence why these machines I have are running better than the plastic Brother I was given for Christmas 2-3 years ago. They're also REALLY easy to fix on your own and most of the time just need some lubrication in the right spots. If you are willing to put two hours tops of reading information about fixing the machine and then doing it, you can fix a good amount of the problems you will run into. Parts can be an issue, but unless the machine in question is very rare, it's less of a problem finding parts and more that they might be expensive. They don't have a lot of fancy stitches but really, I never end up using even the embroidery cam stitches except for very rare occasions anyhow. People want fancy stitches but unless you KNOW you will be doing something other than just straight stitch and zig-zag, don't waste your money.
I would recommend anything from the Singer 400 or 500 line (these come in a beige casing and have the model number on the front, above the stitch length selector), any of the Viking 6000 lines, hell if you can find a Singer 15 (the machine in your link looks like a S-15) or Singer 15 clone for cheap, snatch it up. Older Kenmores are good too. I believe that plastic machines weren't commonly made until the '60s, the Viking I have that's from around 1977 is mostly metal though. Anything from the 50's is a pretty sure bet. Places to check include Craiglist, garage sales, and thrift stores. The Salvation Army here gets new ones on a weekly basis, and they're never more than $40 (most of them have the cabinet too). It might be different depending on the location though. But either way, it's hard to find even the best vintage machines for more than $200 and you can NOT find a plastic new machine for the same price that is anywhere near the same quality or durability. One of the reasons they started making plastic machines is because you can keep the metal machines going for generations (obviously) if you take good care of them. Which isn't good for business, haha.
Machines that I have:
Like the caption says, this is a 1953 Mercury machine. A Singer 15 clone (the S-15 machines are very similar in body style and sometimes decals). $25 off Craigslist. I can't find a cabinet to put her in
I named her Sylvia!
Like I mentioned before, this is probably from around 1977. One of the reasons I named it Vivienne. (You should know why!
) It has several built-in stitches, cams that give it more stitches (both functional and embroidery), and has a low-torque function that is awesome and makes it possible to sew through some pretty thick stuff. This is the one I fixed my handbag with. I found it on eBay and paid around $50 with shipping, for it and lots of accessories/most of the available cams. It didn't have a foot pedal and the foot pedals normally run $85ish, but at that time there HAPPENED to be one on eBay for $25 w/shipping. Meant to be, right?
This is a late 50's/early 60's machine. These are GREAT machines! No belt, gear driven, so it can sew through damn near anything. This was $35 off Craigslist.
Machines that you should watch for!
This is a machine I used to have, that I sold on eBay. $20 at the Salvation Army, WITH a cabinet. The Slant-O-Matics are in the same line as the Rocketeers and are also great machines.
Singer 400. Same machine as the Rocketeer in a different casing. The 400 series style is more like this – any of them are great, they're all the gear driven ones. The 300 series looks similar, some of them are black, and are also worth buying, I think they may be only straight stitch machines, not sure if they use cams.
Bernina 830. If you see any old looking Bernina machine, it's worth buying. The 830 is just particularly coveted.
I hope my post has been of some helpfulness! Vintage sewing machines are SO worth it, even if it needs fixed up a bit after being purchased. These machines have already lasted 30-40+ years and will probably last a lifetime if cared for properly. The benefits of a vintage sewing machine far outweigh any small shortfalls.
First off, I think it's absolutely disgusting what happened at the Long Island Wal-Mart. I know I joked about the evils of Black Friday yesterday but seriously? If you walk on someone on your way in the store and don't stop to help them up because of the fear you might not get the sale items you want? I think everyone who stepped on him and didn't help him up should be charged with manslaughter, unfortunately, there's no way to know who did and who didn't.
Anyways, we didn't hit the mall until nearly nine. I got a pair of bracelets (from Steve and Barry's, I think by Bitten), a cashmere/cotton blend sweater at Pac Sun ($13 – originally $40 – helllllll yeah!), a faux-leather bomber-type jacket ($16 on clearance), and a clearance t-shirt and set of hair clips at HT. Not a lot, but it turns out I'm a rather discerning shopper. Who would have guessed?
And now, some pictures: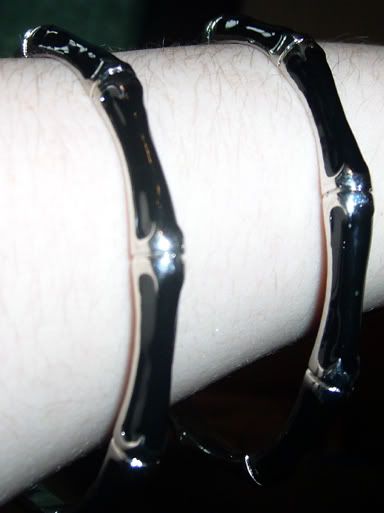 the bracelets…I like them because I thought they looked like bones. not sure if they're supposed to though.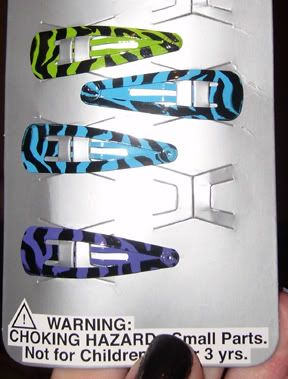 the clearance hair clips – marked down because there were some stolen. I probably won't be wearing the blue for a while for obvious reasons but I'm wearing the green and purple right now.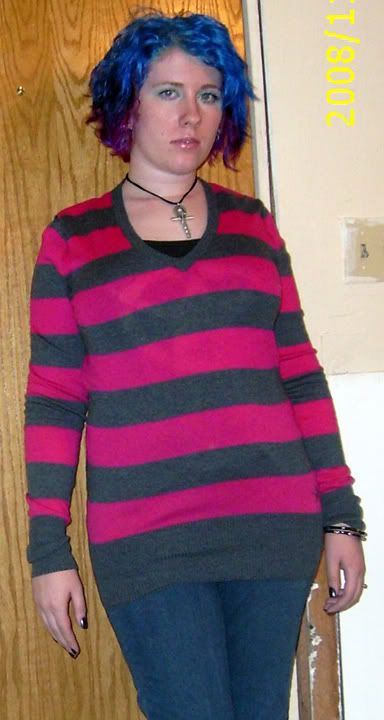 the sweater. so soft!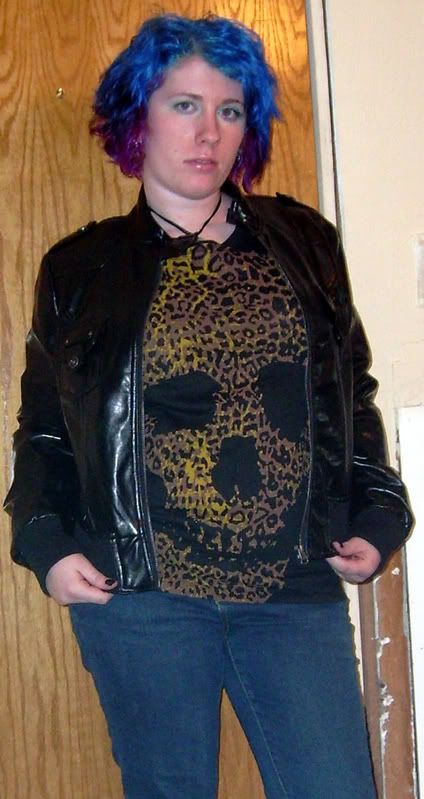 jacket and t-shirt. Alicia told me it looked like a biker jacket, but in a good way. and Matt said that shirt looked like the Punisher shirt but in leopard print. Raspberries to both of them! pbbthhh!
My fingernails are painted for the first time in FOREVER – Black Diamond by Sally Hansen. It looks like a super glittery iridescent black in the bottle and goes on a little less glittery, which is disappointing. I put it on Sunday and it didn't start chipping until today though, which is better than I've had most nail polishes fare. I tend to be a bit rough on the nails. I really like having them painted though, I might stock up on nail colors I like and change it once a week, that's low enough maintenance for me.
I got the Sofft shoes today. ARGH I was so frustrated because when I called, they told me that 7.5 wasn't available (in wide or normal sizes – they're almost completely out of normal width in black patent, so I ordered wide, which is fine as far as I can tell) so I ordered an 8. Well, the eight is WAY too big on me. Even with a ball-of-foot insole it's too big. I looked online and tada, the 7.5 wide IS available. I had called and talked to a rep as soon as I realized they didn't fit, and was told that I could just go through the return process (since I already exchanged once, I can't exchange again), get store credit, and immediately buy the other size, since there's only two left. I go to do that and never got the option for store credit, so I call again. This time I'm told that since I already exchanged once, I'm just going to have to return it and wait for it to be credited to my account (which, like I said yesterday, I was told could take up to two weeks). I got a little annoyed and the rep hastily added that he could just do one more exchange. I don't know if this is just bad luck, because I've heard RAVES about Zappo's customer service everywhere, but jeez. For one, two weeks for money to get credit is absolutely ridiculous. I've worked retail for three years now and never heard of it taking that long, online or off. What's more is that if I exchanged instead of returned, the extra money was processed immediately and I was told it should be in my account in 2-3 business days, which says to me that, again, there's no reason it should take two weeks for money to get credited. And the only reason I had to exchange it again was because I was told my size wasn't available, when it was! Sheesh.
I also got the Hard Candy order too. Apparently I ordered two lipglosses, I'll just stick one in Ashley's presents. I'm liking it so far, although the eyeshadows go on a LOT lighter than they appear on the palette and require a lot of building to get them beyond a sheer pastel. Example: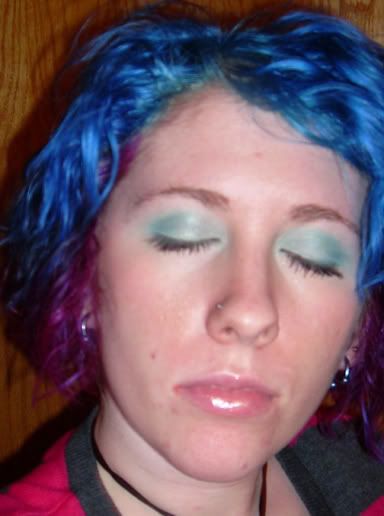 This is Snow Cone in the eye shadows, with a Jane turquoise eyeshadow on the crease and outer edge. It probably took 2-3 minutes straight of putting eyeshadow on each eye to get it to THAT level. It is a pretty color though – just not as bright as I'd hoped.
And now I have all kinds of fun stuff to do – drop the shoes off at UPS, drop overdue rented movies off and maybe rent some more, and do laundry. Hope everyone else had a great Thanksgiving and Black Friday!!
-only having to spend two hours with family for Thanksgiving, haha.
-that we don't have to bottlefeed Wesley any more! YAY!
-speaking of Wesley, I gave him a quick bath a few minutes ago, and now he smells SO much better. Also, I think Wesley might be a she. hah.
-shopping, yay!
-My Betseyville boots. Know I've mentioned these before, but I love 'em.
-My handbag strap broke yesterday. I love the fact that my vintage sewing machine sewed through four layers of leather with no problem, so it's fixed now.
-I made a sale on half.com!
-I finally got the bracelet I swapped for over flickr. and it is exquisite.
To give you an idea of the sale, it's only about an inch tall. I thought about giving it to Coni as a Christmas present (she loves religious kitsch) but I think I'm going to give her this necklace instead and keep this little beauty of a bracelet all to myself.
-Wists! So nice to have everything in one spot.
Hmm that's all I'm coming up with right now. But isn't the bracelet pretty?!
Happy Turkey/Tofurkey/Turducken/etc. day. I personally am not a huge fan of Thanksgiving, being a vegetarian. And I'm not a huge fan of most of my extended family. That makes me sound like a terrible wretch, I know. But a. I can hardly eat anything that ends up being served and b. one side of my extended family is, how to put t…colorful? dysfunctional is more like it. Which results in jibes at my hair, among other things. Tons o'fun. Anyways, today went relatively uneventfully, thank god. I found out I'm descended from royalty hahaha. I started talking to my mom about borrowing her genealogy records so that I could find some more information out about my native ancestry, and my grandpa overheard and started talking about some new software he'd been using that had helped him find out all kinds of stuff. Apparently, I am a direct descendant of Magnus the barefoot king of Norway, as well as Alexander the Great waythefuckbackthere. Pretty neat, eh?
Right now I'm just sitting on my couch flipping through Black Friday ads. I am planning on shopping tomorrow even though it is the evil consumerist holiday, because I am le cheap and if I can get something I want for 75%, by god, I'm going to do it. I refuse to go at like, four am or anything though. Alicia's picking me up at 8:30. The main thing I'm looking for is a coat, I've been scouring the internet to get some idea of things I like so I can quickly sift through sales racks. These are some of the things I've seen that I like:
Totally LOVE that one. The plaid is great, the cut is great, the colors are great. That will probably be something I buy within the next month or two.
You wouldn't even need to plan an outfit if you were wearing that coat! Just wear some backseam stockings and cream heels and you're good to go!
And Forever 21 has quite a few coats that have some wool content and are VERY reasonably priced:
That coat also comes in a bright blue:
In my internet wanderings, I also found plasticland.com. Where I didn't find many cute coats, but I did find some awesome t-shirts.
and these dresses:
It says sparrow dress on the website, but that's totally a swallow, so I corrected it for them.
and as far as trying to find a retro-inspired nightgown, the closest I've come is this:
Which is not quite what I was looking for, sigh.
Wow, after unloading all that I really feel like a consumer whore, haha.
As I mentioned in the other post, I sent the Guess Borda back. I was REALLY peeved when I found out that it would probably take TWO WEEKS to get my refund. So I said screw it, if it's going to take that long to get my money back I'll just exchange them. Which I did, for the Sofft Gillian, which will be here tomorrow. And the leftover $15 should be in my account by tomorrow or Saturday, which says to me that there is no reason a refund should take two weeks. But whatever. Cute shoes my way. I should also get the Hard Candy makeup tomorrow, and hopefully the Tryst bracelet! At any rate, I'll be back later with a TILT post. Right now, I'm still flipping through the ads.
On the shoes note, I sent the Guess Borda back. I'm not sure if my feet are a little wider than normal or what but I personally found them REALLY uncomfortable. Like, after sitting in them for 20ish minutes my feet were starting to ache. They cramped my ball-of-foot area so badly it wasn't funny. This is contrary to everything I've read on them, so I might try buying another pair in a half size up later, but this time around I decided to just get my money back for the sake of some Black Friday shopping. I also don't think they mesh with my wardrobe as well as I thought they would, so I might find another pair of mary jane heels.
I have in fact already found two that might replace them, Gillian by Sofft (I am leaning towards these, because they are a. less expensive and b. will probably be pretty comfy)
And Molly by Dolce Vita, which are supercute with their retro flair, but are more expensive. I would just post the picture but that is, as far as I can discern, impossible to do from endless.com, so bah. This means much less eye candy and many more links.
I absofreakinglutely LOVE these teal heels. The shade of teal, the silver edging (for some reason, I am crazy for silver and teal, and also silver and black), the cute chunky heel…love it all. These will definitely be in my closet sometime in the near future. The plum ones are pretty nice to look at as well, but  much prefer the teal.
Irregular Choice is made of win. Examples:
These wedges are cute, I'm not crazy about the minor split-toe thing going on, but hey.
I would probably find them more wearable (although slightly less pretty) in black:
These heels are amazing and inspired, although I'm not very sure I would wear them. They make me think of something I would see on fashion forestry, except that her's would be vintage and probably way cooler. These spaceship heels are probably something I would wear more, although I think I'll just look at them and not think about aliens. I have kind of a crazyass phobia of aliens. Once of my friends from cosmetology school regularly wears an owl necklace and professed to have a love of owls – these shoes made me think of her. And these are on-sale, although probably a little too classy for me!
I'm sure the last thing I need is more boots, but these black boots from Ruche are cheap enough to be justifiable:
As are these from ModCloth:
Last but not least random, I have for some reason decided I want to own a retro-inspired nightgown. Something pretty and flowy. Weird, amirite? Also, damn near impossible to find!
There are several things to consider when buying a garment or accessory, too many times we just fall into the trap of looking at how much it is and assuming many things about the item from that. There's the cost per wear, for instance. My Betseyville boots were $115, but I've already worn them 3-4 times in the two weeks I've had them, making the CPW already a relatively low $28.75, with plans to wear them a WHOLE lot more. By they way, they've broken in wonderfully and are now pretty comfy! In comparison, I have $40 shoes I've only worn a few times, which are much less of a deal.
But, this isn't going to be another post about how expensive things are always better and cheap things are bad bad bad. Au contraire, that attitude actually grates on my nerves a bit, as there are several sides to the issue that often get blatantly left out.
When you pay more for an item, there is a good chance it will be of higher quality. There is also an equal chance that the higher price is just to make up for more advertising spent on the product, and that it is of no greater quality. Though this is more common with things like food, it happens with clothes too. I've seen bloggers turn their nose up at "cheap" jeans, saying that they wouldn't spend less than $100-150 on jeans. Um. That, ma'am, is ridiculous. If you have the budget for that, be my guest, I suppose. But the best pair of jeans I ever had was a pair of Levi's I got on clearance for around $20. I wore them regularly for 2 years and the only reason I stopped is because they don't fit any more! Victoria's Secret bras (and possibly their clothing, I've never worn it so I wouldn't know) are another example – you can buy MUCH better bras than their's for $40-50. Clearance is another matter entirely, but most people recognize that. An item that was originally $50 and is now marked down to $10 is probably a better buy than an item that was originally priced $10 and is still $10.
In fact, I tend to ignore the price when it comes to figuring out how long a garment will last and just look at it. Does it feel flimsy? Look "cheap" in general? I try it on and wiggle about in it, if I feel like the seams are going to rip at any moment, that's generally not a good sign. It's very easy to fall into the trap of "I don't want to spend less than x amount on an item of clothing, because otherwise it will be cheap crap!" but I guarantee you, there will be cheap crap at and above that price range as well.
Another factor that often gets left out is how you care for the item – many people complain about items disintegrating in the wash but don't take care of them properly at ALL, so the item remaining in good condition can hardly be expected. And of course, bras should always be handwashed.
For me, the most compelling argument to buy more expensive items isn't that of quality, but of where the item comes from. The vast majority of the time an item is cheap because it was made in someplace like China, where the workers are paid a shockingly low amount and work in terrible conditions. I do try to buy American made when possible, but that's usually nigh impossible to do with my budget (without counting thrift stores and discount-type shops, of course, which are every cheapo fashion lover's best friend). I actually find it rather depressing how often this angle in the cheap vs. expensive debate is left out, to be replaced by "That's going to fall apart the first time you wear it, you know!".
And there are some items which are priced high for good reasons, but I still can't afford them. Are there some $500+ shoes which skate by on name/reputation only? I have no idea, since I've never had a pair of $500+ shoes and, barring a very good sale, probably never will, but I'm sure there are some that do. However, there are also shoes that are (for me) exorbitantly priced because they were handsewn with Italian leather by workers being paid a more-than-fair-wage and all that good jazz. This is great, and usually means the shoe is worth whatever price is being asked for it. But I, with my lifestyle, simply cannot justify spending that much on a shoe. And shoes are one of the areas where I'm willing to splurge, by my definition of splurge anyways – I probably wouldn't pay more than $200 unless I knew I would wear it for a VERY long time and love every minute of wearing it.
That's my take on the cost vs. value debate, anyways. I just hate to see so many people assume that expensive is automatically better, and ridicule those of us who simply cannot or will not spend $100 on a pair of jeans, $50 on a t-shirt, $40 on leggings. That does not make us stupid or tasteless, thankyouverymuch, and it annoys me to see the implication that it does.
..thing I've had said to me in a while:
Do people ever tell you you are really intimidating? Every picture you post on here — even the ones where you look just as cute as a button — i would be afraid to get caught in a dark alley with you. Just sayin', you're a tough bitch.
From a PRD member. This gave me a strange sense of pride, haha.