I fibbed a little when I said regular posting would resume after Christmas. For sure after the New Year, though.
I'm touching up my hair right now, and my hands look like I strangled a smurf. As soon as the stain fades it's inevitably time to touch it up again, sigh.
I saw a post a while ago at Style Discovery about using Picasa for fashion blogging purchases. I thought of it while reading a post at Fabulously Broke in the City entitled Assess Your Personal Style. One of the things she suggests is making an inspiration folder (which I already have, of course!), and then making a collage out of it - to see what you're drawn to and like in clothing. Her's had things like "dresses with belts", "black and cream", mine ended up just being a collage of the places I get inspiration from. Oh well.
you can click on it to go to a bigger image. What's kind of sad is that I ended up being able to fit less than half of the pictures on it, hahaha.
I got some DIYing done today, here's pictures of my new skirt: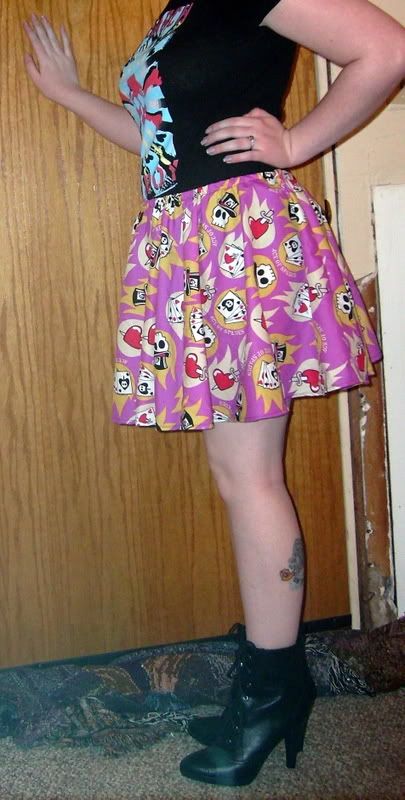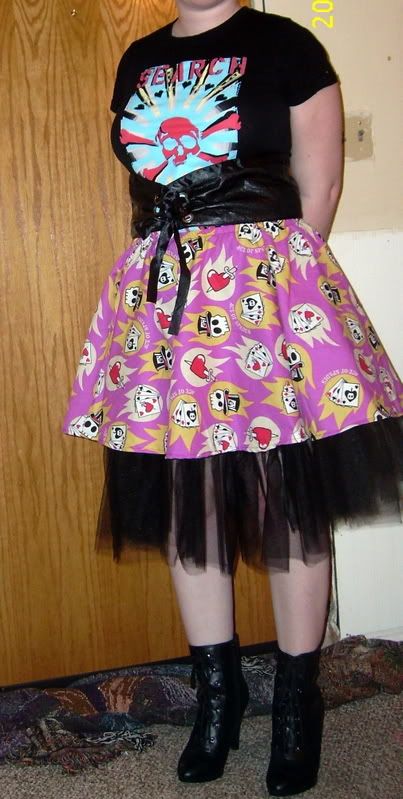 I'm also planning on trying to fix another skirt (which turned out HIDEOUS - really bad!), and stencilling that shirt that I mentioned. I'll probably take pictures of the process and have a tutorial for freeze-paper stencilling up…hopefully before the end of the week. But no promises.
Oh - and I got my new boots from Payless today, you can see them in the picture (along with the thrifted belt I mentioned a few posts ago). I was surprised at the speed of shipping, since est. arrival time was 5-7 business days (or maybe 7-10…don't remember) from date of purchase. I bought these Christmas Eve and they got here today. Awesome! They are REALLY comfortable too. I'll keep Payless in mind when looking for bargain shoes from here on out - I was worried they'd be really cheap looking or uncomfortable, but they fit great, they look great, they feel great. No worries at all!