I fibbed a little when I said regular posting would resume after Christmas. For sure after the New Year, though.
I'm touching up my hair right now, and my hands look like I strangled a smurf. As soon as the stain fades it's inevitably time to touch it up again, sigh.
I saw a post a while ago at Style Discovery about using Picasa for fashion blogging purchases. I thought of it while reading a post at Fabulously Broke in the City entitled Assess Your Personal Style. One of the things she suggests is making an inspiration folder (which I already have, of course!), and then making a collage out of it – to see what you're drawn to and like in clothing. Her's had things like "dresses with belts", "black and cream", mine ended up just being a collage of the places I get inspiration from. Oh well.
you can click on it to go to a bigger image. What's kind of sad is that I ended up being able to fit less than half of the pictures on it, hahaha.
I got some DIYing done today, here's pictures of my new skirt: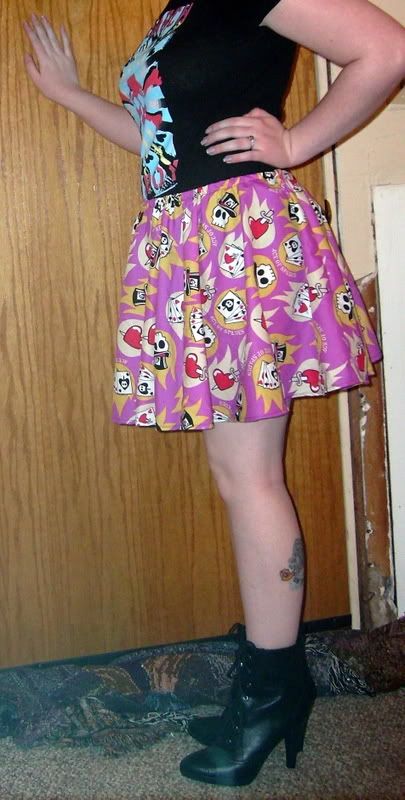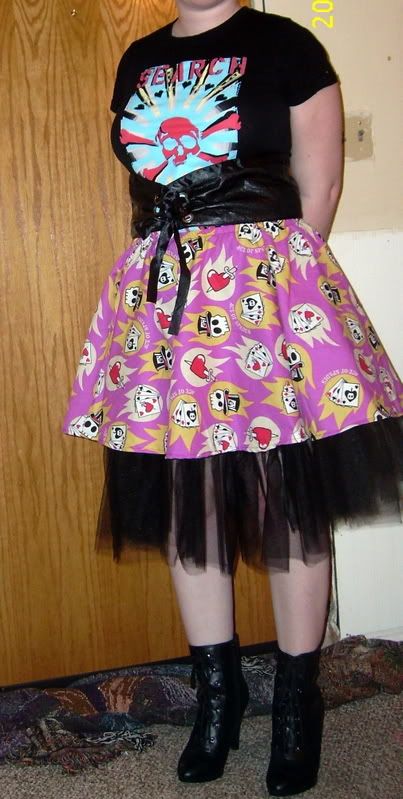 I'm also planning on trying to fix another skirt (which turned out HIDEOUS – really bad!), and stencilling that shirt that I mentioned. I'll probably take pictures of the process and have a tutorial for freeze-paper stencilling up…hopefully before the end of the week. But no promises.
Oh – and I got my new boots from Payless today, you can see them in the picture (along with the thrifted belt I mentioned a few posts ago). I was surprised at the speed of shipping, since est. arrival time was 5-7 business days (or maybe 7-10…don't remember) from date of purchase. I bought these Christmas Eve and they got here today. Awesome! They are REALLY comfortable too. I'll keep Payless in mind when looking for bargain shoes from here on out – I was worried they'd be really cheap looking or uncomfortable, but they fit great, they look great, they feel great. No worries at all!
Whew! I survived the holidays unscathed. Neither of our families were super obnoxious this year, and I didn't have to see the REALLY obnoxious side of my family as we didn't get back from Matt's parents until like 5-6 yesterday, so awesomeness all around. Matt got me Moulin Rouge, volume 2 of the Angel comic books, a book which I'll probably be returning/exchanging (he thought it was a feminist book but it's apparently a rather dumb book by a woman who spends half the time writing about how tragically beautiful but well-connected she is). My mom got me the BOXED COLLECTOR'S EDITION OF BUFFY HOLY CRAP. I informed Coni that meant we had to have a marathon and she was not amused. Lots of Mary Kay makeup, a cookbook (?), a Clash singles CD (that I think Ashley gave me last year as well, haha), some chocolate, and some money. So what did I do? I of course, refused to go shopping in the crazy traffic and lines and etc., and went shopping online. Here's what I got:
-60% off two shirts by Hellz Bellz and a purse by Loop Design at Karmaloop.com with the code MARI, which I think is expired now (24 hour deal). I *think* the YEEZY code is still workable though. just FYI.
-some boots from Payless. that are super cute.
-a pink button up shirt from Old Navy for $10 on clearance. which I'll be doing some stencilling and such to tonight, hopefully.
I also got a book and some yarn so I can start working on a few projects I have in mind. All told, saved $109, not counting the yarn (which I got for $4 a skein and I think it was originally eight or nine, so that's another $16 or something…).
and I accidentally won an auction for some Irregular Choice boots on eBay…how do you accidentally win an auction? Well, I'm pretty sure I'm the only dumbass that does this, but sometimes I'll look at something I want and have been outbid on and be like "hah. I'll bid one dollar higher and then YOU'LL have to pay a higher price. That's what you get for outbidding me, LOSER!". Except it turns out, I just outbid them, and then I end up winning the item. Yeeeeah. Anyways, I guess this man/woman is selling all of his/her mom's shoes and there are a LOT of Irregular Choice ones. So maybe I'll get a few more deals.
Apparently American Apparel has some new ads out. That are totally naked except for socks. I'm of two mind about this, I suppose, on the one hand at least the models are healthy looking and have pubic hair so they don't look like 12 year old plastic dolls or something… but on the other hand, nakedness to sell socks is a little unnecessary, I think. The fact that the founder has had three sexual harassment lawsuits brought against him kind of creeps me out a little. I also thought it was rather amusing because one of the bloggers made a snide comment about feminists getting their knickers in a huge twist over photos that were shot by women. Well, as we all know, it's impossible for women to be sexist. (ok, I tried to find more links, but can't seem to remember the name of organization, that's super antifeminist and argues that women shouldn't even be allowed to have jobs…)
On a lighter note! That company that makes the Hellz Bellz t-shirts I bought sounds pretty kickass. From their press kit on their website:
"Traditionally, the women's wear industry has been flooded with hyper-feminine pieces with low necklines and bias cuts leaving females choiceless. With little to no options, females were only recently given quality alternatives.
Since 2005, Hellz has provided fashion alternatives for the bold fashionista with edgy, tops, jackets, denim and accessories, influenced by all things subversive; from the gritty streets of New York to sexploitation flicks of the 1960's and 1970's. Founder Lanie Alabanza, continue to defy all the rules of conformity and any fashion entity that claims a woman's style cannot breach strength, individuality and feminine flair simultaneously."
Their latest collection was inspired by Mae West and is called "Born Bad", and their website features a song by MIA. Not to mention this shirt is freakin' hilarious and I WANT IT.
Hope everyone had a great holiday!!
I know I've been slacking lately and I'd like to blame it on the holidays, but it's mostly laziness. Regardless, the posting will probably be scarce the next few days due to running around with family and etc – the next time I can safely say I'll be posting will probably be Friday or Saturday. I'll be leaving you with the news you've probably already heard, that Karmaloop is having an INSANE sale of 50% off entire purchase with code MERRY or YEEZY at checkout. The yeezy code will also yield a $25 gift certificate in January and a portion of the proceeds going to the Dr. Donda West Foundation. That's probably the code I'll be using, and crossing my fingers that this sale will be going until after Christmas…also that I'll get enough Christmas money to take advantage of it! As I'm a little broke right now, since they've overhired a bit for my dept. and keep sending people home early. Lame. At any rate, everyone have a safe and happy holiday, be careful driving on slick roads and def. don't imbibe and drive.
heck yeah. Got a leather (or possibly faux-leather, not for sure) lace-up black belt, double-breasted NY&Co. wool peacoat, and a thigh-length PURPLE coat as well (that was made in the USA and feels like a wool blend as well). To be fair, the NY&Co. coat needs dry cleaned, there's a tear in the lining, and it's missing a button – but it was like…$3.50. The total was $15. SWEET. Pictures soon. I'm thinking I'll just replace all of the buttons and do…hot pink? blue? something.
Looking at Etsy…found some neat stuff. like Bonzie's shop…
I think I'm going to attempt making a skirt like that. Black and grey, chains or black pearls…and I've got lots of leftover leather for the buckles.
I also found, via Outsapop Trashion, a link to Loved to Death taxidermy jewelry…
and I know everyone in the blogosphere has been going on about it for ages (or at least, I remember three mentions, but for some reason never clicked through to the website) but I just discovered Paraphernalia jewelry. I love the Wonderland collection specifically, along with the Anatomica collection and the Scientia collection.
That White Rabbit necklace WILL BE MINE.
shirt from hot topic, necklaces are secondhand and from sweetheartsinner on etsy, bracelet is from Tryst by Kerry, petticoat is DIY! as is fascinator, tights are from target, fishnets from HT, mary janes by Sofft.
hahaha I laughed so hard, we were at Wal-Mart because Coni needed to cash her paycheck, I went to the bathroom (which, by the way, is not fun when you're wearing a poofyass skirt, pantyhose, and thigh highs on top of the pantyhose). I was washing my hands and a WM employee walked in and said "Oh! Are you in a play?!" I smiled and said "Oh, no." "Oh. Well. You look adorable!". hahaha.
Jaysus. The mall was INSANE today. And so was Jo-Ann's.
Today's haul:
-Christmas presents for dad, mom (had to order off amazon and pay EIGHT DOLLARS for two day shipping because nobody around here carries the damn dvd *grumblegrumble*), Logan, decided to make a fascinator as the rest of Ashley's present. also, the Dark Knight, for Matt, which I gave to him early for Christmas. We were going to watch it tonight but by the time we got home it was 8:30 and it's over 2 1/2 hours long, since I wanted to go to bed earlyish that was a bad idea.
-got underwear and this superamazing exfoliating soap that smells like…WOAH. It's mango mandarin soap and jeezzz it smells like rainbows and kittens and everything good. yummm. for like $6-7 together.
-this fabric on sale at Jo-Ann's and some clearance sequiny type fabric. sale fabric will be made into a skirt, and the sequiny stuff will be a top.
-also got a wonderfully terrible leopard-and-zebra pink and black zip-up cardigan, NEW tights from Target (still packaged), a turquoise and greenish pair, and a pair of mid-calf boots for $15 from Goodwill.
I stayed under budget! Was so proud of myself!
oh and…
so cute. awwwwwww.
Sara over at Farpitzs posted this picture earlier today:
Which I guess is Dree Hemingway. But I don't care who it is because I WANT THOSE BOOTS.
These are the closest I've found, they aren't very slouchy though. These don't have the chunky heel. These are also pretty close and I do like them, but they aren't slouchy at all. Sara's going to give it a go, we'll see what comes up.
And while looking, I found these which are so delightfully…I'm not even sure I know the word. hahaha.
and these, which aren't what I was looking for but are so badass they're on my wist now anyways. I mean, they have writing on the heel. and sole. and a raven imprint in the leather. How can you GET cooler than that? I'm waiting on my Christmas money to buy the blue slouchy boots (I would just buy the slouch black ones, put a modified belt around 'em, and be done with my dilemma, but all that's left is a 10. sigh.) since Endless is having that buy two get 20% off sale. And they might be having a better deal day after Christmas.
I know, I know…been absent the last few days, I've been in a bit of a "funk" and just not in the writing mood. But! Today is Thursday, so you know what that means.
-FreakAngels…just found this through a bit of poking around and it's really quite good. I'm just dreading when I catch up to today and will have to actually wait for the pages.
-I called Sharon, the school instructor, to see when she wanted me to drop my monthly payment off tomorrow…and she said to just wait and bring it by next month! Which means I have extra moo-lah to spend. Niceeeee. It probably sounds kind of dumb, but I'm appreciating splurging while I can, as after New Year's I'll be saving most of the extra cash I get for moving/marriage purposes.
-I went to the doctor yesterday and got six months of birth control samples! woot! Which isn't exciting to some people, but seeing as how b/c is $27 a pack at Planned Parenthood and will probably have another price-raise sometime soon. So that is QUITE the money saver.
-I got accepted to Independent Fashion Bloggers…which it's not like that's a feat or anything, as, you know, they accept anyone who follows the guidelines, but still! I've been waiting to apply since I started this blog so I am psyched about it. This means there will be a Links a la Mode post later as well.
-Making hot cocoa from scratch. MMMMMM.
-That it's above 20 degrees outside now! Yay! I keep just thinking "this is my last Missouri winter for a while, gods willing…" but it's nice for it to be above freezing, even if slightly so.
-Tomorrow I'm hanging out with Coni for the first time in AGES and we're having a DIY/shopping day. sweeeeeet.
-I finally got past sewer's-block and decided what to do with the black-on-white rose print fabric I snagged at the Salvation Army. And I should be doing that later today!
-I got my copy of the Cheap Date Guide to Style in the mail just now! You can bet a large chunk of today will be spend cozied up reading it.
-And! Last but not least, I'm planning on getting a haircut tomorrow. I'm thinking something like this, maybe modified a bit for wavy/curly hair. We'll see what the stylist thinks.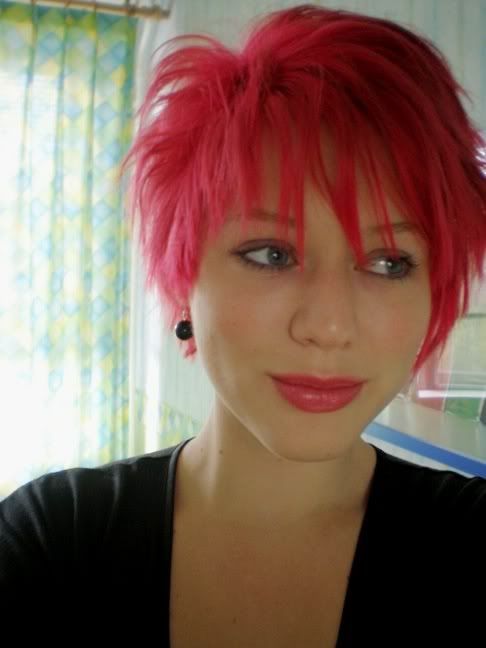 It is FREEEEEEEEZIIIIING outside. Seriously. 12 degrees. As I may or may not have said before, this is an old house, with crappy drafty windows (and not properly installed doors, as you may have noticed) and the draftiness is making it pretty freakin' cold in here too. I've tried to do what I can to fix it but it's not quite working so well. Later we're going to go the Lowe's or someplace and get that plastic window sealer stuff you heat with a blowdryer. Hopefully that will help because if not, it will be excruciatingly cold in here tonight.
As I mentioned a while ago, sometime last month I wrote Sal at Already Pretty to ask her thoughts on using hair color as an accessory. The post on it is up today, yay! That reminded me that I haven't really looked for any blue shoes (see the post) since I dyed my hair, so I spent a while this morning trawling Endless to see what I found. I found two pairs of blue boots (one is more of a light turquoise) that I want. I'll probably be getting the slouchy pair when I get paid as they're so inexpensive, and DROOL those Irregular Choice boots are to. die. for. Something else to save up for, along with the pink leather jacket and my back tattoo…I have a feeling these will all be vying for my post-Christmas cash very soon. As of right now I'm planning on my back tattoo winning, but you never know. (suppose it depends on the amount of cash I have as well *shrug*)
True to form, I found several other pairs of shoes I liked as well…these Oh DEER! shoes are cute, but I think the cutouts might get uncomfortable or rub in a funny fashion. I also like these in black, although I can't put my finger on why. Right now, it might just be because they look cozy and my feet are FREEZING!
again, cute, but same worry.
I'm not sure if I like these or not but they are definitely unique!
I found these Jeffrey Cambell shoes a few days ago when digging around on SoleStruck and I LOVE THEM. Totally not even pretendably practical right now, but when warm weather rolls around, I will get a pair, no doubt.
In an effort to find out more about the maker, I found these as well:
I'm not sure if I would wear them, but I do like them. For some reason, rather than making me think of Victorian boots they make me think of slimmed down Doc Martens with heels. Go figure.
While we're talking about shoes, check out these spats:
which it looks like have sold…there's still these though:
I've got some leftover leather from a project I never got around to, maybe I'll try my hand at somet leather spats. Not sure what I'd wear them with though, hah.
Oh and good news! A few weeks ago, there was a digital camcorder Matt and I were going to buy, but came up a little short on extra cash. It got marked down again this week at Best Buy so it will be all mine! (er…our's) This means the stencilling tutorial might be in video format. Exciting, no?
Since I wrote it up for Craftster, I thought I'd post it here too
This is a tutorial to make a petticoat (also called a crinoline) like I posted yesterday – one that can be worn as a skirt, as well as being worn under other items to give them poof and body. So I guess it could also be called a pettiskirt. Anyways, without further ado:
1. The first step is to construct the underskirt. I used satin, you can really use whatever you want as long as it's opaque. Figure out how long you want it to be (I made mine a little above knee length) first, and then cut out the fabric. I used my favorite method for making a circle skirt which is this:
2. Since I was using satin, I immediately serged the edges, which if you have a serger and are using satin I HIGHLY recommend. That stuff frays like nobody's business. Then, you'll cut a piece of elastic a few inches shorter than your waist measurement, and a piece of fabric that's about 2.5 times the width of your elastic, and several inches longer than your waist measurement!! This is important, because I was a ditz and made it only an inch or two longer than my waist measurement, and now it will only fit over my boobs if I'm not wearing a bra, and won't go over my ass at all. Just sayin'. Keep it in mind. Then you'll fold the fabric over, stitch along the edge, turn it inside out (or not – I just sewed wrong sides together since the bottom of the elastic is under the skirt anyways, so I saved myself a step), and put the elastic through it. It might take a while. I'll wait.
3. Now, you'll pin and sew the long tube you just made to your circle skirt and stitch! I just left the hem of the skirt serged and didn't officially hem it because a. I am lazy and b. it's under a freakin' pound of tulle anyways, so nobody knows but me.
4. Here comes the fun part. THE TULLE. Woo-hoo. Okay, you'll cut out two pieces of tulle TWICE as long as your waist measurement and several inches long (depends on how many tiers you want to do – I did three tiers, so I my top two tiers were 7″ long and the bottom was 8.5″, as you saw, this resulted in a skirt a little longer than knee length). There can be several variations from what I did at this step – if you'd like, you could do three times your waist length for a really poofy tullemonster. Or sandwich in a layer of lace betwen the two layers of tulle for some added fanciness and opacity, or just do another layer of tulle. And of course it's possible to vary the length of the tier. At any rate, now it's time to run it through the sewing machine on a basting stitch – I used a 4mm stitch. Leave longggg trails of thread at the end. Now go look at one of those ends, and tug on each of the threads. One of the threads should start gathering the fabric when you tug on it. Tug and tug and tug some more, even out the gathering as you go, until the gathered edge of the tulle is as long as your waist measurement. Set this aside for now, someplace where the damn cat won't get ahold of it and break the threads, undoing your hard work. Luckily for me, he only got the last four inches or so.
ALTERNATELY: If you are a lucky lucky person who owns a ruffler foot and knows how to use it, just fiddle around with the settings until you get a setting that gathers to the needed amount (i.e., can take a 10″ strip of fabric and turn it into a 5″ strip of ruffled fabric). Or you can do as I did, which involved having trouble with the ruffler foot, swearing loudly at the sewing machine, and grumpily resigning yourself to hand-gathering. Whatever works.
5. Now, take the length of the last piece of tulle that was cut cut, pre-gathering, and double that (we'll call the resulting measurement x). Cut out two 7″ by x" pieces of tulle, and do the basting stitch along one edge again. Now, you'll gather it to the original length of the first piece of tulle. This would probably be a good time to put on some Buffy or something, because it could take a while. Once you get done gathering it, pin it and sew it to the bottom layer of the first tier.
6. This time, you'll take the length of the second tier pre-gathering and double it (measurement x). Cut out two pieces of tulle that are 8.5″ by x", and baste one edge. Gather it until the gathered edge is the same length as the pre-gather length of the second tier (this will take a WHILE – I reiterate my suggestion to put a dvd on or something), and pin it and sew it to the bottom layer of the second tier. Confused? Hopefully this will help:
Now you've got a nearly constructed skirt – all you have to do is sew up the side of all three tiers, and then pin the top gathered edge to the foundation skirt you made, right under the waistband. Sew that all up, and then bam! Put on your petticoat and twirl around!