Archive for January, 2009
-I believe I mentioned this last time I did TILT, but I. LOVE. Super. Taranta.
There's a higher res version at their site, in case, like me, you wanted to get a better look at the dancers' dresses.
The whole album is just amazing. I don't think there's a single song on it that I dislike. I've been listening to it pretty much non stop since I bought it.
-the new saloon-y-steampunk-ish headband I just made for myself!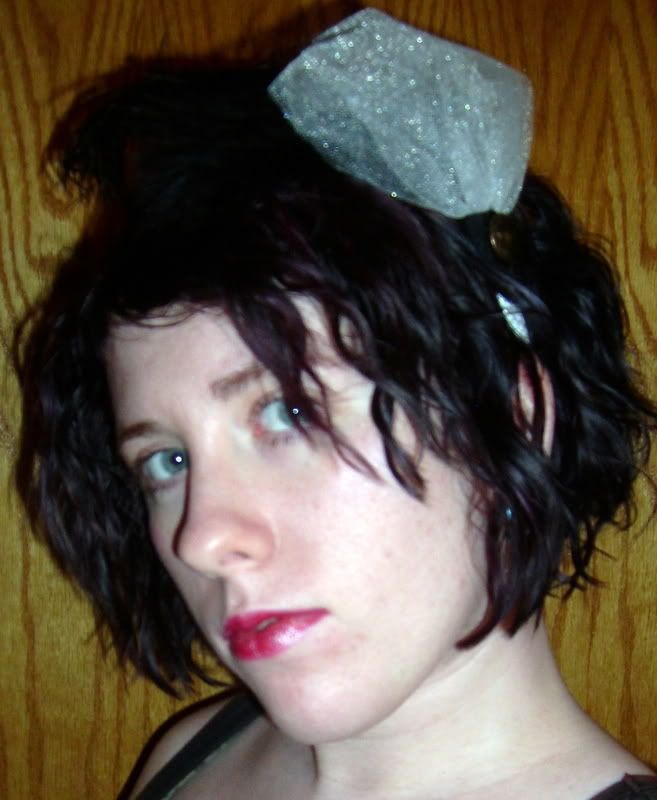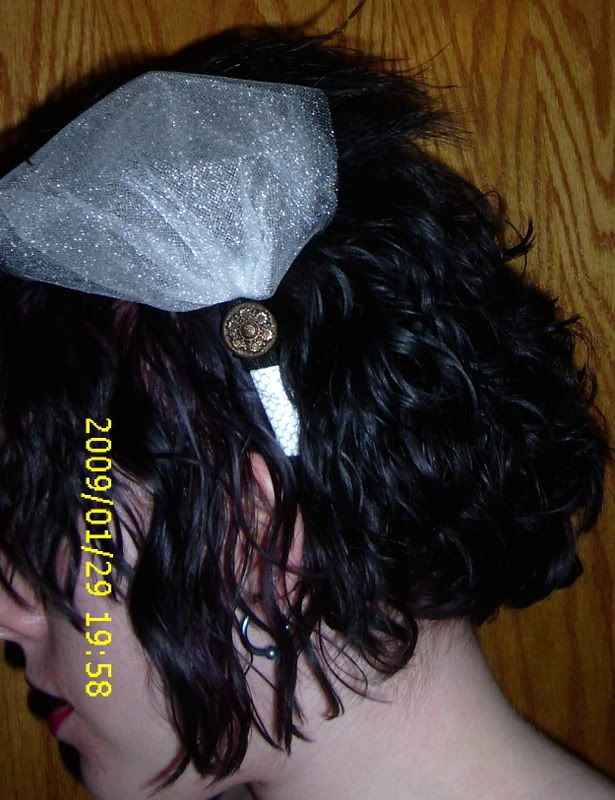 bad photos and HUGEEE. but all I have right now. I found the base headband at Sally's and it's nice because it's got a "looser" fit – still stays on obviously, but the really tight headbands always give me terrible headaches. You can't really tell but it's an ostrich feather in the middle and then two smaller feathers on either side, and the headband is white with black netting overlaid on it. The button is a vintage one that was in the desk my 503 came in. It was a lot of fun to make – I might make more of these and put them in the Artfire shop.
-As you can tell, I died my hair. Not really a love but I do think it turned out as best a "natural" color could have – it's sort of a dark plum-brown color. Looks black in photos but I swear it's not really in real life. Trying to find another job, so unnatural colors are a no-no for right now. On that note, there was an ad in the paper for a tailoring/alterations place hiring – cross your fingers for me!
-This list of letters from kids to Obama is adorable!
Okay. I apologize for my lack of posting, in the last week…
-we had a visit from a woman telling us our house is being foreclosed (which our landlord has failed to mention, ahem). We can probably keep renting from them though but that was a SCARY couple of hours before we got things figured out!
-my car broke down in Shell Knob. that's 2 hours away from here, for reference.
-I was informed that out of the 6 people that volunteered to have weekends off (that my supervisor was told to ask for), upper management randomly picked three and I was not one of them. aside from the whole, $120 missing off my last paycheck, and after having a good look at my check stubs it looks like they've been shorting me 75 cents an hour since November, I am ready to start looking for a new job. which made me…
-try to dye my hair a normalish color (was going for sort of a black-cherry-coke color) and it turned out PURPLE. FREAKING PURPLE. Go figure.
And now today, we had to go up to Shell Knob again to see Matt's family and I'm not sure if it was the winding roads or what but I feel TERRIBLE.
So! In all this craziness I've been neglecting the blog. I'm also having a bit of (stress induced?) writer's block, which is a contributing factor as well. But, never fear, I shall be posting again soon, I promise!
First off, the totally awesome Ashe Mischief of Mischief My Dear is having a giveaway to celebrate the opening of her Etsy shop! Click here to read about the details and see what you can do to get one of her awesome accessories.
I decided to not even read the rest of What You Wear Can Change Your Life, maybe I was a bit hasty, but I got into the third or fourth chapter and just could not handle the general negativity of the book. The color section is great to be sure; but the rest of the book seems to have a general attitude of "well, our bodies suck, and so do your's, but here's how you can make the best of it!". The section in the beginning where they give the overview of their bodies was almost painful to read. I quote – "Damn, I used to be bloody perfect. I was in proportion. Not too fat, not too thin. Now, oh my God, things are very different. A naked Susannah is like a fat white maggot, all folds and undulating movement. … This may sound exaggerated, but it's how i feel about the parts I don't like. Luckily for me, however, I have learned to block them out by appreciating what little there is left to love."
What a great attitude! I think they were going for a tone of I-feel-your-pain camaraderie but it just comes out pretty negative. Not to mention, the woman in question is certainly not large by any means, I would consider her average build or even slightly thinner than average. Combine the pervasive negative attitude with the things like a picture of a, as far as I can tell, pretty cellulite free ass in panties with the caption of "aaagh!" and I don't thing I can bring myself to trudge through the rest of it.
On a brighter note, however, I picked up a copy of Super Taranta! by Gogol Bordello the other day and I pretty much love it. And I finished American Gods. Next up: Neverwhere.
-I found my Harry Potter house socks! I've been DYING for some slippers (it's eight degrees outside right now, and this house is not doing too well at staying warm) and these aren't perfect, but they definitely help.
-American Gods! Scratch that, reading a good book in general. I haven't got to sit down and read a fiction book in a long time, and although Simon Doonan's books are great, I love Neil Gaiman's works beyond words. Next up is Neverwhere.
-Sewing and crocheting.
-Getting complimented on my handmade articles of clothing!
That's all for this week, unfortunately. I've got to go off and work on that commissioned jacket now!
Oh I've been a bad bad blogger. No entries in almost a week! I've been pretty busy, I'm working on a commissioned smoking jacket for a friend's sister's husband (say that three times fast) as well as some saloon-y skirts for myself. In an eyeblindingly bright fuchsia brocade, no less!
I also ordered these shoes from Amazon.com on Monday and received them today (with free shipping – I have to say I'm impressed; they've stepped it up since the last time I ordered anything from them!), and they are CUTE. Comfy too. Ridiculously so even. I ended up ordering the coffee as the black in my size wasn't on sale. A little bizarre, but there you have it.  Pictures will come, along with the pictures of the purse and everything else…my camera is still dead and I keep forgetting to buy batteries. lame lame lame.
I've been looking for top hats and hats of other persuasions on eBay lately, to spruce up with some feathers, and came aross this on Etsy:
Holy crap. I want it! She has a few other gorgeous things as well, including some truly awesome (and sadly, way out of my range) bustle-skirts.
Also, I switched all of my items over to Artfire and I'm planning to sell from there exclusively now on. Apparently ShopHandmade, while appearing great, is not entirely scrupulous – they have code built into the webpage so that when a seller is signed in, at least one of their items is always featured on the front page. I wouldn't find this so entirely suspicious except that when a fellow Craftster sent them an email asking about it, it was forwarded to the company head with a note reading similar to – "Do you want to answer this or should I? It could really hurt us if it gets out on the forums…". And after my experience with Etsy (which I still haven't blogged about, but will eventually, it did eventually get resolved but through no help of Etsy and months of effort on my part) I can safely say I will NEVER be listing there again and will try and purchase items through seller's websites rather than Etsy when possible.
and now, gentle reader, I will be leaving you, to work on the smoking jacket and saloon skirt a bit before going off to bed. I hope you're having a great week!!
-poofy skirts! um, in case you haven't noticed or anything.
-Wacky Chicks. Simon Doonan, you are just too cool for words!
-Skin Graft Designs. Eye candy galore. There was a few jackets by that label on a photography site, but I can't see it now. Gorgeous leather with a cameo sort of inset in the back and lacing as well.
-Damsel in This Dress!! I'm going to commission one of the "Vixen" corset-vest…things…once I get paid again and I am psyched for it. Black with silver fleur-de-lis print on it.
That's all I can come up with right now. Which isn't to say I'm having a really bad time of it or anything, just not super excited about much at the moment. Hope everyone else is having a great week though!
I got my Karmaloop order today! The purse is SO much cuter in person than in the pictures (which were kind of terrible, I got a little apprehensive after ordering it…). And the t-shirts fit great and are super-soft. mmm. the…scarf…thing on the gray one is a bit odd, but I figure if nothing else I can just pin it up and out of my way (maybe with my new vintage skeleton key stick pin!). Pictures will come later, my camera is dead at the moment, stupid batteries.
I also have some REALLY crummy effin' news. I got a message yesterday from the eBay seller that I bought the Bronx boots from, saying that he had been out of town, got home, and his basement was flooded. ALL THE SHOES WERE RUINED. argh. Once the refund goes through, I think I'll get these shoes instead, probably in black-on-black. I like the coffee color a lot but don't think it'd much match anything I own (and I don't like that the wedge is a different color than the rest), and the silver ones are cool but a bit…cyber-y. I wish the black ones had more of the Asian feel…the chocolate ones really remind me of Firefly and Serenity. Which is an awesome source of fashion inspiration for me.
Speaking of inspiration, I've spent the last several days looking at steampunk photos and I love it! Most of it, anyways, I'm not a fan of the whole beige and brown color scheme. I've just realized I have a love for Victorian inspired things (Moulin-Rouge style burlesque, gothic lolita, now steampunk…) but I especially love the mixing of random things like gears and etc. in. And skeleton keys. I've always had a thing for skeleton keys and now I'm itching to put them on everything. Well, not everything, but I could certainly do with a necklace, and I've also got a neat idea for a purse and a wrist-cuff sort of thing.
I've done a lot of DIYing the last week or two (and have more to come – several ideas in mind) and have a good photo of one:
That's really the only picture out of the lot that turned out well, I've already posted pictures of the pink circle skirt, and I made a black and blue Moulin Rouge inspired skirt, but the pictures I have of it are rather crap so I'll just post it when I get better pictures. I also trimmed up the petticoat so it's not quite so long (and also more even – not sure how the hell that happened but I had one section that was like, 2″ longer than the rest).
I hope everyone else had a great weekend!
Yes, yes, I'm aware this is two days late…I've been a bit laid up with a head cold. But here it is now!
You'll need an x-acto knife, freezer paper (you can purchase it at most grocery stores or butcher shops I think – it's like normal paper on one side and has wax on the other), a piece of cardboard to put inside the shirt, fabric paint or screenprinting paint, and a brush (you can use the ones that are spongey on the ends, or the ones that are made of several stiff bristles in a circle shape – whatever floats your boat. I like the spongey ones myself).
First off, we're going to start with a black and white image. Totally black and white, no shades of gray. You can use this method with most photos, but some level of detail will be lost (there are several tutorials online on how to make a stencil in photoshop, here's one). I'm just using a simple nautical star, as you saw.
You'll trace the image on to your freezer paper.
Then cut the image out with the x-acto knife.
Do this with all of the stencils you're using today (if you're using only one, congratulations, you've saved yourself some time, skip to the next step!).
Now put some cardboard in your shirt or item to be stencilled, so that it doesn't bleed through to the other side. Take your stencils and trim them as needed if you're trying to fit several in a tight spot, and then arrange them on the shirt or whatever in the way you like. If you ripped something while cutting, it's not a big deal – just arrange it how it's supposed to be. Then iron it, on the medium setting (or it's the medium setting on my iron). The wax on the other side of the paper melts and stick to the fabric, which makes it a lot easier to prevent bleeding – one reason I much prefer this method over cardboard, even if cardboard is reusable.
Now you'll put some fabric paint on a paper plate or whatever surface you're using, and dab the brush in it. You don't want to get too much paint on there, because that'll make the stencilling uneven and make bleeding slightly more likely. Just do this until you get everything covered, trying to make it as even as possible.
(side note: this shirt wasn't actually a very good example, the fabric has a slight 'slick' texture that makes stencilling a little harder and bleeding a little more likely – as you may be able to tell. )
When you're done, just pull the freezer paper off. It shouldn't leave a residue or anything. Let the paint dry, then heat treat it by tossing it in the dryer or ironing it from the other side. This'll help prevent fading.
Using this method, you can get REALLY detailed results. Here's the best one I've ever done (on my uber-ponx vest, ages and ages ago)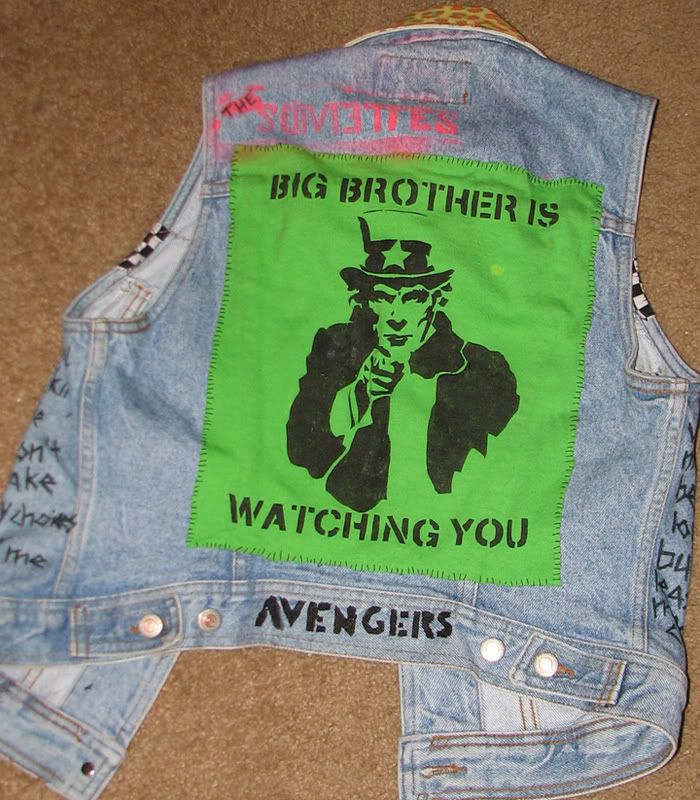 Oh yeah. Mad skillz, I has 'em. haha. Using this method you can even sometimes use 'islands' in your stencils, if you iron them down properly.
Anyways! I think that about covers everything. Questions? Comments? Rotten fruit?
So, you may recall me mentioning these Bronx boots a while ago:
But the only places I could find them in stock (shoes.com and amazon.com) had them listed at 171.99 or thereabouts. And one seller on eBay, who had them listed at the same price. I sighed and filed them away to watch for on sales. Today I got paid and I had decided all I really have enough $$$ for (and only because I'm selling several things on eBay, really) is one pair of shoes. I was planning on buying the Zari studded mary janes (yes. on-again, off-again, I wanted them three months ago, and then I decided I didn't, and now I do) but couldn't decide if I wanted to or not, and in browsing my eBay watch list I came across the boots. I saw that they had a "Make An Offer" option up so I offered them $75 – nearly $100 less than their asking price, mind you. I figured that they'd obviously deny it buy no harm no foul. Wellllll, long story short, I guess I'll be buying the Zari shoes in two weeks as they accepted my offer! WOO-HOO. It was a *little* bit (just like…5-10) more than I was planning on spending but what the hell, I got a pair of boots I wanted desperately, that were originally $215 and now $171, for $75. Oh hell yes. Way to start off the New Year's right! The only thing I'm a teensy bit worried about is that they're a size 39, one size up from what I normally wear – but all of the shoe sites seem to rate Bronx shoes as running small. Then again, that's a phenomena I see all the time with Euro-based shoe companies…as people buy their US size (or what the company says is their US size) without bothering to find out their Euro size and just buying that. At any rate, I'm sure they'll fit fine, and if not I can always employ the wonders of ball-of-foot cushions and Insolia. The moral of the story is: it never hurts to ask! Unless you're a cranky person calling the Best Buy hotline because you saw something on sale yesterday, and today it's not on sale, and you want it for the sale price. Then it hurts to ask, trust me.
Through the Fashionable Housewife (which – blech – I have on my google RSS reader because sometimes they post good sales and such, but the constant focus on weight annoys the piss out of me…how much weight do I want to lose in 2009? how about none!) I found a link to Yummie Tummie, which actually look like shapewear I could get behind. They're meant to be seen, for one – I would have no problem investing in a couple of shapewear pieces but oh dear god they are all so UGLY. U-G-L-Y they ain't got no alibi. (anybody else remember that rhyme?) I can totally agree with giving a good foundation to your outfit but I am not wearing granny panties up to my ribcage, no siree. However, these are just normal tank-tops or t-shirts – with a hidden panel of support around the stomach. Some of the reviews I read (on the site of course, which obviously will be a bit biased…) even suggested that they help with posture.
Which is another one of my New Year's goals, improving my posture. I don't know if my ever-expanding boobs (seriously. I laugh at the thought that at one point I had C cups and thought they were big.) are the root of the problem, or the lack of exercise, or (most likely) both, but my posture has never been great and has got really bad over the last year.
Anyways, back to the non-fugly shapewear. They're not cheap ($62, ouch), but I'll definitely be watching eBay for a new one, and see what I think.