No, not one with Polyvore or Picasa - those are for wimps! We're talking a real, get your hands dirty (or at least, covered in rubber cement), paper-and-scissors inspiration board. Oh yeah.
This is great for two reasons:
1: If you're a compulsive magazine hoarder like me, this gives you a chance to give them a second life. Aside from, you know, just flipping through them to read the articles from magazines three years ago.
2: GREAT way to get inspiration…of course. If you're feeling blah, not sure where your style's been going lately, etc., an inspiration board can totally help. Inspiration boards can be made for any reason, and one can be made for a specific style - "Retro 50's" or "Fairy Tale", for example, but I was definitely doing this as an exercise in seeing what colors, patterns, silhouettes, and such that I tend to be drawn to.
This is obviously not the only way to make one, but here's what I did.
Go get your magazine hoard. I had super-cool mags like NYLON and BUST and Venus, which made it easier to find the off-the-wall things I like, but Cosmo or Vogue will work just as well! If you don't have a magazine hoard, you can probably find someone who does, or you can ask places like the library to give you their old magazines. If you've got a cool local place that sells them, it could be totally fruitful to see what they do with the leftovers at the end of the month - at Eccentrix, they just end up sitting in the break-room with the covers ripped off. They'd probably be ok with giving some away, and that's a fast way to get a few.
Flip through the magazines. Any time you see anything you like, whether in an advertisement, photoshoot, whatever, just rip the page out. Set all of the pages in one spot - I had a folder that I got from the $1 section at Target AGES ago and stuck 'em all in there. If you have one lying around I highly recommend it, because otherwise the pages slide all hither and thither.
Once you've exhausted the magazine resource, go back through the pages. If you look at a page, and can't remember what it was about the page that spoke to you, put it aside - you might be able to use it for another inspiration or mood board, but for the purposes of this board (which, like I said above, is kind of a "where is my style going", "what am I drawn to" exercise), it won't be of use. Cut out the item or part of the picture you were drawn to. While you're at it, you might think about what your absolute favorite part is, it'll come in handy later. For some items, if they take up most of the page, you might want to just clean up the page edge and leave the rest as is, because you probably won't tons and tons of the posterboard showing. You can cut the item/person/thing of note closely around the edge, or leaving jagged edges, or just cut a rectangle around them - whatever floats your boat!
Once you've cut everything out, get your posterboard, glue/rubber cement, any paints or paintbrushes you might need, and your folder of images. Will probably look like this: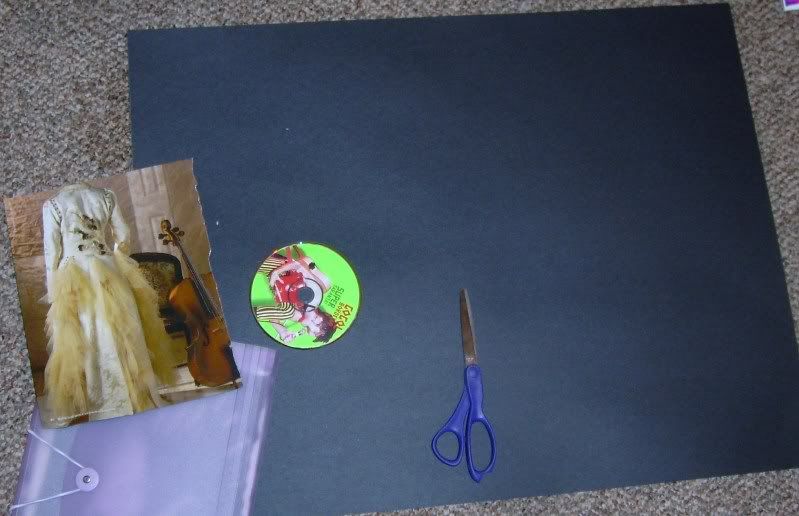 The loose magazine page is one that I ripped out right before I started and hadn't trimmed yet. Note the tunes! Tunes are important, they will set the mood! So pick something you lurve.
Now spread out all of your images, and start sorting them into large images, medium sized images, and small images.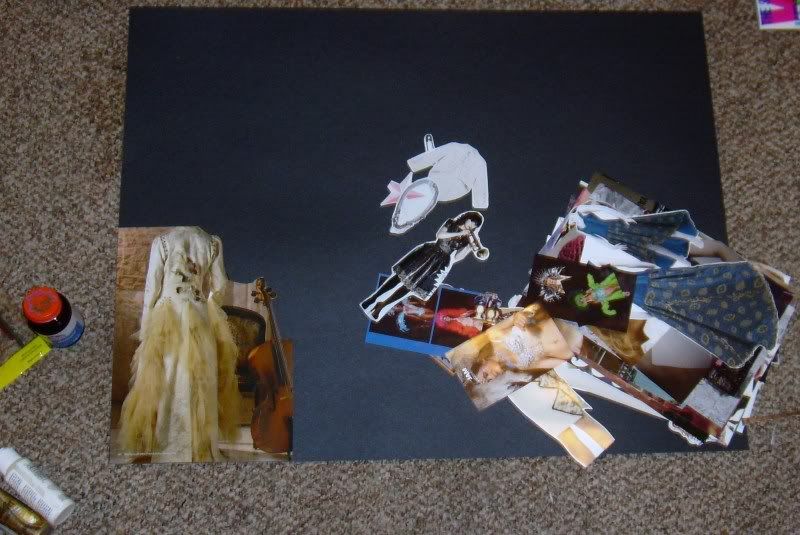 Start with the large images first, pick out your favorites and start laying them out on the board. You'll run out of space faster than you'd think - be prepared to  pick and choose! Once you've decided on a layout, rubber cement those pieces down. Oh, and by the way, be prepared for it to take up a large amount of space: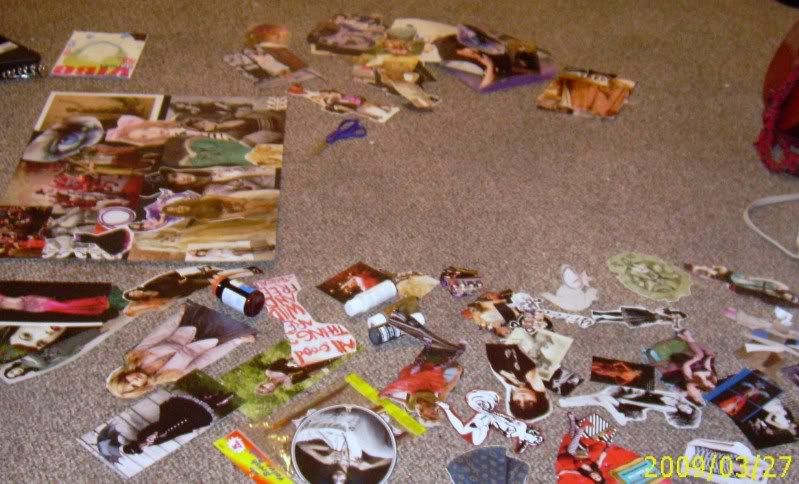 That big empty space in the middle? That's where I was! This is about three-quarters of the way through it.
Now sift through the medium pieces and do the same. This is where consciously thinking about what element of the photo/page you're most drawn to comes in - you won't want that element to be obscured. Last come the small pieces. Be prepared to end up end several layers in some spots - I think I had three or four in at least two places, and I actually ended up almost completely covering one photo because I decided I liked others better! I used the smaller pieces, including several roses I cut out from this month's BUST issue (right before the Mother's Day article), to break up the negative space left over between the large and medium pieces, and tie it together somewhat. Here's the result:
Apologies for the not-so-great pictures - it's really hard to take photos of a shiny object, as it turns out. For larger pictures, look here and here. And I really need to get a camera that doesn't leave a timestamp on photos! Sigh. Anyways, it ended up a little warped because I left it on a shelf (with some overhang) before it was fully dry. Warning for those using rubber cement: it, apparently, takes FOREVER to dry! I finished this Friday evening around 6:30, left it sitting overnight, and put it on the shelf the next day at noon. Ten hours later it was warped. Lame. Also, for the other klutzes out there: How to Get Rubber Cement Out of Clothing.
Oh, and I have plenty of leftovers for the next time I want to do something like this:
Maybe I went a bit overboard with the page-tearing, hmm?
3 Responses to "Making an Inspiration Board"