No, not one with Polyvore or Picasa - those are for wimps! We're talking a real, get your hands dirty (or at least, covered in rubber cement), paper-and-scissors inspiration board. Oh yeah.
This is great for two reasons:
1: If you're a compulsive magazine hoarder like me, this gives you a chance to give them a second life. Aside from, you know, just flipping through them to read the articles from magazines three years ago.
2: GREAT way to get inspiration…of course. If you're feeling blah, not sure where your style's been going lately, etc., an inspiration board can totally help. Inspiration boards can be made for any reason, and one can be made for a specific style - "Retro 50's" or "Fairy Tale", for example, but I was definitely doing this as an exercise in seeing what colors, patterns, silhouettes, and such that I tend to be drawn to.
This is obviously not the only way to make one, but here's what I did.
Go get your magazine hoard. I had super-cool mags like NYLON and BUST and Venus, which made it easier to find the off-the-wall things I like, but Cosmo or Vogue will work just as well! If you don't have a magazine hoard, you can probably find someone who does, or you can ask places like the library to give you their old magazines. If you've got a cool local place that sells them, it could be totally fruitful to see what they do with the leftovers at the end of the month - at Eccentrix, they just end up sitting in the break-room with the covers ripped off. They'd probably be ok with giving some away, and that's a fast way to get a few.
Flip through the magazines. Any time you see anything you like, whether in an advertisement, photoshoot, whatever, just rip the page out. Set all of the pages in one spot - I had a folder that I got from the $1 section at Target AGES ago and stuck 'em all in there. If you have one lying around I highly recommend it, because otherwise the pages slide all hither and thither.
Once you've exhausted the magazine resource, go back through the pages. If you look at a page, and can't remember what it was about the page that spoke to you, put it aside - you might be able to use it for another inspiration or mood board, but for the purposes of this board (which, like I said above, is kind of a "where is my style going", "what am I drawn to" exercise), it won't be of use. Cut out the item or part of the picture you were drawn to. While you're at it, you might think about what your absolute favorite part is, it'll come in handy later. For some items, if they take up most of the page, you might want to just clean up the page edge and leave the rest as is, because you probably won't tons and tons of the posterboard showing. You can cut the item/person/thing of note closely around the edge, or leaving jagged edges, or just cut a rectangle around them - whatever floats your boat!
Once you've cut everything out, get your posterboard, glue/rubber cement, any paints or paintbrushes you might need, and your folder of images. Will probably look like this: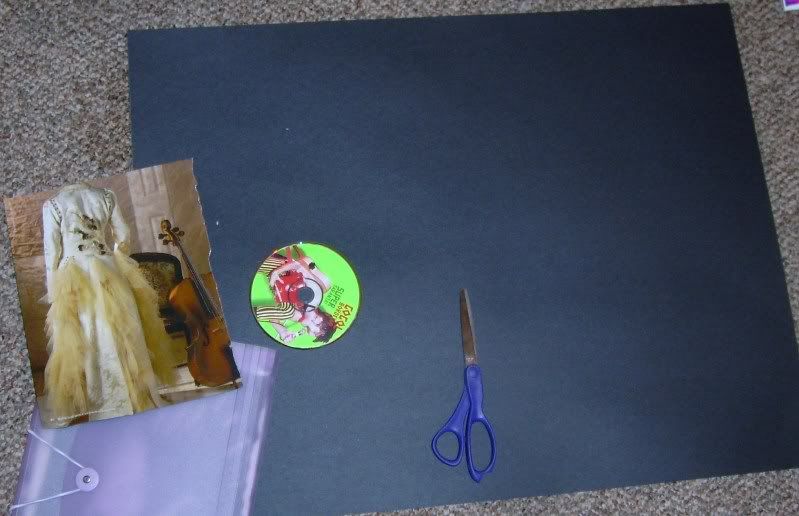 The loose magazine page is one that I ripped out right before I started and hadn't trimmed yet. Note the tunes! Tunes are important, they will set the mood! So pick something you lurve.
Now spread out all of your images, and start sorting them into large images, medium sized images, and small images.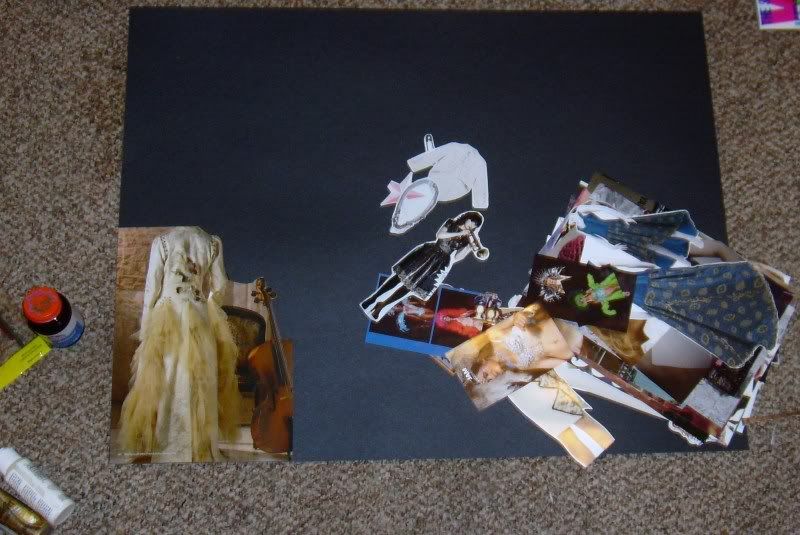 Start with the large images first, pick out your favorites and start laying them out on the board. You'll run out of space faster than you'd think - be prepared to  pick and choose! Once you've decided on a layout, rubber cement those pieces down. Oh, and by the way, be prepared for it to take up a large amount of space: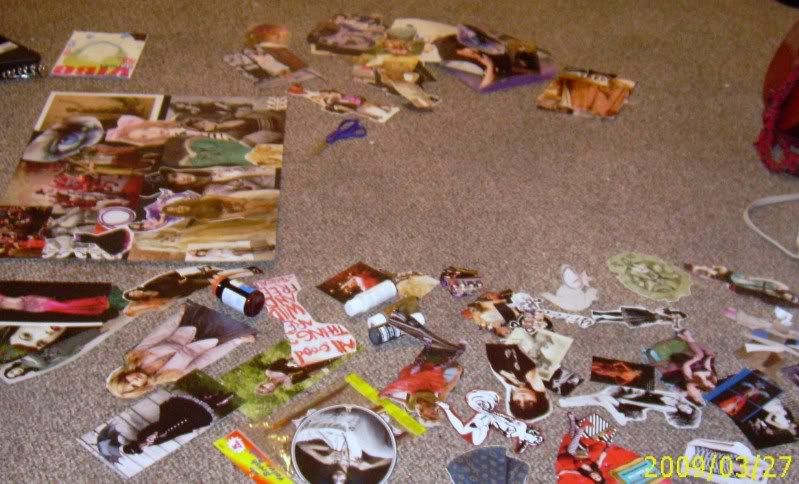 That big empty space in the middle? That's where I was! This is about three-quarters of the way through it.
Now sift through the medium pieces and do the same. This is where consciously thinking about what element of the photo/page you're most drawn to comes in - you won't want that element to be obscured. Last come the small pieces. Be prepared to end up end several layers in some spots - I think I had three or four in at least two places, and I actually ended up almost completely covering one photo because I decided I liked others better! I used the smaller pieces, including several roses I cut out from this month's BUST issue (right before the Mother's Day article), to break up the negative space left over between the large and medium pieces, and tie it together somewhat. Here's the result:
Apologies for the not-so-great pictures - it's really hard to take photos of a shiny object, as it turns out. For larger pictures, look here and here. And I really need to get a camera that doesn't leave a timestamp on photos! Sigh. Anyways, it ended up a little warped because I left it on a shelf (with some overhang) before it was fully dry. Warning for those using rubber cement: it, apparently, takes FOREVER to dry! I finished this Friday evening around 6:30, left it sitting overnight, and put it on the shelf the next day at noon. Ten hours later it was warped. Lame. Also, for the other klutzes out there: How to Get Rubber Cement Out of Clothing.
Oh, and I have plenty of leftovers for the next time I want to do something like this:
Maybe I went a bit overboard with the page-tearing, hmm?
I tried Twitter a few months ago, and for some reason, just couldn't get into it. I decided to give it another go in my virus-and-cramps (yeah, I had a fun couple of days this week) induced delirium, and now I can't get enough! So, if you would like to read random comments throughout the day by your's truly, feel free to follow me and I will return the favor.
Hope everyone is having a great weekend!
So it's been mentioned several times on the steamfashion community, and Doe Deere mentioned going to it, but I didn't put two and two together until I saw the picture of Xenia in the photostream. And oh my gods, the outfits were GORGEOUS. Drool.
My favorites:
Blue hair FTW! God I miss mine. As soon as I can afford the bleach and hair dye (well, and it's after the Easter get-together, trying to be nice to my grandpa…) my hair is SO magenta. And blue. And maybe purple. Maybe I can make it work this time?
Xenia!
I looooove how it looks like the front of her skirt is made of peacock feathers.
She looks like a gorgeous wood nymph, all ready to frolic!
And my absolute favorite…
I want that dress! Speaking of the dresses, several of them were done by Apatico - unfortunately the online shop isn't up yet, but when it is, I'll definitely be having a look.
In that vein (not really, but hey), I made a circus inspired Polyvore:

Ringleader - by declinedesigns on Polyvore.com
(That skirt? Now on my wist. As well as a silver mask from the same site.)
Oh, and Tatterdemalion Designs at ModelMayhem has some good circus-inspired eye candy as well. Enjoy!
Amazon.com is having an extra 20% off their shoes, already marked down 75%. Which makes for some great deals!
$38.68 for Coal (pictured), $33.89 for Brown.
All of the colorways except for silver and black are right around $40 right now. I own a pair of these myself, as you may recall, and they are much cuter in person - plus TOTALLY comfortable (when I got my new retail job, these are the only shoes I already had that I could stand in for 8 hours and not want to cut my feet off at the end of the shift). The utter comfort of this pair is what's making me want to get the pair with the buckles above! Oh - psst - when ordering JUMP shoes, order a half size to a full size bigger. I got an eight and a half, probably could have done with an eight, but I like my shoes roomy.
The red colorway is the only one not on sale (for $17-20!), and it's only available in a size 6, so not a huge loss anyways.
These shoes are cute, feminine, and funky - obvs named after the singer. $30-40 depending on the color. I swear, I'm not advertising for JUMP; it just looks like nearly all of their shoes are on sale and as I'm flipping through the sale pages, there are a LOT of duds.
Ivory makes for an elegant update on the classic mary jane. $17.
Maybe it's the ska kid in me, but I love checkerboards. They also come in pink and blue, which are $12 each - the black is $20.
Yes, more JUMP. I lurrrve the purple. $20-30, comes in purple, coffee, black, and red storm.
Hot hot hot. $24 for the black.
One reviewer described 'em as a "dressed up cowboy boot." A graphite (pictured) pair is calling my name. All colorways are $26 except for the gold, which is $33.
The black is $17, the pink is $22. I love the stitching detail.
There you have it - not a lot of picks considering I sifted through 25 pages of results, but as I said, there were a lot of ugly shoes. And I'm notoriously picky when it comes to shoes as well! If you want to, you can view the sale yourself here. Oh, and did I mention that most of these pairs were $100+ before the sale?
Obviously, I would normally be doing several smaller posts with links interspersed but since I've been non-posting obviously that's not an option! I have, however, been keeping track of things I did want to post about, so here's a veritable smorgasboard of link deliciousness!
Ashe Mischief posted the first in a series called Curious About Corsets and I'm looking forward to reading the rest - there's a lot of myths about corsets and informed consumers are always a good thing!
Guest post by Fay Grimm at Yes And Yes titled 5 Ways to Show Your Sewing Machine That You Love It - adorable! And yes, my sewing machines have names. Although I'm still working on naming the Rocketeer.
New blog to watch: The Demioselles. Definitely looking forward to reading what these ladies have to say, since standard sizing is a pretty sticky subject.
I don't think I've posted about Clockwork Couture here before, but it is a fabulous new(ish) steampunk-themed clothing store. The woman who runs it, Donna Ricci, regularly posts on the steamfashion community and seems to be a super-sweet person, not to mention her dedication to getting cruelty-free products is admirable. They recently updated the store with several new items, many of which are ADORABLE.
It is a LOT harder than you'd think to find a cute pair of vertically striped thigh highs! I've seen a few that were lacey in between the stripes, which is a good look but I'm so picky - these are a dead ringer for what I've been looking for.
Great layering piece, and I love the use of ruffles to add some feminity to something traditionally viewed as more menswear.
I used to have a pair of plaid bondage pants - these capris remind me of them, except for a lot more, ya know, feminine. I love the dusty pink color with all of the buckles and etc…I really want a pair.
The jewelry section is definitely worth looking through too - there's gems like the Absinthe Necklace, Compass & Keys Charm Necklace, and the Laboratory Chaterlaine. Want? Yes, please.
There was a fantastic post on Craftster, showing off clothes that a Swedish design student (see her website here) made in her fashion curriculum. Definitely worth checking out - great eye candy!
Also, a random site from an ad I found in BUST - B & Lu. VERY cute fashion, starting at a size 14. In fact, I kind of want half the things from the website. The testimonials are absolutely glowing as well, and it looks like they have good cause to me - affordable, cute fashion for bigger gals, I'm just wondering why I haven't heard of them before!
That's about it for now, although there is of course, more to come. In my laptop-lacking boredom, I took on an old-school papercraft project (which will be posted as soon as I get it all finished), which meant going through my huge stack of old magazines. I found a lot of stuff I'd found before and forgotten about, and just a lot of neat stuff, so I'll be posting all of that too.
FINALLY! And I actually had a post planned, but I feel so ucky I don't think I'm enough of a trooper to finish it. I will be posting soon though - it feels so good to be able to use the internet without having wrist pains after five minutes! I missed blogging a lot more than I thought I would too. Anyways - watch this space!
As you may have noticed, I don't really cover a lot of runway fashion on here. That's because, at least to me, the vast majority of runway is overrated, overpriced crap that I wouldn't wear if someone paid me to. It all either seems boring or "oh, look, I'm oh-so-very avant-garde" to me. I know that is just my opinion, but hey. Anyways, I saw some photos on Style Amor of the Alexander McQueen fall 2009 collection, and there are some great things! Granted, I can definitely do without the clown makeup (what is UP with that?) and most of the hats.
Love this. It makes me think of a demented Mary Poppins. However, I've never seen the movie or read the book, so that should probably be taken with a grain of salt…and I don't think Ms. Poppins had an industrial strength neck brace.
I kind of like this, although it reminds me of some garbage-bag dresses I've seen on Craftster that look just as good.
That's actually all that I could find from the collection that I liked. Go figure, right? Still, I would definitely wear that first dress. Mmm.
Wow, it's been a LONG time since I've done one of these!
I got my package from Bravissimo today (which is REALLY fast shipping! only a week or so for international mail!) and I love this top! This picture didn't turn out very well I don't think, something about the pose or my facial expression (which, despite my excitement for the top, looks pretty…err..stony) or the lighting, but I swear, it looked great in person. I think I need a safety pin for it because there's a tendency for it to gap between the tiny button at the crossover and the tie, but that's it.
Shoes - Sofft mary janes
Capris - secondhand and DIY'd (taken in and cropped)
fascinator is from Hot Topic
Necklace from sweetheartsinner on Etsy
Top from Bravissimo
bracelet that you can't see is thrifted rose quartz
Also, it was 75 degrees at eight o'clock this morning and is now 39. Missouri weather = LAME.
Wesley REALLY likes the new boots. A lot. She has a habit of doing this with my other pairs of shoes too, but I've never caught her. (yes - it's a she. turns out, our sex-guessing skills are really bad with the kitten in question is three weeks old.)
I swear, Giles was loving being on my lap. For some reason, he looks mad. I have a theory that our cats have two facial expressions, and two only: extremely happy and really pissed off. c