-this post at Already Pretty!
-Chocolate concretes (I think this is a midwest-centric term. it's frozen custard stuck into a blender with other things, basically) with brownies + hot fudge + whipped cream and cherries on top!
-travelling! Excited for travelling!
-getting married tomorrow!!!
-the Moulin Rouge soundtrack. has that been on TILT before? oh well.
-setting a Picasa-made collage of my inspiration folder as my desktop background. lovely!
-making a mix cd for my sister. I will expose her to the weirdest and most vulgar music in my library. muahahaha.
That is all for now. Back to packing/last minute sewing!!
So, I believe I mentioned Eccentric Glamour and that I liked it, but never gave a full-fledged review. It is, of course, fabulous. It covers everything a girl needs to make the transformation from drab to fab - and of course Simon is HILARIOUS. Some of his statements are less than PC and will make a few readers roll their eyes - and I personally could have done without the chapter on weight loss. Really, Simon? Isn't it much more eccentrically glamourous to say "eff you" to societal standards of scary skinniness? (alliteration for the win! *cough*)
But I digress. The book starts with a rallying cry in the prologue of "say no to ho!", where Simon laments the pornification of fashion and style nowadays. He wants to see more women showing off their personal style in the best way possible - eccentric glamour!
The book is a bit odd in that it isn't a typical style manual (although, those books usually put me to sleep, so score one for Simon). It starts out with the three categories of glamorous eccentrics - Socialites, Gypsies, and Existentialists - which sounds like an awfully small number, but it works. For the record, I'm firmly in the Existentialist camp. He explains how to realize which group the reader would fall into and what the basics of each style is. From here, the book goes on a wonderfully meandering path - how to guard your self esteem, the meaning of your clothing, handbags, joie de vivre, careers for glamorous eccentrics, etc, with profiles of bona fide glamorous eccentrics in between each and every chapter. Simon liberally sprinkles anecdotes, including stories of his family and his mother Betty (who sounds like she was quite the character!), and is incredibly funny. Some of his advice may seem a bit extreme at first - I remember the first time I read this book, back in November or so, when I read of his distaste for jeans and his advice to throw them out, how boring he finds them, I balked a little bit. Funnily enough, six months later, I very rarely wear jeans and only have one pair! I do feel that the book kind of loses its steam towards the last half of the book - it starts to feel less cohesive and more like a series of short essays than one comprehensive work. This is, coincidentally, where the weight-loss chapter is. Each of the times I've read EG, I always get sort of bored near the end.
Overall, though, it is a GREAT book with a ton of style inspiration and food for thought (my copy now has several bookmarks in it of places/people to look up!). Definitely worth picking up - especially because it was just released in paperback a month or two ago! So what are you waiting for?! Go order it! While you're at it, be sure to check out Simon's website as well - the Random Scribblings page is particularly amusing!
So. As you know (if you've been paying attention!!) the next while is a pretty big deal. I'm getting married on Friday and will then be in Chicago until next Thursday, and we're planning on being moved out of our current place and into our place in Austin by the end of May. Plus hopefully going to a Gogol Bordello show somewhere in there!! And somewhere in all of this, I have a major redesign of the website planned. I'm going to try and keep posting as much as I can, but I probably won't be around a whole lot for the next week starting on Friday, and definitely not posting as much for the second half of May. Thus, guest bloggers! If there are any of you who would like to write a post, I would appreciate it and love you forever and sing your praises. And such. If you DO want to write a post - on anything! doesn't have to be fashion related, it can be about how laundromats are scary (or is that just me?), the joys of cupcakes and kittens, etc. - leave a comment or email me at declinedesigns (at) att (dot) net.
Also! Any readers in Chicago? I'd love to hear your favorite places to shop!!
A few more things definitely worth adding…
-Oldie but definitely a goodie: Dressing With the Essence of Fairy Tales at iCiNG
-Sal at Already Pretty did a post on Elevator Shoes.
-An old Vogue (I think?) circus themed editorial at Dapper Kid (found via Ashe Mischief)
-Apparently Modish has a business tips section! (also found via Ashe)
I've also addded several great links to the sidebar - In Pursuit of Fashion, Dapper Kid, Fish Nor Fowl, Destroyx, Dream Sequins, Bonne Vie, Pony and Pink, The Curvy Fashionista, The Demoiselles, The Coveted, and Awakened Aesthetic. If I've left anyone out, please let me know in the comments and I'll definitely add you!
Yup, another TILT full of links. Although I will say I loveloveloveee my Inge boots. The Mollys, I'm afraid I'm going to have to eBay - either my heel is too narrow or I need to go down a half-size (although, it feels like if I did that the toe box would be too narrow anyways), but I can't wear them as is (and yes, I tried everything I could think of - ball of foot inserts, heel grips, yadayada) because it's like wearing a pair of freaking flip flops. Urgh. Anyways, on to the linky goodness!!
-My Letter to the Retail Industry at the Curvy Fashionista. LOVE IT.
-Fashion and Patronizing, Colonial Rhetoric, Take #758080 at Racialicious.
-How to make a Butterfly Tiara at Pony and Pink
-two great posts from Outi at Outsapop Trashion: photos of the Victim Fashion Street Collection (I think I might make a skirt inspired by these) and a post full of photos from her inspiration archives. Yum.
-Some thoughts on the new Grey Gardens series at Lucite Box
-This chick has some pretty awesome shoes. No lie.
Ok. So maybe that was kind of a sad go but it's all I've got at the moment. Enjoy!!
Yes, I do have several Posts of Substance (TM) planned for the future. But for now…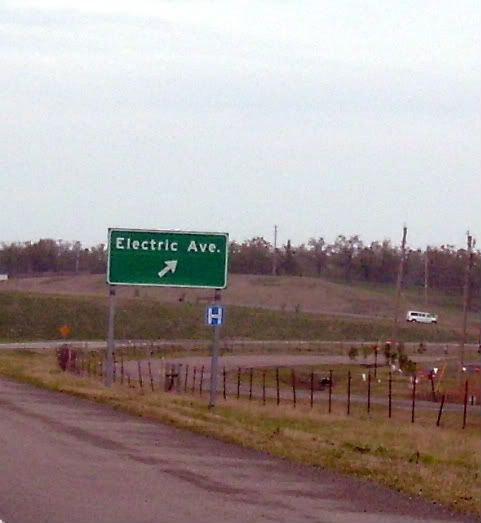 (no, that wasn't in Austin, just a sign on the way!)
Trip recap! I know you're excited.
So the drive from Joplin to Austin is a longgggg one. We left Joplin around 9-9:30 on Friday morning and didn't get in to the hotel until…probably 8? 8:30? It might've even been closer to nine! We nearly got in a wreck on the way there - very scary. It was either right before or right after Dallas, and it was raining - some idiot 2-3 cars in front of us slammed on their brakes and went from 70 mph to 0 in a very short span. Matt swerved at the last minute, and, although we got a bit in the ditch, we got out ok. The rest of the trip was (thankfully!!!) uneventful, and we got into Austin right as it was getting dark, so of course we got lost and drove around in circles for ages. First thing we noticed was that the people are ridiculously nice! We stopped and asked for directions twice that night and the direction-givers were super helpful. Also, and I had heard this before, but the whole city seems kind of…immersed in the background because there are a LOT of trees. There's not really a better way to explain it (I meant to take pictures and forgot, except for a few on the way back that didn't turn out so well), but the effect is lovely.
Once we FINALLY got to the hotel room, we pretty much ordered in some Italian and passed the hell out, even though it was only 10:30-11. Woke up around nine, messed around on the internet some, showered and got dressed, and headed out to get some breakfast. We were going to go to this diner place called Jim's, but it was PACKED - so we walked across the plaza to Southside Austin Subs instead. DELICIOUS. I got a sub with grilled portabello mushrooms and had Matt staring at it in envy the whole time (even though it didn't have any meat on it - usually a prerequisite for him!). More ridiculously friendly people. Then we headed out to Buda to look at our new place, meet the new landlord, and put down a deposit. It's a cute little 2BR with its own backyard that's almost completely private, due to a ton of bamboo. And our new landlady, Barbara, is great.
So! After that, we drove around Buda getting a good look at our new place of residence, then headed back into the city. We parked by the Buffalo Exchange on Guadalupe and walked down…a LOT of blocks. At least 2-3 past the church of Scientology and then back. I went in to several stores but couldn't find anything that fit me and I liked! Lame. Although to be fair, I didn't dig around at BE very much, as it was a total cluster and not very well air conditioned. There was a Pura Vida dress I really liked at Pangaea Trading Co., but the last size left was a 12, which looked too big, and the sales associate was rude enough to another customer in front of us it made me not want to shop there. And now I can't find the dress online. Sigh.
Anyways, while we were walking on Guadalupe, I was stopped by a homeless man who told me that I looked like Mary Poppins (and that he loved my hair). I definitely took it as a compliment!
There was also some pretty killer street art and stencilling: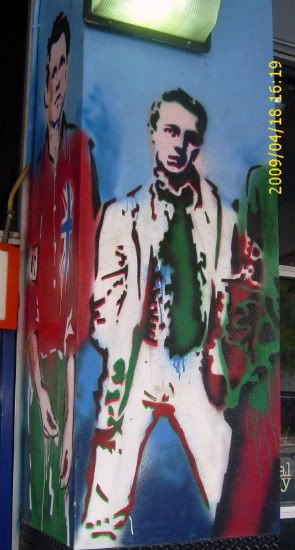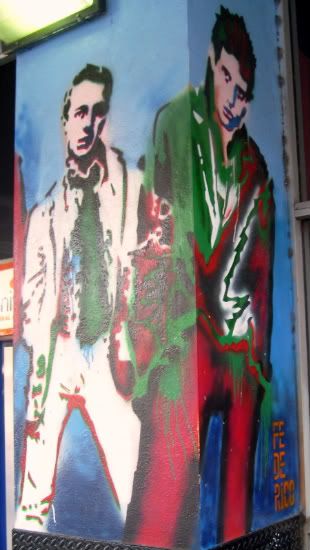 This was outside of a now-defunct music and bookstore (Intellectual Property, I want to say?), that had a ton of other artists painted/stencilled outside, including Johnny Cash. Even though it made me feel very touristy, I HAD to stop and take a picture! (For those not in the know - shame shame! - that's off of the cover of the first Clash LP.) Can you IMAGINE how long that stencil would take?! It gives me hand-cramps just thinking about it!
After we left Guadalupe, we got lost again and drove around looking for First. We eventually found it, and Flashback Vintage on it. They have a LOT of cute stuff in there! Unfortunately, not a whole lot that fit me (vintage dresses = TINY!) that I also had the spending money for. There was a cute vintage 40's dress that fit, although it needed taken in on the back pleats a little, but it would have been my whole spending budget for the trip (which wasn't a lot, $45), so I got this faux pearl necklace instead:

(yes, I did just model a necklace on our thermostat. It was the only thing available, ok?!)
The girl at Flashback Vintage was super sweet, adorable, and SO NICE. After that, we went to Congress and walked along it for a block or two to hit Lucy in Disguise - which was also packed. We didn't realize it until much later that night, but not only were there one or two music festivals going on this weekend, there was also the Lone Star hot rod show. Which explained a lot - Matt kept wondering aloud if there were always that many nice cars in Austin! Because of all that jazz, every place was SUPER crazyass busy. At this point (after 5-6 hours of alternately driving and walking around), I was exhausted, hungry, and my feet hurt, despite wearing the most comfortable shoes I owned, so we headed back to the hotel. I took off my shoes to realize that due to them being a tiny bit loose, I now had two shiny new blisters on my left foot. And a slight sunburn - ouch! We intended to go out for dinner but just ended up lazing around the hotel room the rest of the night.
The next morning we got up and around at a ridiculously early hour to me for a Sunday morning…8:30. ha. We headed down to the front desk to checkout and asked the woman there if she could recommend a close breakfast place, she recommended Jim's, so we thought we'd give it another shot. It was much less busy this time - we were seated, had eaten, and got our ticket all in 30-45 minutes. The food was awesome too! Better that IHOP fo'sho. After that, we got directions to I-35 and headed back out of town. I did get ONE good picture on the way back: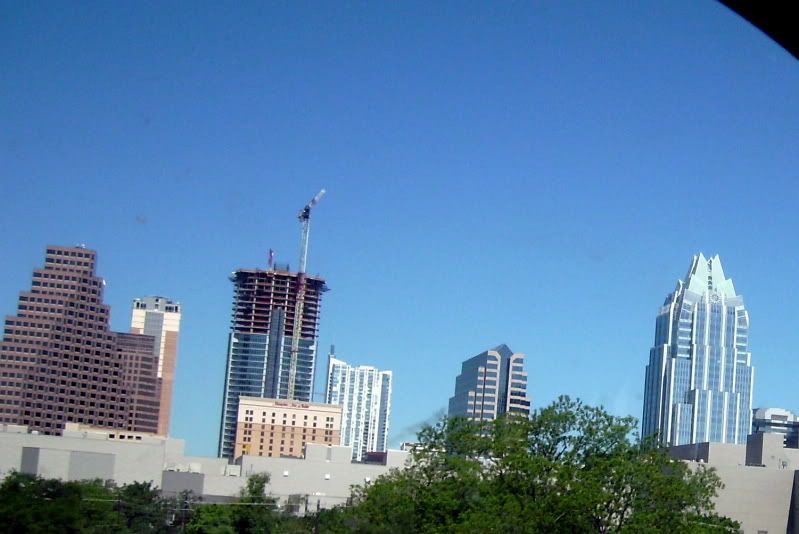 We made a lot better time on the way back - we got out of Austin around 10:30 and got home at 8:00 or so, and that was with us stopping 4-5 times for bathroom breaks and food (we only stopped TWICE on the way down!). Our kitties had obviously missed us, although Wesley seems to have turned into an even bigger spaz in our absence. And I came home to a big box from Amazon:
Yay! My Fluevog Molly shoes came in and they are super comfortable + fit great - I ordered a half size up to an 8, and they are a tiny bit loose on my right foot, but fit great on my left. The arch support and padding is FABULOUS.
I also came home to a package from Jupiter Moon 3, my corset that I ordered back in December. I was kind of disappointed that it took this long to make, as, since I've gone up a bra size in the four months between ordering it and receiving it…it fits great everywhere but is WAY too small in the bust area. Sigh. I'll probably just list it on the Corsetry community on LJ - more spending money for Chicago, right? The corset appears to be good quality though, all flat steel boning, and it certainly sucked in my waist…but there was no way I could have worn it in public!
I had been kind of disappointed that I had tried to hard to find something I wanted in Austin and came home relatively empty-handed. You know the feeling, when you hit several stores but just can't find anything worth your money. I was browsing Karmaloop to see if they had updated their sale section - lo and behold, they have, as well as having a warehouse sale, and a Kazbah (their premium store) sale! I got these two t-shirts, which I had already been eyeing:
Original price for the two of them? $69. I paid $20.70. SCORE. I'm also planning on hitting the thrift stores here (seeing actual vintage store prices sure made me appreciate our DAV!) and the fabric store later this week, as I have a few ideas for things to make.
Anyways! So that was my action-packed weekend (a nice change, believe you me). How was your's?!
Okay. We are now in the hotel in Austin, eating delivery (thank GOD for delivery!). It only took a ridiculous amount of time driving around trying to FIND the hotel and pulling over to ask for directions twice (everyone here is ridiculously nice btw, it's almost enough to make a cynical person suspicious!) and then having to call the hotel anyways. Tired? Yes much. We also nearly got in a wreck on the way here. But it was narrowly avoided due to Matt's lightning fast reflexes, although that didn't stop me from nearly passing out (high strung? maybe!). Anyways, I will probably not be posting again until Sunday, hopefully with some cute vintage finds and new shoes and stuff (I actually have pictures to post but forgot my camera cord. Whoops!). So I hope everyone has a fantabulous weekend!
-Eccentric Glamour! I'm rereading this and will have a full review posted in a few days, but man, I love this book.
-Bargain shopping! Here's some of my favorite things I've picked up in the last few days: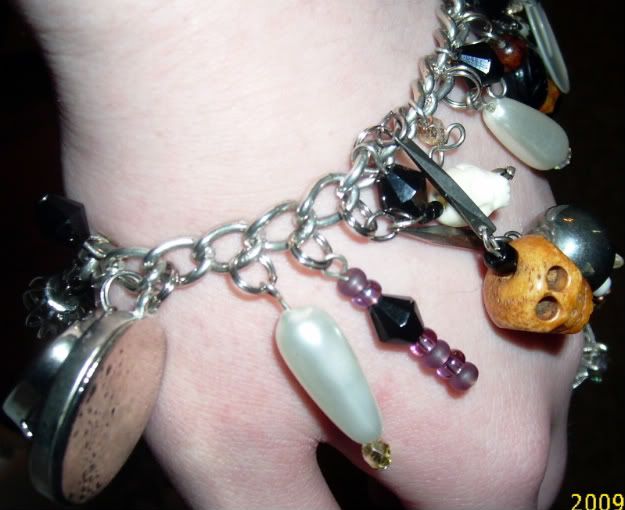 An incredibly noisy bracelet filled with random charms (including a ghost, a bat, and a few skulls) and beads, for $7ish from work.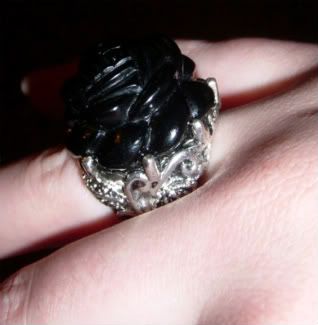 Ridiculously big rose ring, found in the costume jewelry section at work, also around $7! Love this to death, even though it feels like it weighs my hand down, haha.

And the best of them all - vintage, calf-length, gray leather jacket with black accents…for SIX DOLLARS AT THE DAV. I originally thought it was tight, but I think the leather is just a little stiff from years of non-use. It needs cleaned, probably, but holy cow I love this jacket a lot.
-My "new" (read: inherited from sister in exchange for a few things) iPod touch. It is awesome. I'm already trying to find as many fashion and blogging related apps as possible.
-My Fluevog boots are on their way and I apparently got the LAST pair of the teal 7.5s in the company!
-Because of the new iPod and an FM tuner, I can now listen to my music in my car. For the first time in like, a year.
-Going to Austin this weekend! eee!
What's making YOUR week great?
Remember the Bronx Gillian boots? First mentioned in DECEMBER? Well. I finally got my pair.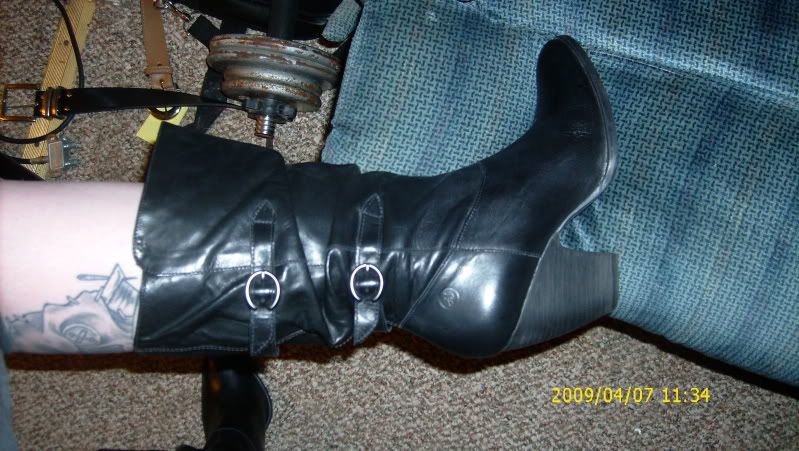 Sorry for the huge pictures. Camera's being a bitka again.
Anyways. How much do I love them? A LOT. They're a teensy bit big, I just need some cushions to fix that - but it sure makes me glad I ordered two (!) sizes up! The leather is super super soft and so is the suede lining. Delicious. And they're also comfy to boot! I only had to have the "bronx boots" search saved and emailed to me daily for, oh, four months. Totally worth it to get a $200ish pair of boots for $35 with shipping.
Also, a slightly better picture of the new hair, although I'm making an Olsen-esque face. Promise it wasn't intentional!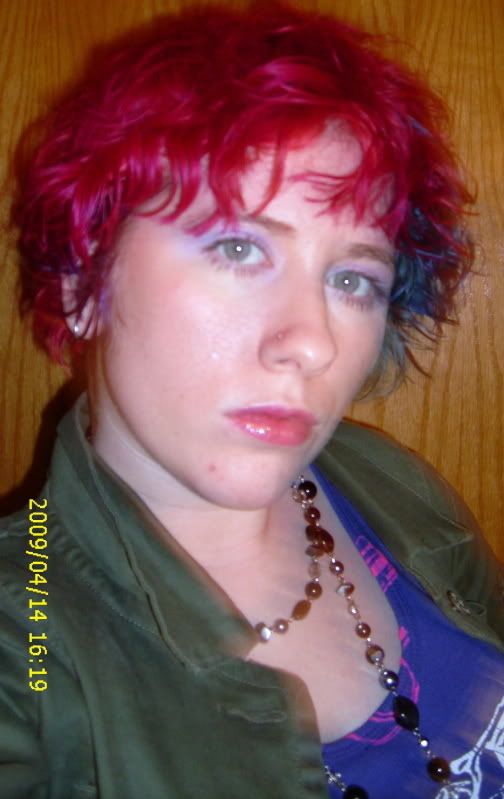 I seem to have an ethereal glow. Anyways. I'm done with my gratuitiously large pictures of inane things. Back to your regularly scheduled programming!
P.S. - I, apparently, ordered the last pair of teal Inge boots in a 7.5 available. I find this crazy amusing for some reason.