This will be the last one, at least for a while! (there won't be any post of today's outfit, as it's basically a rehash of Sunday's.) Look forward to a guest post from Dream Sequins tomorrow - I can hear the sighs of relief from here
The skirt and the tank are both DIY'd. Or, well - the tank top is dyed and embellished - I'm thinking about doing this to some more tanks for the store. The skirt is from scratch, in an attempt to get close to that PINaR ERIS skirt I posted a while ago. Obviously, it didn't turn out exactly the same, but I'm okay with that - I'm still pretty happy with it. I was particularly proud of the finishing - all of the seams on the waistband are top-stitched, the zipper turned out really well IMO, and I got the plaid to match up along the side seams of the skirt great. I kind of dropped the ball in that department on the waistband, but hey, you live and learn right? I tried to get a picture of the back, but it didn't look so great so I'll just get one later or something. The headband is also made by me! And the boots, of course, are the teal Inge boots from Fluevog. Better shot:
Also, close up of the headband in the car. Traffic was SLOW, let me tell you. I also took a picture of my necklace: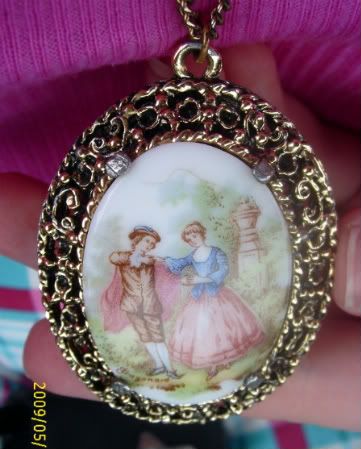 Something vintage that came in at work. I snagged it right away!
This outfit kind of made me feel like a Victorian circus performer. This really nice guy stopped us to tell me how unique I looked + how much he liked my tattoos and it made us giggle because he immediately followed it up with "No disrespect meant, big fella!" to Matt. Granted, Matt is tall-ish, but not big by any means! Also, a big barn owl at the aquarium (yeah - I didn't get it either - but it was so pretty! also, barn owls are much larger up close. holycow.) kept staring at me. I think it could smell my headband or something, ha.
Today we're going to the Museum of Science and Industry and hitting one or two more stores. It's supposed to rain - I hope the weather doesn't get too nasty. Then tomorrow, we're heading back home! I miss my kitties something terrible! I wonder how long they'll be mad at us for leaving them for a week…aaand my 80%20 Lily wedges should be in, I'll have to do a post and compare my conclusions with the Demoiselles'. Totally not looking forward to re-packing tonight though - have to fit all of the stuff I brought plus everything I bought back in the car. Hmm. It will be interesting, to be sure!
3 Responses to "Daily Outfit 5/5/09"
Additional comments powered by BackType