This is a start of a new thing here at Decline Designs. I know a lot of people have a hard time getting up and going on Monday after the break of the weekend and so, from now on, on every Monday I'll be posting happiness-inducing tidbits, whether they be links, products, or just general Things Worth Looking At TM. In fact, another purpose of it is to keep my Things I Love Thursday list from being entirely composed of links! Enjoy, I hope it spices up your afternoon a bit!! (and yes - this was supposed to go up this morning, but I left the house at 8:30 AM without posting it and didn't get back until now!)
Also - I decided since I don't have any really good photos, I'm not going to do a full Chicago recap. BUT I do have to tell those living in the Chicago area…check out Buy Choice Resale. (Yes, Gala was right. Yelp is incredibly helpful.) You NEED to do it! Kathy, the owner, is ridiculously personable and even though the shop is small - there is a lot to look and most of it is really good. Total props for also have a decent plus size section - this was not one of those places where the sizes stop at a six! Since I have taken on the slightly insane very organized task of photographing my entire wardrobe so I can import it to my iPod and create outfits using Touch Closet (I never said I wasn't a huge dork, ok?!), I have decent pictures of my finds: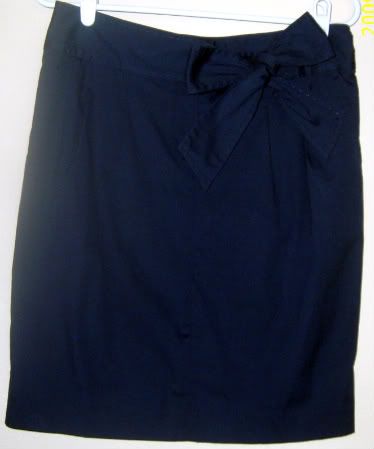 This skirt is SUPER cute in person - it's a much truer, prettier navy than it appears here. Kind of a funny story behind it. I recognized the label as something vaguely expensive and then my curiousity was piqued even more when, seeing it at the counter, Kathy said "Ohh, this is what we in the trade refer to as a fancy schmancy brand, isn't that right dear?" (or something to that effect - I've slept since then). So I went home and looked it up - it's an Elie Tahari skirt, which, after a quick glance at ShopStyle, confirms it would probably be in the neighborhood of $200 new. I paid $21 + tax. SCORE.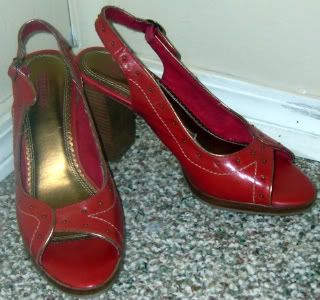 I am not sure why (I think it's the color scheme) but these remind of the circus. Which of course, meant I had to try them on! They're marked an 8.5 but somehow fit me, although I think I need to take them to the cobbler and have him punch another hole in the strap. They're pretty comfortable too - makes me want to buy more Seychelles (see above
). These were also right around $20!
Oh and I lied. One photo from Chicago that's too good not to share:
I'm probably just incredibly silly but this makes me giggle every time I see it.