I hope everyone is having a fabulous Labor Day weekend! Matt's got the day off, so we're going to do some minor errand running, probably go have a look at the Zilker Botanical Garden and maybe hit a few of the museums on campus at UT. Yay for free entertainment! On to the list:
I loved these photos that a Wornette in Paris took. Check out that old lady - mad style!
Glendy over at Style Amor posted about the Alice in Wonderland and Tim Binns collaboration and has some awesome video. Definitely go check it out!
The Aquabats make me giggle. Little blurry, but I couldn't find a better video.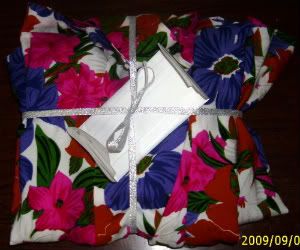 I made my very first sale this week at Market Publique! It sold on Friday and I shipped it out on Saturday. Here it is all pretty, wrapped up with a thank-you note and ready to be mailed out.
Last but not least, I'm SUPER EXCITED because Gogol Bordello is going to be in Austin on November 1st! I am so so so excited - we wanted to see them before we moved, but they didn't get to Kansas City until two days before we moved. It would have been a two hour drive up there and back, and then moving ten hours two days later. Not so much. The fact that they'll be here in Austin relatively soon makes me happy!
What's making your Monday marvelous? Having the day off work probably helps! (Unless you work retail, in which case, my sympathies. Put your employee discount to good use on top of those sales!)
One Response to "Marvelous Monday!"
Additional comments powered by BackType