Like I said, we went to the Botanical Gardens today. So I tried to pick something out that was semi-practical:
The practical comes in because I wore these boots instead of my heeled Bronx ones. It was still a little impractical because, you know, it was 95 degrees outside, but hey! Secondhand necklace, Fluevog engineer boots, ruffled Target skirt, and DIY'd tank. The tank has been shown before, but I've only worn it a time or two. I sat down to ponder why I never wear it, and decided that maybe it had too much going on around the necklace. Since I've been loving ruffly-shouldered stuff for fall, I decided to take everything off but the white ruffled ribbon and I think it'll be much more wearable this way. My eyes have been prone to being super-irritated lately, so I've been going very light on eye makeup. Just some mascara (the L'Oreal tubes kind is very good about not getting in my eyes) and that's it. It's a little annoying, though, especially since I just received some Stila SmudgePot from BeautyCrunch ($13 for three colors!) a week or two ago  and haven't got to use it yet.
The garden was gorgeous. I'm honestly in awe that they managed to get that many varieties of plants to not only grow, but stay green.
These koi were seriously two or three feet long. HUGE FISHIES.
I'm a total sucker for lotuses. Lotii?
We didn't see all of it because I'm a wuss and got tired of walking around when it was that hot out. Also, I forgot to eat much of anything beforehand. Silly! We just went around the Oriental Gardens and then went by the dinosaur section. There were butterflies everywhere, I was just waiting for one to land on my hair! We'll definitely come back on a slightly cooler day to explore the rest.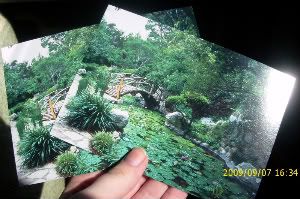 I snagged some postcards at the gift shop for the postcard swap Denise at Dream Sequins organized, and then we were off.
After that we hit a thrift store or two, didn't find much of anything except for lots of crowds. There was a cute pair of Giorgio Armani wedges for $15, but they were a size six. Sigh. Then I stopped in B&N to grab the Z!NK. I kept trying to find Bust and then realized that I already have the most recent issue. D'oh. Also, this Barnes and Noble, unlike the Books A Million in Joplin, was thoughtful enough to have a footstool so that us shorties can reach the top shelf. Awesome! (Yes. The little things excite me.)
We realized we were both craving pizza and decided to get some at Conan's. The guy at the counter was very funny, apparently while I was getting my drink he said something like "Yeah, the Dairy Queen next door? They have chili dogs. Leave it to Americans to turn meat into a condiment!".
Also, guess who won the Maghound giveaway at IFB?! Super psyched! It was a pretty good Labor Day all 'round, I'd say! How was your's?
PS - I joined Weardrobe in an attempt to motivate myself to do more daily outfit photos/posts. My goal is to do at least one a week, maybe two. They'll be posted on Saturdays and Tuesdays. Anyways, check out my profile here. They must have changed things around, because I joined it a while ago only to become so confused and annoyed with the set-up that I deleted my account roughly 24 hours later. But I'm finding it easy to navigate so far! If you're on there, let me know - I'd love to take a look
7 Responses to "Daily Outfit 9/7/09"
Additional comments powered by BackType