I didn't post this yesterday. I'm a terrible person. Lots of self flagellation is in order.
(orrr, I forgot to type this up Monday night, and I spent ALLDAY yesterday running around doing errands & getting set up with a client to start doing work)
Anyways! So this is what I wore Sunday.
Ruffled Old Navy top, seriously modified (I think I chopped probably 1 1/2 feet off all told) H&M skirt, secondhand Hyde belt, secondhand necklace, eBay'd Kurt Geiger shoes.
The shoes are undeniably badass, but could be a little more comfortable. They go in the "cute, but won't wear for more than 2 hours unless sitting" category. Which, proud to say, is pretty small in my shoe collection – I really try not to buy shoes that I can't wear for at least 4-6 hours at a time and a lot of it walking. Definitely a firm believer of form and function here!
Close up on the makeup:
Yes, marvel at the whiteness. I literally glow! I was trying to get a good picture of the lipstick – it's Very Cherry by Maybelline & I've been RAVING about it to anyone who'll listen. Long wearing, not drying, doesn't build up, and it's a dead ringer for MAC Russian Red at half the price. It's taken me forever to find a good red lipstick, so this makes me happy.
Anyways – Sunday was Matt's birthday, we went to a party (although not his, we're having a get together this weekend) at a Mexican restaurant and I ate a greasy quesadilla that made my tummy angry at me. Eh. I also realized I don't have a good picture of Matt and I from the last few months, so I talked him into taking one:
That was pretty much my Sunday. Then yesterday, on the way home from meeting with aforementioned client, I stopped at a shopping center that had a Marshall's & Ross together in the same spot. Too tempting! I'd been in the Ross before and I find it rather useless – there's some good deals on shoes, and Hello Kitty underwear, but eesh! the place always looks like a tornado hit it. Or more realistically, hordes of shoppers who fling everything back into some incredibly random spot with no concern for other shoppers or the people who have to work there. Why yes, I have worked retail. Even the shoes are a gamble, if you find one shoe that fits, it's anyone's guess if you can find the mate. Oy vey.
So I just picked up a few pairs of underwear & headed down to the Marshall's. Actually, there was a pair of LifeStride gray pumps that I'll probably go back and get at the Ross – they weren't super-sexy, but I'd just been saying that morning that I could use a pair of close-toed pumps with a walkable heel now that it's getting to fall. I believe they're these, or something similar (but in gray). And they were only $8.50. Hopefully they'll still be there later.
I fared much better at Marshall's! I got a Kenneth Cole Reaction top for $10 and a linen jacket for $13 (that still had tags on for $59 and $48, respectively) on clearance. The linen jacket isn't much to look at now, expect it to make an appearance in a week or two when its extreme makeover is complete. The KCR top was kind of an amusing case. I saw it on the hanger – it looked like a hot ruched mess. I don't know what made me try it on except that it was my size & I thought "If it's as hideous on me as it is on the hanger, I'll have some funny pictures!".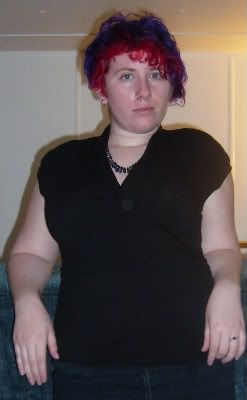 Ignore the spot. Bad lighting. But marvel at the flatteringness! I'm not sure the full effect can be conveyed through a photo (or at least, a badly lit living room photo). It has a v-neck that doesn't show half of my bra. Sort-of cap sleeves that also cover bra straps. A neat almost-collar effect around the neck, an empire waistline that actually – gasp – does not cut the boobage in half (note to patternmakers: this is a problem, f'reals), and ruching on the sides that is somehow flattering. I could not resist.
There were also these:
For some $6. I'll probably go back for later this week for some Betsey Johnson tights (black lace & purple in a set), as well as a denim blazer. Wanted to think on them! I just wish I could cut these off into thigh highs, but they'd probably unravel.
I forgot how much fun it was to dig & find bargains! Have any of you found any good deals lately?
Also a note to pet-owners: if you haven't seen me tweet about it in the last couple of days, pleaaaaase don't use Sergeant's flea/tick products on your pets!! The other day a girl on PRD linked to this list of complaints about their products – most of it was for their Frontline-type product. There were stories of dogs having seizures, foaming at the mouth, acting as if they were hallucinating – all sorts of really scary stuff. And then a fellow forum member chimed in and said that she had used their flea bath on her 2 cats. It killed them. When she called the company, they sent her a sympathy card and a coupon for their products! Ugh. Obviously big companies can get away with crazy shit, but I wanted to pass this on to other pet owners. If Giles and/or Wesley were killed by someone's toxic flea products, you know I'd be at that CEO's office with a machete and some bloodlust.
Speaking of Wesley, let's wrap this post up with some gratuitous cute:
I believe the caption should read something like "all your hand are belong to me".
PS – I switched conditioners & the new one is making my hair all greasy. Old one was a special edition from Sally's that I believe is discontinued. Any suggestions for moisturizing conditioner that won't weigh my hair down?
6 Responses to "Daily Outfit + Shopping Recap"