I didn't post this yesterday. I'm a terrible person. Lots of self flagellation is in order.
(orrr, I forgot to type this up Monday night, and I spent ALLDAY yesterday running around doing errands & getting set up with a client to start doing work)
Anyways! So this is what I wore Sunday.
Ruffled Old Navy top, seriously modified (I think I chopped probably 1 1/2 feet off all told) H&M skirt, secondhand Hyde belt, secondhand necklace, eBay'd Kurt Geiger shoes.
The shoes are undeniably badass, but could be a little more comfortable. They go in the "cute, but won't wear for more than 2 hours unless sitting" category. Which, proud to say, is pretty small in my shoe collection – I really try not to buy shoes that I can't wear for at least 4-6 hours at a time and a lot of it walking. Definitely a firm believer of form and function here!
Close up on the makeup:
Yes, marvel at the whiteness. I literally glow! I was trying to get a good picture of the lipstick – it's Very Cherry by Maybelline & I've been RAVING about it to anyone who'll listen. Long wearing, not drying, doesn't build up, and it's a dead ringer for MAC Russian Red at half the price. It's taken me forever to find a good red lipstick, so this makes me happy.
Anyways – Sunday was Matt's birthday, we went to a party (although not his, we're having a get together this weekend) at a Mexican restaurant and I ate a greasy quesadilla that made my tummy angry at me. Eh. I also realized I don't have a good picture of Matt and I from the last few months, so I talked him into taking one:
That was pretty much my Sunday. Then yesterday, on the way home from meeting with aforementioned client, I stopped at a shopping center that had a Marshall's & Ross together in the same spot. Too tempting! I'd been in the Ross before and I find it rather useless – there's some good deals on shoes, and Hello Kitty underwear, but eesh! the place always looks like a tornado hit it. Or more realistically, hordes of shoppers who fling everything back into some incredibly random spot with no concern for other shoppers or the people who have to work there. Why yes, I have worked retail. Even the shoes are a gamble, if you find one shoe that fits, it's anyone's guess if you can find the mate. Oy vey.
So I just picked up a few pairs of underwear & headed down to the Marshall's. Actually, there was a pair of LifeStride gray pumps that I'll probably go back and get at the Ross – they weren't super-sexy, but I'd just been saying that morning that I could use a pair of close-toed pumps with a walkable heel now that it's getting to fall. I believe they're these, or something similar (but in gray). And they were only $8.50. Hopefully they'll still be there later.
I fared much better at Marshall's! I got a Kenneth Cole Reaction top for $10 and a linen jacket for $13 (that still had tags on for $59 and $48, respectively) on clearance. The linen jacket isn't much to look at now, expect it to make an appearance in a week or two when its extreme makeover is complete. The KCR top was kind of an amusing case. I saw it on the hanger – it looked like a hot ruched mess. I don't know what made me try it on except that it was my size & I thought "If it's as hideous on me as it is on the hanger, I'll have some funny pictures!".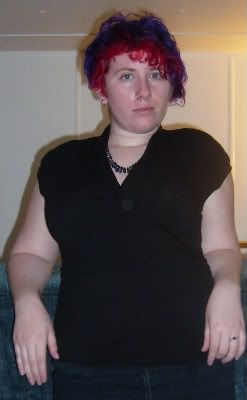 Ignore the spot. Bad lighting. But marvel at the flatteringness! I'm not sure the full effect can be conveyed through a photo (or at least, a badly lit living room photo). It has a v-neck that doesn't show half of my bra. Sort-of cap sleeves that also cover bra straps. A neat almost-collar effect around the neck, an empire waistline that actually – gasp – does not cut the boobage in half (note to patternmakers: this is a problem, f'reals), and ruching on the sides that is somehow flattering. I could not resist.
There were also these:
For some $6. I'll probably go back for later this week for some Betsey Johnson tights (black lace & purple in a set), as well as a denim blazer. Wanted to think on them! I just wish I could cut these off into thigh highs, but they'd probably unravel.
I forgot how much fun it was to dig & find bargains! Have any of you found any good deals lately?
Also a note to pet-owners: if you haven't seen me tweet about it in the last couple of days, pleaaaaase don't use Sergeant's flea/tick products on your pets!! The other day a girl on PRD linked to this list of complaints about their products – most of it was for their Frontline-type product. There were stories of dogs having seizures, foaming at the mouth, acting as if they were hallucinating – all sorts of really scary stuff. And then a fellow forum member chimed in and said that she had used their flea bath on her 2 cats. It killed them. When she called the company, they sent her a sympathy card and a coupon for their products! Ugh. Obviously big companies can get away with crazy shit, but I wanted to pass this on to other pet owners. If Giles and/or Wesley were killed by someone's toxic flea products, you know I'd be at that CEO's office with a machete and some bloodlust.
Speaking of Wesley, let's wrap this post up with some gratuitous cute:
I believe the caption should read something like "all your hand are belong to me".
PS – I switched conditioners & the new one is making my hair all greasy. Old one was a special edition from Sally's that I believe is discontinued. Any suggestions for moisturizing conditioner that won't weigh my hair down?
Mark Fast, I heart you! at the Sassy Minx – Mark Fast's show at LFW got a lot of media coverage for using "big girls" (a UK size 10-12, which I think roughly translates to a US 6-8…still very slim!) as models. It drew ire from a lot of people, many of whom obviously think fashion is only for thin people. Pfft. I think the models looked fabulous and it put a big smile on my face when I saw those pictures!
How to Lucid Dream at the 4HWW blog. Interesting reading for sure – I don't know if I'd put the effort into it though. I was talking with an acquaintance at one point and he found it really odd that I can wake myself up from dreaming if I want to – I thought everyone could do that! So I dunno, maybe lucid dreaming wouldn't be too far of a stretch…
Label-less Tastes at Athena Magazine. Athena Magazine is a feminist minded 'zine (I'm not honestly sure if there's a print version or just the blog…) and I LOVE their blog, you should definitely check it out – several great writers there!
And of course what makes this Monday the most marrrrrrvelous is that it's my birthday! Party! Not really (about the partying, it will probably be pretty quiet. not kidding about my birthday though.). I might make a little hat and wear it around the house today, good idea you think? Give the everyday activities a little festivity!
Sorry loves – no "real" post today. The last 2-3 weeks have been very trying for me, I've been having bouts of insomnia which, if you've ever experienced it (& I hope you haven't, because I wouldn't wish it on my worst enemy), has a pretty amazing power to throw everything else off track. I get stressed which makes me unable to sleep, so I'm more stressed, and the lack of sleep/stress does crazy things to my immune system, therefore I feel like crap and still can't sleep, and I just end up as an exhausted, stressed out, extremely cranky individual with lingering flu symptoms. Knock on wood, I seem to have found a combination that helps out a lot (valerian root & melatonin pills before bed), but I'm still pretty wore out. Wednesday night was the first night where I got 8 hours of restful, uninterrupted sleep in about 2 1/2 weeks. If you've noticed me being absent on Twitter or in comments – this is why. So I'm taking the day off to write up more posts and I'll be catching up on lost sleep over the weekend. I'll be back on Monday with a Marvelous Monday post! Thank you for reading, and I hope you all have fabulous weekends!
Breath Mint Anyone?
Edited by Jordana
There's something about the fall season that brings both calming and chaotic feelings. As we kiss our wild summer nights goodbye, we say hello to late night study sessions and longer days in the office. As New York Fashion Week closes and we're trying to catch up on the latest collections, London Fashion Week kicks off. This week's round up of Links à la Mode from Independent Fashion Bloggers embodies a little bit of everything in an effort to give you a breather in between the deceiving calm that comes with fall. We've got runway reviewes ranging from Fashion Pulse's take on Tory Burch to Fasshonaburu's humorous experience at the Snuggie fashion show, and Style Amour rated the top five most disappointing Spring 2010 collections. There are also a few new DIY's worth checking out, especially the Maison Michael bunny ears post from Monoxious. Last but not least, make sure you check out Ashe Mischief's scando-style post on Sarah Von of Yes and Yes on Dramatis Personae.
By the way, if you haven't checked out the IFB Dress Up Soiree & Evolving Influence Panel recap, click here.
Links à la Mode : September 24th
As you may have gathered, I don't really follow celebrity gossip. If a headline catches my eye while I'm in line at the grocery store, I'll read it out of curiousity, but my interest goes no further than that. So I don't know how or when Victoria Beckham became a style icon, and honestly know little more about her than she's tiny and used to be Posh Spice – but I did know that her book That Extra Half an Inch is supposed to be good, so I picked it up used on the cheap.
The back says that it's a "revealing and practical book on fashion, beauty, and style.". The chapters are Jeans & Trousers, Tops, Skirts & Day Dresses, Accessories, Parties, Vacations, Winter, Special Occasions, Pregnancy & Post Pregnancy, Lingerie, Hair & Makeup, and then there's a short conclusion with a 'Where to Buy' list. A lot of material is covered, obviously!
Let's start with the things I didn't like:
First off, there are an awful lot of pictures of her. In the introduction and the first few chapters, there's seriously one full page picture for about every three pages. You're pretty, Vic, but do we really need to see that much of you? This becomes less of an issue later in the book, as more fashion illustrations take over.
I found it pretty amusing that in the introduction she states "In most respects I am very ordinary; smaller-boned than average, perhaps, but normal height, normal face, normal hair…". Which, honestly, is a little ridiculous and almost patronizing to say. To claim to be average sized when she's that thin (not unhealthily-looking so, but still – she is a slim lady) speaks of a not-quite-firm grip on reality.
There's also a few lines in the denim chapter that read a bit like an ad for her line. Example: "I am very fussy about getting the length right on my jeans which is why dVb offers both varying lengths and a fabulous fit."
And the 'Where to Buy' section in the back is very heavily UK based, which means an unfavorable exchange rate and high shipping costs for US readers.
However, those are all relatively small nitpicks and they're the worst that I came up with. And honestly, I think a bit of tooting ones' own horn is expected in a book like this. The good far outweighs the bad!
She occasionally uses funny or endearing turns of phrase, i.e. "…don't wear a push-up bra under a tight T-shirt as that really is too obvious. What you should be aiming for is a nice simple line, not trying to hoik your boobs up your nostrils." I have to admit I giggled when I read that!
I absolutely loved that there was a section on tattoos under accessories, and she didn't pull any of that "they're oh so tacky" crap. I also love that there's a section on pregnancy and post pregnancy that seemed realistic and like it had great suggestions (obvs I'm not the one to ask!).
I liked that it walked the line between a "style" book and a "fashion" book. I'm not much into books that talk of fashion as follows: "Every woman should own this, this, and this, and never be too daring with their choices so as to stay classic and chic." – BORING! Unfortunately, these seem to be the majority. I was a little worried this book would fall into that category, but it doesn't. It's more about how to find things that fit, where to look for them, and what her favorites are. She covers the different options under each section without ever getting too preachy; it's made clear several times that her style tends more towards pared-down looks, but she doesn't say that's what everyone must look like. She's also very good about staying relatively realistic – designer clothing is mentioned, but so are high street type shops. Including Kurt Geiger shoes, which are just gorgeous and shortly afterwards found a pair on eBay at a great price. And I quote "Being a label queen doesn't necessarily mean you look better." Vintage shops and thrift stores are mentioned favorably as well.
All in all, it's nothing groundbreaking but a good book to have. It's one that will most likely stay on my bookshelf instead of being resold.
Have you read it? What'd you think? What are your favorite fashion and style books?
This week is a good lot of links! Are you ready?
I hope your Monday is grrrreat!
A chill is in the air, the leaves are starting to turn – fall is almost here! In most parts of the country, anyways – here it's still regularly hitting 95 degrees. But it's been raining a lot more lately, and definitely beginning to cool down (95 is better than 105!) so it's time to start thinking about my fall wardrobe. Or more accurately, fall wardrobe philosophy – I don't think it's necessary to purchase new clothes every season!
For fall, I'm thinking…
More gray than black in outfits, with accents of dark, rich colors. Royal blue, deep purple, and wine especially.
Lots of hats and hair accessories! These, of course, are something I always love (but never seem to find time to make/dig out at shops), but hats are especially useful for fall.
More feminine shoulder accents, instead of military esque. Vintage glittery brooches pinned on, ruffles on shoulders, that sort of thing.
Lots of thin, light layers. Chunky sweaters are going to be in, I know, but I don't think they'll be very flattering on me. I especially want some long, sheer cardigans in a few different colors.
I'm definitely wanting a few pairs of gloves – but pretty ones, not mitten-y ones.
Lots of leggings and tights! Since I'm sure I'll be able to wear a lot of skirts here, unlike Missouri, where if a skirt was worn in the dead of winter, it would be sorely regretted, no matter how many layers were involved. Specifically on my wishlist are black lace-patterned tights/socks, vertical striped thigh highs, and opaque tights in purple, yellow, and turquoise.
Chunky jewelry in slightly "off" colors. Pewter instead of silver, brass instead of gold.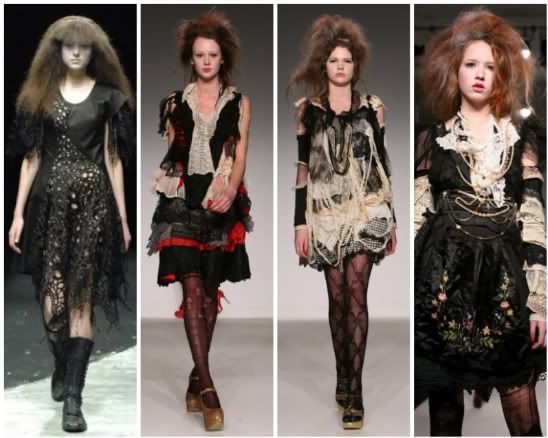 A general feeling of destroyed elegance. Lots of deconstructed lace, shredded details, that sort of thing. But with more of a vintage frock exposed to the elements feel, instead of a grungey one.
That's my vision for this fall and winter. I'm looking forward to experimenting some, since I won't be quite so limited by the weather here (see: won't have to be wearing thick socks and long sleeves and as many layers as humanly possible, all the time!).
What are you feeling for fall?
Unless you've been living under a rock this last week, you know it was New York Fashion Week. All kinds of craziness, stylish people, dress up soirees, Wintour sightings…you know the drill. I'm not much for covering runway fashion, but I thought I'd get together all my favorite links of the week in one spot for your perusing enjoyment.
Sometimes I think I want to go, if only for the experience. But then I look at the photos of the rain and think about walking around all day in four inch heels and shudder. Maybe someday!
As you may or may not (probably not!) know, my birthday is on the 28th of September. Libras all the way! It's my 21st, so that's…exciting, I suppose, although I doubt I'll do any of the usual get falling down drunk at a bar biznass. (Which would be a terrible idea anyways, as I am what's known as a "smart-assed drunk". It's bad.) Anyways! You know what birthdays mean, right? Unrealistic wishlists!
Unrealistic, indeed! I love the look of the Hayden Harnett vest, and it would be such a great fall piece – but $384, ouch! I wouldn't want anyone to buy it for me anyways, aside from the price I think I'd be afraid to wear it for fear of messing it up. I can get the same look from a gray vest with some nice detailing, & that's something I still want.
The Fluff bag and wallet are more reasonable by far. I really, really need a new wallet (the one I have, I've been using for years and got at Claire's. No joke.), and I could use a cute laptop bag. I've been dropping hints to Matt!
Oh, shoes. Shoes shoes shoes. The Frye Kelsey and Camper Bianca shoes are more spring-y than autumnal, but I love the way they look and I bet they'd be fantastic with a pair of tights for fall. The Melissa Ashanti boots have wonderful lines that would make my legs look longer instead of cutting me off at the ankle, plus hello! waterproof!, and the Kenneth Cole studded pumps are not only sleek-and-edgy, but supposedly mad comfy too. Also just discovered Cri de Coeur shoes – the Jessica boots and Estelle pumps in wine, please! Good fall shoes both.
The Tano Mona Lethal bag for its lovely color and usefulness (you can switch the straps around! It converts and stuff!).
Other items of note include: CDs (Ting Tings, Lily Allen, Michael Franti, Mad Caddies, Streetlight Manifesto), the latest Buffy & Angel comic books (I need 3 and 4 of Angel, actually!), I Love Your Style, Ignore Everybody, Trust Agents, Relations That Suck, Design-It-Yourself Clothes, and random chunky crazy jewelry/feathered hair accessories. Also, the Unconventional Guide to Working for Yourself – not sure how that'd work as a birthday present though!
And I would lurrrrve a new camera. I don't have anything specific in mind, just something that doesn't have a timestamp (or at the very least, has one that's optional!). The Polaroid is a trooper but sometimes colors come out very dull with it, and I hate that timestamp.
Realistically, I'm just going to have fun spending time with Matt and friends. Matt's birthday is the day before mine (Want to know something even weirder? He's 2 years older than me, and one of my besties' birthday is the day after mine – she's 2 years younger!) so I need to be brainstorming ideas for him too! Like so many guys, he is impossible to buy for. We're going to Missouri the first or second weekend in October, so getting to see my family and friends there will be another terrific present. I'm excited just thinking about it!
What's your favorite way to celebrate your birthday?
Anna Sui skirt, Forever 21 belt, Fluevog Miss Aprils, secondhand necklace, Deletta shirt.
I've been on an eBay binge lately – the skirt was $20 and the top was like, $6. Shipping included. Also, Matt now thinks I'm insane because I dragged him all over town looking for a gray belt. I can't believe Target didn't have one!
I love that skirt. It's only cotton, but it's super soft. Anyways, we went to go see 9 on Sunday and I thought it was pretty good. The visuals are absolutely, jaw-droppingly amazing.
After the movie, we went to Home Slice and snagged some pizza. It was busy as hell, but I really like their pizza – and I don't even like thin crust! I think next time I'll get a calzone, Matt had one and thought it was amazing. Kept going on about best mozerella he'd ever tasted or some such! We then popped over to Sprouts, which is the least pretentious "farmer's market" type place I've seen yet, and the prices were GREAT. Snagged some awesome nectarines. Yes, my days are made of exciting things! Nectarines! Pizza! It's madness! Also stopped in B&N and got Venus and Bitch, since apparently they don't have V. Boo hiss.
Also test-ran the Stila Smudgepot eyeliner, I was pretty impressed – it has the staying power of a liquid eyeliner but without the messy application. I find applying eyeliner with an angled brush much easier than most liquid eyeliner applications, but I've had a hard time finding something that stays and doesn't rub off on my browbone, giving me that weird second eyebrow thing. You know what I'm talking about?
Anyways! What's your favorite recent bargain find? Favorite eyeliner?