I fibbed a little when I said regular posting would resume after Christmas. For sure after the New Year, though.
I'm touching up my hair right now, and my hands look like I strangled a smurf. As soon as the stain fades it's inevitably time to touch it up again, sigh.
I saw a post a while ago at Style Discovery about using Picasa for fashion blogging purchases. I thought of it while reading a post at Fabulously Broke in the City entitled Assess Your Personal Style. One of the things she suggests is making an inspiration folder (which I already have, of course!), and then making a collage out of it - to see what you're drawn to and like in clothing. Her's had things like "dresses with belts", "black and cream", mine ended up just being a collage of the places I get inspiration from. Oh well.
you can click on it to go to a bigger image. What's kind of sad is that I ended up being able to fit less than half of the pictures on it, hahaha.
I got some DIYing done today, here's pictures of my new skirt: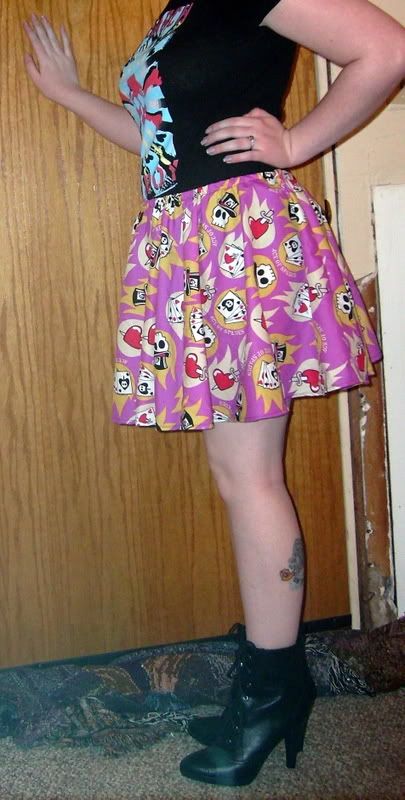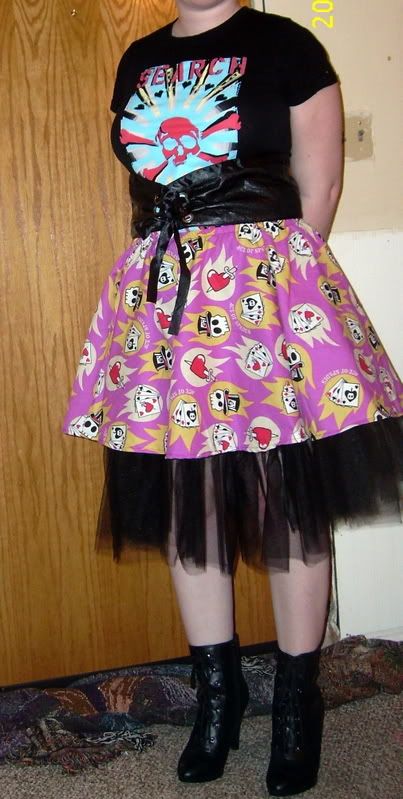 I'm also planning on trying to fix another skirt (which turned out HIDEOUS - really bad!), and stencilling that shirt that I mentioned. I'll probably take pictures of the process and have a tutorial for freeze-paper stencilling up…hopefully before the end of the week. But no promises.
Oh - and I got my new boots from Payless today, you can see them in the picture (along with the thrifted belt I mentioned a few posts ago). I was surprised at the speed of shipping, since est. arrival time was 5-7 business days (or maybe 7-10…don't remember) from date of purchase. I bought these Christmas Eve and they got here today. Awesome! They are REALLY comfortable too. I'll keep Payless in mind when looking for bargain shoes from here on out - I was worried they'd be really cheap looking or uncomfortable, but they fit great, they look great, they feel great. No worries at all!
was not so productive after all. Worked an hour and a half on a skirt that ended up looking like crap and is actually too small for the applique that consists of the design from a t-shirt that's too small. I got frustrated and I've been sitting here on the couch watching the first discs of Dark Angel with Matt since. We also rented Amelie which probably won't get watched until Tuesday or Wednesday. It's on my list of movies to watch - I'm coming up with some movies that I want to watch for the aesthetic if nothing else, and kept seeing Amelie everywhere. Sounds like a good movie too.
Matt's been going on about Dark Angel for a while and it's actually not too shabby. The writing could be better (but then I hold everything up to Whedonverse standards), but the premise is interesting and the characters are strong. Also, Original Cindy KICKS ASS.
The failed skirt attempt will probably become the dropped-waist skirt of my flapper dress. I think, using it, I have enough fabric to make the dress with. The only thing is I need to come up with some kind of cover up because I'm going to be freezing my ass off, I'm sure. Maybe I'll just wear some leggings with it, haha.
I'd really like to get some of wire and clips so I can hang up inspiration photos (I have TONS of clippings from magazines) in my sewing room. I was going to try and find a picture of what I want to do, but I can't, rest assured it looks really cool though, according to my fine tastes and hey, what better judge is there, amirite? Or maybe I'll be a lazyass and just get a huge corkboard. I need to do SOMETHING though because we moved at the end of August and 75% of our posters are still lying in a pile in the bedroom.
Anyways, it's now almost midnight and I should probably go to bed so I'm not dead to the world tomorrow. I'm sure I'll just end up coming home from school early and taking a massive nap, but eh.