Posts Tagged 'daily outfit'
Anna Sui skirt, Forever 21 belt, Fluevog Miss Aprils, secondhand necklace, Deletta shirt.
I've been on an eBay binge lately - the skirt was $20 and the top was like, $6. Shipping included. Also, Matt now thinks I'm insane because I dragged him all over town looking for a gray belt. I can't believe Target didn't have one!
I love that skirt. It's only cotton, but it's super soft. Anyways, we went to go see 9 on Sunday and I thought it was pretty good. The visuals are absolutely, jaw-droppingly amazing.
After the movie, we went to Home Slice and snagged some pizza. It was busy as hell, but I really like their pizza - and I don't even like thin crust! I think next time I'll get a calzone, Matt had one and thought it was amazing. Kept going on about best mozerella he'd ever tasted or some such! We then popped over to Sprouts, which is the least pretentious "farmer's market" type place I've seen yet, and the prices were GREAT. Snagged some awesome nectarines. Yes, my days are made of exciting things! Nectarines! Pizza! It's madness! Also stopped in B&N and got Venus and Bitch, since apparently they don't have V. Boo hiss.
Also test-ran the Stila Smudgepot eyeliner, I was pretty impressed - it has the staying power of a liquid eyeliner but without the messy application. I find applying eyeliner with an angled brush much easier than most liquid eyeliner applications, but I've had a hard time finding something that stays and doesn't rub off on my browbone, giving me that weird second eyebrow thing. You know what I'm talking about?
Anyways! What's your favorite recent bargain find? Favorite eyeliner?
Like I said, we went to the Botanical Gardens today. So I tried to pick something out that was semi-practical:
The practical comes in because I wore these boots instead of my heeled Bronx ones. It was still a little impractical because, you know, it was 95 degrees outside, but hey! Secondhand necklace, Fluevog engineer boots, ruffled Target skirt, and DIY'd tank. The tank has been shown before, but I've only worn it a time or two. I sat down to ponder why I never wear it, and decided that maybe it had too much going on around the necklace. Since I've been loving ruffly-shouldered stuff for fall, I decided to take everything off but the white ruffled ribbon and I think it'll be much more wearable this way. My eyes have been prone to being super-irritated lately, so I've been going very light on eye makeup. Just some mascara (the L'Oreal tubes kind is very good about not getting in my eyes) and that's it. It's a little annoying, though, especially since I just received some Stila SmudgePot from BeautyCrunch ($13 for three colors!) a week or two ago  and haven't got to use it yet.
The garden was gorgeous. I'm honestly in awe that they managed to get that many varieties of plants to not only grow, but stay green.
These koi were seriously two or three feet long. HUGE FISHIES.
I'm a total sucker for lotuses. Lotii?
We didn't see all of it because I'm a wuss and got tired of walking around when it was that hot out. Also, I forgot to eat much of anything beforehand. Silly! We just went around the Oriental Gardens and then went by the dinosaur section. There were butterflies everywhere, I was just waiting for one to land on my hair! We'll definitely come back on a slightly cooler day to explore the rest.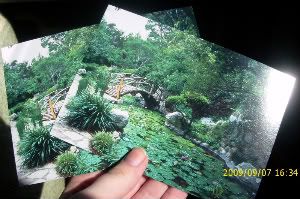 I snagged some postcards at the gift shop for the postcard swap Denise at Dream Sequins organized, and then we were off.
After that we hit a thrift store or two, didn't find much of anything except for lots of crowds. There was a cute pair of Giorgio Armani wedges for $15, but they were a size six. Sigh. Then I stopped in B&N to grab the Z!NK. I kept trying to find Bust and then realized that I already have the most recent issue. D'oh. Also, this Barnes and Noble, unlike the Books A Million in Joplin, was thoughtful enough to have a footstool so that us shorties can reach the top shelf. Awesome! (Yes. The little things excite me.)
We realized we were both craving pizza and decided to get some at Conan's. The guy at the counter was very funny, apparently while I was getting my drink he said something like "Yeah, the Dairy Queen next door? They have chili dogs. Leave it to Americans to turn meat into a condiment!".
Also, guess who won the Maghound giveaway at IFB?! Super psyched! It was a pretty good Labor Day all 'round, I'd say! How was your's?
PS - I joined Weardrobe in an attempt to motivate myself to do more daily outfit photos/posts. My goal is to do at least one a week, maybe two. They'll be posted on Saturdays and Tuesdays. Anyways, check out my profile here. They must have changed things around, because I joined it a while ago only to become so confused and annoyed with the set-up that I deleted my account roughly 24 hours later. But I'm finding it easy to navigate so far! If you're on there, let me know - I'd love to take a look
Yup, that's me and my little sister. As you can see, "little" is purely referring to age here. The only reason I'm the same height as her is that I'm wearing my new JUMP boots with a bit of a heel.
They're uber cute, although my expression is a little…off here, haha. I was telling Matt to turn the camera the other way, and then he took the picture. And never took another one. Oh well!
Target skirt, secondhand top, vintage necklace, JUMP Triptic boots. The boots are really comfy, although not quite walk-5-hours-in-first-wear comfy, which is what I did. We just really did a LOT of walking and now I'm letting my poor feet rest for a few days.
And they brought me down a surprise!
It was my mom's when she was younger, I guess they found it in my grandma's garage. It's a Schwinn, I think she said it was 1963? It is a wee bit big for me, but I can still ride it and will do so with glee and abandon!
Sunday they got in town around one or two, and we went out to eat at Garcia's, a Mexican restauarant down the road. After that, us wimminz went shopping - we hit Buffalo Exchange, which I'd only previously been to once, and I didn't stay for very long then.  I wasn't very impressed with it honestly, especially after hearing Cheap JAP's tales of the NYC Buffalo Exchange. The pricing was REALLY weird - a pair of F21 shorts for $13.50 (so, you know, all of a dollar less than buying them new) and a pair of Miu Miu flats for $25. What?! Anyways, we also hit Cream Vintage, where I got a black slip skirt for a whopping $4.95. Awesome. After that and hitting a few thrift stores (and getting rained on pretty hardcore in the process, I might add), we called it a day.
Monday, we hit a few more shops and then went to Barton Springs with the intent of swimming. We changed our minds after we got there, though, and just walked around a bit.
There were lots of pigeons.
You remember my mom's King Cavalier Spaniel, George? I spent a lot of the weekend referring to him as Georgie Porgie. He's SO CUTE. It was hilarious though, because despite the fact that Giles is nearly as big as George (he is a pretty big cat!), he was terrified of the dog and spent a lot of time hiding behind the washer. What a scaredy cat. *rimshot*
There's two sides to Barton Springs, separated by a fence; one side is $3 for admission, the other one has signs posted saying no swimmin allowed, but that didn't stop anyone!
I snapped this picture of the skyline in the car, at some point during that day. It looked great outside, it was just HOT!
Then yesterday, we went to Goodbye Hello Consigment on Manchaca, where I found a pair of slightly wide-legged bermuda shorts from the Limited for $7 and got a Nine West purse for $10. She's having a half off sale all this week and it culminates on Saturday with a $5 sale for all of the leftovers - I'll definitely be going back, because she wasn't done putting out the sale items by the time we left. Then we hit Atomic City, where Ashley found the Nightmare Before Christmas purse she'd been searching for ALL weekend, and I discovered a store that will be very bad for my budget - he has a great selection of Fluevogs, including several that are sold out/nearly impossible to find online, sans eBay (including some black Haights in my size, that are muchmuchmuch cuter in person than in photos). There's a lot of other cute shoes too and the owner is super nice. Then we got ready to go to Schlitterbahn, a water park in New Braunfels…
Not the most flattering shot, but hey. I found the vintage swimsuit at Buffalo Exchange, I think it was $12, and I also found Ashley's cute little retro number at Ross (or Marshalls, I forget) for $13, down from $115 (!!!). I did not wear the high heels to the water park, I just thought they went well with the swimsuit! My mother and Ashley were convinced that I was just trying to fix the height ratio some. Pff. I did wear the red lipstick though, ha!
The waterpark was okay, I mean…it was a waterpark, you know? Long lines, hot sun, blistering hot concrete (I'm surprised it didn't do lasting damage to the bottoms of my feet!), wet rides. I went down one ride and nearly lost my contact + bumped my head pretty good, so I didn't do a whole lot after that. Although it was pretty funny, because as I was sitting and waiting for everyone else to get off a ride, I saw someone pointing at me out of the corner of my eye. I turned and looked and there was a group of 2 or 3 girls, probably around 13-14, one of them was pointing and one of the other ones had purple hair with pink bangs! I laughed and waved, it was pretty cute. I need to touch up my hair, in between the swimming and all of the sun exposure (one more reason I need a parasol!) it's faded pretty badly. Will probably be doing that tonight.
My family left this morning and came by to say hi, and I won't lie - I got a little sniffy after they left. But I'll be seeing them again in early October (this time, we're driving up there!), so it won't be all that long. Not to mention I'll be picking up a webcam soon, so I can try this newfangled Skype invention out.
Anyways - that was the end of my weekend/beginning of my week. I hope you guys are having a good week too!
I thought I'd keep the rest of the outfit relatively simple, since, you know, I've got matching shoes and hair…
Fluevog Sigourneys
Petticoat by me
Secondhand top, amethyst necklace, jingly bracelet, and costume rose ring (over-accessorized? nahhh!)
Went to a clothing swap/housewarming party today! I brought in some stuff I hadn't worn in a while to see if anyone else wanted it, and came out with a two dresses, accessories, and some other stuff. This top almost made it in to the swap items, actually - I think I bought this in March and have worn it twice since. I like it though, I think it's just a case of not bothering to work it in to the rest of my wardrobe. At least with me, that's hard to do, because I buy new things and then forget I have them after a week (which is ridiculous! I really don't own that many clothes!) so I don't consider them an option when making outfits in my head. Silly Michelle!
I also hadn't worn the petticoat in a while; I think I was worried about how I'd fare wearing synthetics in this heat. The housewarming party was inside, though; and it actually does fairly well in the heat since it's so light and airy. The airiness is almost a problem, I'm continually worrying that my butt is hanging out since the satin is so light I can't feel it! Then there was the time when I walked outside on a windy day and the first thing that happened was my skirt hitting me in my face. Thankfully, no one was outside to witness my Marilyn Monroe-esque moment. Anyways!
And, I assume you'll notice, I switched up my hair. I picked purple and red because it's something I haven't done yet; I know purple looks good but it's been a while since I've done red. I'm still experimenting with my wardrobe palette, finding out what fits and what doesn't, and I thought I'd see if I could fit some red in as an accent color - I think this will definitely make it easier, don't you? Hopefully it'll help me hammer down my palette some more; what I've got as of now are pink, purple, and blue for the main colors; with yellow, orange, and red as accents. I keep debating on green; I very rarely wear it though. Anyways, it's Special Effects Cherry Bomb in the front; Pimpin' Purple in the back with a little bit of RAW Purple tossed in for good measure. It's been a while since I've done true purple and it was much darker then, I really like how this is a bright purple!
Also, here's two awesome giveaways you should look at: District of Chic and the Year of Living Thriftily are both giving away winner's choice of Mink Pink item at Chickdowntown. How cool is that?
It is starting to get pretty hot in Austin! Not any hotter than it would have been in Missouri by now, I think, but still.
Thrifted Old Navy tank
Secondhand Elie Tahari skirt
Secondhand ring, necklace, bracelet
Fluevog Pekoe slingbacks (only part of this outfit I bought new!)
Touched up my roots last night and the rest of the hair too! I really wanted it to be more fuchsia but it's pretty pink. It's really been cooperating with me lately, who knows why - I think the diffuser makes a big difference in giving it more body and making it more wavy/less curly. Lovely! Can you spot the change? Probably not, so here:
I switched the stud out for a ring! I really like it, although I was a little freaked out because it was not happy with the change at first - it had been getting better but I couldn't take proper care of it while we were on the road so it got all irritated. BUT. Healed up and like new!
This was one of those days when I spent an hour getting dressed/putting makeup on and we were only actually out for an hour, tops. I think the rest of the day is scheduled to be spent writing + maybe watching Breakfast at Tiffany's (I've never seen an Audrey Hepburn movie! I'm terrible, I know…Funny Face is on the list next). Yesterday was similarly spent, except with the inclusion of bleach, hair dye, and Buffy (we're in the fourth season…every time, I forget how much Riley annoys me. least favorite character ever. ugh). How has your weekend been? Hope it's fabulous!
I am not so hot right now, as Alicia and I went to take a few photos, in which I was wearing my new shoes shown below. As it turns out, jumping around in near-four-inch heels is NOT a good idea - I took a nasty tumble and my ankle started swelling almost immediately. Urgh. So now it is propped up with ice on top of it. Anyways…
Sorry for the up-the-nose shot! New Corso Como mary janes, Target leggings, vintage '60s dress! I wouldn't have normally been wearing the leggings - but my maternal grandpa was at my sister's high school graduation (the occasion for being all gussied up!). I would not do this for anyone else in the world probably, but my if I don't cover my hair and tattoos around him, my poor grandma hears it for ages. She doesn't care about them  but he is a wee little bit more stodgy and conservative! I was wearing a wig - took a picture of it on for kicks and giggles but the picture turned out terrible, so no posting of it. I felt like I was going undercover on a top secret mission! Their fiftieth anniversary was yesterday and we were out there for it; I meant to take some pictures of the pretty landscape (and the place where their barn used to be, until the storm a few weeks ago), but alas, all I got was this picture of my sister, Scooter (her dog - the blue beagle), and George (my mom's new Cavalier Spaniel puppy, who is the CUTEST. THING. EVER.).
Am I right?!
Speaking of vintage…I am pretty excited about a soon to come feature of Decline Designs! I've been not so much talking about it, because I am superstitious and afraid of jinxing it, ha. But, when we get to Austin, I'm hoping to be mostly self-employed - selling vintage + my handmade items on the weekends; either getting a part time job or working freelance as a seamstress during the week. I've been stocking up for a few weeks and the vintage dress above was in one of the lots I bought. The vintage stuff will also be online, of course. I'm not trying to compete with anyone else, selling off-line will be my focus - but I'm really excited about it! I'm also going to make a concentrated effort to find cute vintage clothes in the larger sizes - I'm a size 8 or 10 and I have a HELL of a time finding things in my size so I can't imagine how someone who is a true plus-size chick who wants to find cute vintage clothes feels! So; watch for that. I think I will probably just be listing them on the website itself; I don't know if Artfire lets its members do vintage, but I'll probably double-check.
I have some great (or, I think they're great, I hope you'll think so too!) posts lined up for this week, I'm not sure how much I'll be posting next week - next Sunday is the day we're doing the drive down to Austin, and hopefully we'll be able to get the internet set up ASAP but I'm not 100% for sure. At any rate, I hope you all had a fabulous weekend and have a good Memorial Day!
DIY'd tank, vintage ring and necklace, Elie Tahari skirt, Fluevog shoes (told you they look cuter on!)
Yup, I need to paint my toenails! They're really comfy too, as far as the height goes - the leather around the toes needs stretched out a bit.
I'm excited about this week - have a lot of great stuff for the Marvelous Monday post tomorrow and I'm gearing up for the start of a new series
Stay tuned!!
Also, kind of a daily outfit post. Ahem.
After seeing the Demoiselles' post on their experiences with the 80%20 Lily wedge, I knew I had to get a pair. I'd been eyeing them anyways and had no idea they were on sale at Amazon! So I ordered them before we went to Chicago and then they were here when we got back. Yay!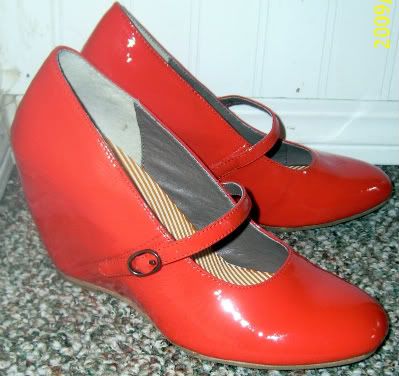 They are just as vibrant in person and oh so pretty. As you can see, they're so shiny they were reflecting light on to the wall! I was immediately complimented on them upon walking in to work (I had a short shift - 4 hours - covering for another girl's play rehearsal, so I figured it'd be the perfect time to test them out!).
I wore them with my Hot Topic shirt (the skulls and the words "search and destroy" are in a red-based orange) and an orange snake bracelet I got at work, plus my linen ruffled Target skirt.
No lie, as soon as I went to take the photo, the sun went behind the clouds and the wind started blowing (hence the weirdness in the ruffles on my skirt). Ah well. You get the idea.
Now for the tough part, the comfort. I was a little apprehensive about this, admittedly, hence only wearing them for a short shift at first. I have to say, they surpassed my expectations! I wore them four hours straight with minimal soreness, although they were starting to rub a bit on my left heel - something I'll put a band-aid on before I wear them next. I can definitely see what Birdiee was talking about with the toe box being a little low, the tops of my big toes were rubbing but not enough to give me any pain, and the toe area was wide enough (a huge, huge plus!). They didn't make my back hurt and within 30 minutes of taking them off, my feet didn't feel like I'd been wearing heels at all, let alone for any length of time.
So, all in all, they're probably an 8/10 for me! Could be more comfortable, and probably not something I'll wear all day at work on a regular basis (because of the comfort issue), but they're still lovely shoes and the color is fantabulous. They're no longer on sale at Amazon.com, but I'd say they're worth full-price. There's some left on Endless for $75, so you might check and see if they have your size! (psst, I ordered a half-size up and mine fit great.)
And in other news:
This is the bracelet I was wearing. Isn't it freaking adorable?! Something that came in at work, the buyer for the store didn't want them for some reason but I got one anyways direct from the seller. I think I will name him Roger.
This will be the last one, at least for a while! (there won't be any post of today's outfit, as it's basically a rehash of Sunday's.) Look forward to a guest post from Dream Sequins tomorrow - I can hear the sighs of relief from here
The skirt and the tank are both DIY'd. Or, well - the tank top is dyed and embellished - I'm thinking about doing this to some more tanks for the store. The skirt is from scratch, in an attempt to get close to that PINaR ERIS skirt I posted a while ago. Obviously, it didn't turn out exactly the same, but I'm okay with that - I'm still pretty happy with it. I was particularly proud of the finishing - all of the seams on the waistband are top-stitched, the zipper turned out really well IMO, and I got the plaid to match up along the side seams of the skirt great. I kind of dropped the ball in that department on the waistband, but hey, you live and learn right? I tried to get a picture of the back, but it didn't look so great so I'll just get one later or something. The headband is also made by me! And the boots, of course, are the teal Inge boots from Fluevog. Better shot:
Also, close up of the headband in the car. Traffic was SLOW, let me tell you. I also took a picture of my necklace: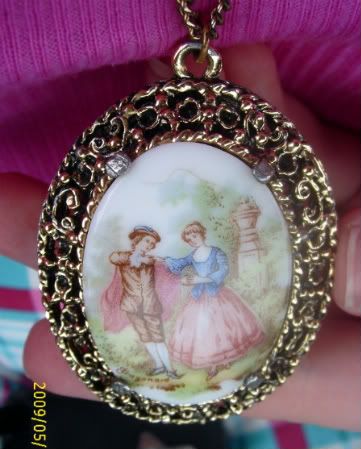 Something vintage that came in at work. I snagged it right away!
This outfit kind of made me feel like a Victorian circus performer. This really nice guy stopped us to tell me how unique I looked + how much he liked my tattoos and it made us giggle because he immediately followed it up with "No disrespect meant, big fella!" to Matt. Granted, Matt is tall-ish, but not big by any means! Also, a big barn owl at the aquarium (yeah - I didn't get it either - but it was so pretty! also, barn owls are much larger up close. holycow.) kept staring at me. I think it could smell my headband or something, ha.
Today we're going to the Museum of Science and Industry and hitting one or two more stores. It's supposed to rain - I hope the weather doesn't get too nasty. Then tomorrow, we're heading back home! I miss my kitties something terrible! I wonder how long they'll be mad at us for leaving them for a week…aaand my 80%20 Lily wedges should be in, I'll have to do a post and compare my conclusions with the Demoiselles'. Totally not looking forward to re-packing tonight though - have to fit all of the stuff I brought plus everything I bought back in the car. Hmm. It will be interesting, to be sure!
I feel totally narcissistic doing this many outfit posts in a row, but I figure it's better than no posts at all. Oh well!
Shirt by e.5.charlie, vintage silk blend scarf from work, Converse pencil skirt, Fluevog Pekoe (found out the name! they're still on 6pm) slingback heels, bracelet from work. I felt like a chic French woman -
Winona was right, it's all in the scarf
- except for a. the big skeleton on my shirt, and b. I am probably way more foulmouthed than any Parisan. This is the shirt I ordered from Karmaloop Kazbah at for
eight dollars
. Already totally worth it and I'm probably going to watch for more of their stuff in the future. It's very very comfy, although a little long for my taste. I don't think I mentioned it on here, but the other shirt ended up being sold out in every color by the time I ordered it (even though the website didn't show it as such. THANKS KARMALOOP). I like the design so much I might just end up ordering it from Method NYC direct and paying the damn $30.
We went to the Field Museum yesterday and it was great. All kinds of geeky stuff. Today we're going to the Sears Tower and the Shedd Aquarium and hitting one or two more thrift stores. I might go back by the Fluevog store today or tomorrow after I call to see if they have any of the Sunshines in, to see what size I'd wear (so I know before I put 'em on lawaway). I'm still getting used to how much chillier it is here than back in Missouri - I don't think it's got higher than 75 the entire time we've been here, it was regularly hitting 80+ in the last few weeks in Joplin. What can you do, right? (except for carry a jacket with you everywhere….)