Posts Tagged 'marvelous monday'
I hope you all had a great weekend! It is FINALLY starting to cool down some here in Texas. Makes for some lovely days! You know, the sort where you can walk around outside without being soaked in sweat after ten minutes. Sooo nice. Especially for bike riding!
How did your weekend go? I hope it was amazing! And I hope you're all having an awesome start to the week!
Mark Fast, I heart you! at the Sassy Minx – Mark Fast's show at LFW got a lot of media coverage for using "big girls" (a UK size 10-12, which I think roughly translates to a US 6-8…still very slim!) as models. It drew ire from a lot of people, many of whom obviously think fashion is only for thin people. Pfft. I think the models looked fabulous and it put a big smile on my face when I saw those pictures!
How to Lucid Dream at the 4HWW blog. Interesting reading for sure – I don't know if I'd put the effort into it though. I was talking with an acquaintance at one point and he found it really odd that I can wake myself up from dreaming if I want to – I thought everyone could do that! So I dunno, maybe lucid dreaming wouldn't be too far of a stretch…
Label-less Tastes at Athena Magazine. Athena Magazine is a feminist minded 'zine (I'm not honestly sure if there's a print version or just the blog…) and I LOVE their blog, you should definitely check it out – several great writers there!
And of course what makes this Monday the most marrrrrrvelous is that it's my birthday! Party! Not really (about the partying, it will probably be pretty quiet. not kidding about my birthday though.). I might make a little hat and wear it around the house today, good idea you think? Give the everyday activities a little festivity!
This week is a good lot of links! Are you ready?
I hope your Monday is grrrreat!
Love these photos of mirrored wedge boots by Carin Wester, at Outsapop Trashion. I'm thinking…Alice + Olivia for Payless boots – sweater cuff + hot glue + broken mirror = droolworthy awesomeness. Will let you know how this plan works out, if I follow through!
Kristen over at Idiosyncratic Style has some Pearls of Wisdom from several different IFB members. Too cool! (and yes, I'm somewhere in there!)
I thought this talk by Dan Pink at TED was really interesting.
Bitching & Junkfood has an interview with Andre J at their blog. An interesting character indeed!
Winona of Daddy Likey did a great post titled How I Dressed Like a Sitcom Husband and Lived to Tell the Tale: An Essay on the Power of Personal Style. (holy cow that's a mouthful!) You know she's coming out with a book right?! Super excited, it couldn't have happened to a nicer or funnier blogger!
And finally, the four or five days of rain we've had seem to be laying off a bit. And temperatures have dropped accordingly! Yay!
Oh, psst, if you happen to be a 7 or a 7.5 and you're looking for some boots, check out my eBay auctions. /shameless self-promotion
I hope everyone had a fabulous weekend. I got to lay around a bit, went and saw 9, and had some fabulous food. Doesn't get better than that, amirite?
I hope everyone is having a fabulous Labor Day weekend! Matt's got the day off, so we're going to do some minor errand running, probably go have a look at the Zilker Botanical Garden and maybe hit a few of the museums on campus at UT. Yay for free entertainment! On to the list:
I loved these photos that a Wornette in Paris took. Check out that old lady – mad style!
Glendy over at Style Amor posted about the Alice in Wonderland and Tim Binns collaboration and has some awesome video. Definitely go check it out!
The Aquabats make me giggle. Little blurry, but I couldn't find a better video.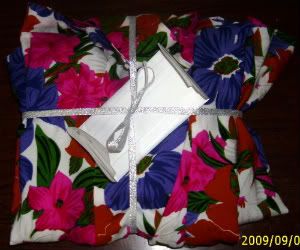 I made my very first sale this week at Market Publique! It sold on Friday and I shipped it out on Saturday. Here it is all pretty, wrapped up with a thank-you note and ready to be mailed out.
Last but not least, I'm SUPER EXCITED because Gogol Bordello is going to be in Austin on November 1st! I am so so so excited – we wanted to see them before we moved, but they didn't get to Kansas City until two days before we moved. It would have been a two hour drive up there and back, and then moving ten hours two days later. Not so much. The fact that they'll be here in Austin relatively soon makes me happy!
What's making your Monday marvelous? Having the day off work probably helps! (Unless you work retail, in which case, my sympathies. Put your employee discount to good use on top of those sales!)
I guess Kirsten Dunst was filming a music video? All I know is, looking at her outfit makes me smile! Now I want a pair of pink mary janes!
How was your weekend? and I hope you have a happy Monday!
This week is short and sweet! (and a little photo heavy…)
I love that I can watch the latest season of Project Runway on MyLifetime.com. Total victory for those of us who don't watch tv or have cable! (or, uh, either in my case!)
I love Jaka's Wholestyle Manifesto.
And I dropped off some shoes to be repaired/stretched (along with a pair of Matt's boots, and a leather jacket that needs restored) this morning, so it's shaping up to be a great week already! How was your weekend?
And HOW awesome is this?! First liberty spikes ever!
How was your weekend? I hope it was fabulous!
I loved this video:
Two giveaways worth mentioning this week: Jennine at the Coveted is giving away a bottle of Be Delicious, and Indiana at Adored Austin is giving away some Leviticus Jewelry.
The Sassy Minx has the scoop on Hoolala Jewelry (which is a line I'd never heard of before, but it's great!).
That's it this week, short and sweet. Lots of photos coming later! I got some good steals yesterday while shopping with my family, and today I think the plan is to go swimming. I'm having a lot of fun, I hope you guys had a great weekend and continue to have a fabulous week!
Sorry for the absence of a post on Friday; I was too busy celebrating that Matt got a job! He starts today! YAY! On with the list!
Princess Poochie has a great review of Tszuji clear shoe boxes over at Shoe Daydreams, and a great guest post at Broke and Beautiful about shoe anatomy.
The Sassy Minx has some Etsy Love for Revasseur and a review with Queen Gilda about it to boot!
And speaking of Etsy, Alicia of Instant Vintage has some great "fauxsaries" up in her shop now! Check 'em out, because I'm telling you, it's only a matter of time until this girl's going to be in NYLON or Bust or some other equally badass magazine.
I hope you all had a great weekend!