A chill is in the air, the leaves are starting to turn – fall is almost here! In most parts of the country, anyways – here it's still regularly hitting 95 degrees. But it's been raining a lot more lately, and definitely beginning to cool down (95 is better than 105!) so it's time to start thinking about my fall wardrobe. Or more accurately, fall wardrobe philosophy – I don't think it's necessary to purchase new clothes every season!
For fall, I'm thinking…
More gray than black in outfits, with accents of dark, rich colors. Royal blue, deep purple, and wine especially.
Lots of hats and hair accessories! These, of course, are something I always love (but never seem to find time to make/dig out at shops), but hats are especially useful for fall.
More feminine shoulder accents, instead of military esque. Vintage glittery brooches pinned on, ruffles on shoulders, that sort of thing.
Lots of thin, light layers. Chunky sweaters are going to be in, I know, but I don't think they'll be very flattering on me. I especially want some long, sheer cardigans in a few different colors.
I'm definitely wanting a few pairs of gloves – but pretty ones, not mitten-y ones.
Lots of leggings and tights! Since I'm sure I'll be able to wear a lot of skirts here, unlike Missouri, where if a skirt was worn in the dead of winter, it would be sorely regretted, no matter how many layers were involved. Specifically on my wishlist are black lace-patterned tights/socks, vertical striped thigh highs, and opaque tights in purple, yellow, and turquoise.
Chunky jewelry in slightly "off" colors. Pewter instead of silver, brass instead of gold.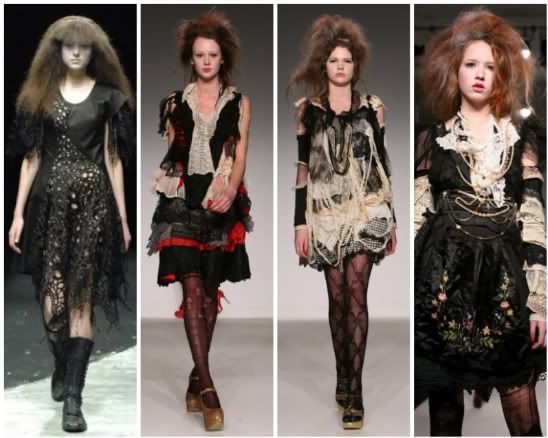 A general feeling of destroyed elegance. Lots of deconstructed lace, shredded details, that sort of thing. But with more of a vintage frock exposed to the elements feel, instead of a grungey one.
That's my vision for this fall and winter. I'm looking forward to experimenting some, since I won't be quite so limited by the weather here (see: won't have to be wearing thick socks and long sleeves and as many layers as humanly possible, all the time!).
What are you feeling for fall?