Over the past few weeks, Fluevog has been posting their new shoes for fall on the website, and they've outdone themselves yet again!
They debuted all kinds of gorgeous boots…the Fluevog Kona, above, is a deliciously wearable mid-calf boot, with saucy back laces and heel detailing. They also come in a gorgeous wine shade.
The Libby Smith boots have spat-style detailing with contrasing faux-buttons, and also come in all black with red buttons, and a very steampunk olive/gray version with blue buttons. Also new in the Bellevue family is the Mattie Silks boot, a knee high boot with buckle detailing.
And then there's the Silverlake. Oh my. I don't even need to explain this, do I? Let's all just drool at our screens in unison for a few minutes.
Right. Onward then.
The heels on these lovelies are a whopping (for me, anyways!) five and a half inches. However, there's a 1.5″ platform up front which should even things out a bit - I'd love to try these on, to see how they fit if nothing else.
The Sumatras not only have a dashing two-tone look, they make me think of a 50's glamour gal gone rogue. Very Bettie Page. I love the miniature laces, the pointed toe, the textured leather…insert dreamy sigh here.
Pearl Hart offers another great addition to the Bellevue family, with a twist on the classic mary jane shape. And it also comes in wine with black accents, or olive with gray accents.
And the newest addition to the Body Parts family, the Vibe. I think I would have to see these in person (in shoeson?) to reach a final verdict on them; I would either absolutely love them or absolutely not. I do have to agree with Jaka that a version with a black heel would be fab! The Body Parts pump has that color scheme available, so maybe there's hope?
I love so many of them, it's hard to pick which one or two pairs I might buy! Lots of olive and burgundy/wine, which are great autumn shades (although they don't fit into my wardrobe palette particuarly well).
What do you think of the new 'Vogs?
Right now, Heels.com is running a promotion for $20 off any order of $50 or more. I'm abstaining from shoes for a while* because, well, the rest of my wardrobe is getting mad at me for not paying attention to it, but I thought I'd pass the good news on to you and show you some of my favorites from the site:
Betseyville Olivet $94.99 $74.99 with code
I love these! They're sort of like the Fluevog Haights, but with more of a rocker-girl edge.
Dollhouse Rembrandt $76.99 $69.99 on sale $49.99 with code
Nothing like classic wingtip detailing with a pop of color.
Charles by Charles David Gazelle $154.99 $139.99 with code
And these…these are just awesome. Cage-esque without being over the top, and as always, I'm a sucker for metal detailing.
The code to use to get the $20 off is happy20 and it's valid until the twenty-third. Happy shopping!
*I'm keeping the definition of a while loose because I honestly don't know how long I can go without buying shoes. Probably like, a month. Maybe two. I'll let you know how long it lasts, ha!
So, if I've learned anything, it's that every time I discover a new brand or find a shoe I like, I should immediately search for it on Amazon. Frequently the better price will be somewhere else, but just as frequently, Amazon has a rock-bottom price. Another tip: It's definitely worth watching the item for a few weeks to see how the price fluctuates; generally they get marked down for a week or two, go back up (but not to full price - just $10-30 higher than the original sale price) for a week, and then prices plummet. Something like that is what's apparently happened with the Fluevog shoes at Amazon…check these prices out! (disclaimer: affiliate links ahead!)
John Fluevog Parker $244.95 $36.74 in black
John Fluevog Erika $234.95 $107.01 (or $75.18 in Cappuchino/Ivory, or $112.29 in Cobalt/Cappuchino)
I hear spectator flats are supposed to be big for fall, now your chance to pick some up!
John Fluevog Helen $258.95 $38.84
John Fluevog Audrey $248.95 $79.66
And the pièce de résistance…
John Fluevog Body Part $358.95 $114.86
There are, of course, others as well; click this link for all of them. If I were you, I'd check out your favorite shoe brands too; I noticed some Irregular Choice shoes for super low prices too. AND, on several shoes, there's a promotion going where if the purchase is over $80, $20 is automatically taken off. Happy shopping!
I thought I would share the news, for those of you that aren't following Savvy Circle on Twitter and/or may have missed the announcement yesterday that the promo code SALE can be used until the end of this month on already on sale items at Shoes.Com for an additional 20% off! Pretty neat, no? Here's what caught my eye:
I LOVE these. I'm worried they might look a little cheap in person (faux-patent is always tricky) - but…free returns, right? Dr. Scholl's has some surprisingly cute stuff; I would have thought most of their designs would be ugly and clunky, for some reason. There are definitely some misses (the Dance looks like the unholy spawn of Crocs and 70's clogs, amirite?) but there are other cute shoes too; I really like the Diefy. Plus - you know it has to be comfy, look at the maker!
This one is for Elle and her recent "whedgle" obsession!
I keep hearing raves about how comfortable Naughty Monkey is, I've been dying to pick up a pair! Also on sale in black.
Great pop of color for summer, and I love the hardware accents!
One word: Fierce. And check out the savings - about $130 off!
Also, remember the $3 graphic tee sale Old Navy had several weeks ago? Apparently this weekend is a similar sale, only with $2 tank tops. I'll be searching out my local Old Navy! Who says updating your wardrobe for summer should be expensive, hmm?!
Update: I also just got an email from DSW with the code "SUMMERLUV" for $10 off a $49+ purchase; valid until the 22nd!
I am not so hot right now, as Alicia and I went to take a few photos, in which I was wearing my new shoes shown below. As it turns out, jumping around in near-four-inch heels is NOT a good idea - I took a nasty tumble and my ankle started swelling almost immediately. Urgh. So now it is propped up with ice on top of it. Anyways…
Sorry for the up-the-nose shot! New Corso Como mary janes, Target leggings, vintage '60s dress! I wouldn't have normally been wearing the leggings - but my maternal grandpa was at my sister's high school graduation (the occasion for being all gussied up!). I would not do this for anyone else in the world probably, but my if I don't cover my hair and tattoos around him, my poor grandma hears it for ages. She doesn't care about them  but he is a wee little bit more stodgy and conservative! I was wearing a wig - took a picture of it on for kicks and giggles but the picture turned out terrible, so no posting of it. I felt like I was going undercover on a top secret mission! Their fiftieth anniversary was yesterday and we were out there for it; I meant to take some pictures of the pretty landscape (and the place where their barn used to be, until the storm a few weeks ago), but alas, all I got was this picture of my sister, Scooter (her dog - the blue beagle), and George (my mom's new Cavalier Spaniel puppy, who is the CUTEST. THING. EVER.).
Am I right?!
Speaking of vintage…I am pretty excited about a soon to come feature of Decline Designs! I've been not so much talking about it, because I am superstitious and afraid of jinxing it, ha. But, when we get to Austin, I'm hoping to be mostly self-employed - selling vintage + my handmade items on the weekends; either getting a part time job or working freelance as a seamstress during the week. I've been stocking up for a few weeks and the vintage dress above was in one of the lots I bought. The vintage stuff will also be online, of course. I'm not trying to compete with anyone else, selling off-line will be my focus - but I'm really excited about it! I'm also going to make a concentrated effort to find cute vintage clothes in the larger sizes - I'm a size 8 or 10 and I have a HELL of a time finding things in my size so I can't imagine how someone who is a true plus-size chick who wants to find cute vintage clothes feels! So; watch for that. I think I will probably just be listing them on the website itself; I don't know if Artfire lets its members do vintage, but I'll probably double-check.
I have some great (or, I think they're great, I hope you'll think so too!) posts lined up for this week, I'm not sure how much I'll be posting next week - next Sunday is the day we're doing the drive down to Austin, and hopefully we'll be able to get the internet set up ASAP but I'm not 100% for sure. At any rate, I hope you all had a fabulous weekend and have a good Memorial Day!
DIY'd tank, vintage ring and necklace, Elie Tahari skirt, Fluevog shoes (told you they look cuter on!)
Yup, I need to paint my toenails! They're really comfy too, as far as the height goes - the leather around the toes needs stretched out a bit.
I'm excited about this week - have a lot of great stuff for the Marvelous Monday post tomorrow and I'm gearing up for the start of a new series
Stay tuned!!
Also, kind of a daily outfit post. Ahem.
After seeing the Demoiselles' post on their experiences with the 80%20 Lily wedge, I knew I had to get a pair. I'd been eyeing them anyways and had no idea they were on sale at Amazon! So I ordered them before we went to Chicago and then they were here when we got back. Yay!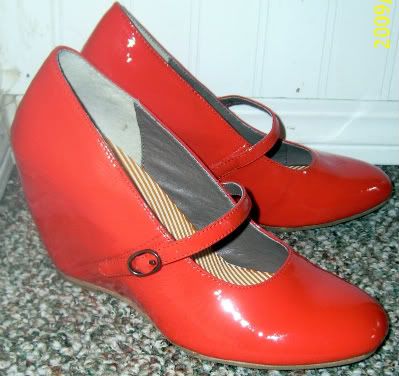 They are just as vibrant in person and oh so pretty. As you can see, they're so shiny they were reflecting light on to the wall! I was immediately complimented on them upon walking in to work (I had a short shift - 4 hours - covering for another girl's play rehearsal, so I figured it'd be the perfect time to test them out!).
I wore them with my Hot Topic shirt (the skulls and the words "search and destroy" are in a red-based orange) and an orange snake bracelet I got at work, plus my linen ruffled Target skirt.
No lie, as soon as I went to take the photo, the sun went behind the clouds and the wind started blowing (hence the weirdness in the ruffles on my skirt). Ah well. You get the idea.
Now for the tough part, the comfort. I was a little apprehensive about this, admittedly, hence only wearing them for a short shift at first. I have to say, they surpassed my expectations! I wore them four hours straight with minimal soreness, although they were starting to rub a bit on my left heel - something I'll put a band-aid on before I wear them next. I can definitely see what Birdiee was talking about with the toe box being a little low, the tops of my big toes were rubbing but not enough to give me any pain, and the toe area was wide enough (a huge, huge plus!). They didn't make my back hurt and within 30 minutes of taking them off, my feet didn't feel like I'd been wearing heels at all, let alone for any length of time.
So, all in all, they're probably an 8/10 for me! Could be more comfortable, and probably not something I'll wear all day at work on a regular basis (because of the comfort issue), but they're still lovely shoes and the color is fantabulous. They're no longer on sale at Amazon.com, but I'd say they're worth full-price. There's some left on Endless for $75, so you might check and see if they have your size! (psst, I ordered a half-size up and mine fit great.)
And in other news:
This is the bracelet I was wearing. Isn't it freaking adorable?! Something that came in at work, the buyer for the store didn't want them for some reason but I got one anyways direct from the seller. I think I will name him Roger.
First ACTUAL post in the Cute Comfortable Shoes Series! And it is, probably of little surprise to anyone, Dansko shoes.
The Brand: Dansko was founded by a husband and wife team in 1990. One one of their trips back to Peter's hometown in Denmark, they found a small shop with a type of clog they had never seen before - closed back clogs! They loved them so much they bought a few pairs and brought them back. After buying pairs for family and friends, they starting buying them wholesale to save some money, and then selling them at horse shows (they actually met through horseback riding!). Eventually, demand outweighed their supply, so they did the sensible thing and started a shoe business! They (obviously) named their budding business Dansko, which literally translates into "Danish shoe". They started 18 years ago with one employee and now have 150 or so. The main goal with the shoes is comfort above all else. They definitely go for a community and environmentally friendly company set up - they give employees paid time off so that they can volunteer, and when an employee does volunteering, the company matches their salary for the hours volunteered and donates it to the organization being volunteered at!! Pretty neat, huh?
The Price Range: Most of Dansko's shoes are within the $100-175 range, with boots retailing at $175-200. Looking on eBay or at 6pm.com usually results in much lower prices (but of course, beware of individual seller return policies on eBay!), as they're usually pretty abundant on both sites.
The Comfort: 8/10.
When I worked at Target and was in cosmetology school, a lot of the time I would go straight from school to work and then work until close. This resulted in 12-14 hour days and VERY SORE FEET. I was at a total loss for what to do (seriously - unless you've worked similar days when not wearing good shoes, the continuous foot pain is hard to comprehend!) until someone recommended Danskos to me. I snagged a pair of the Professional clogs off eBay, and while they weren't really my thing as far as looks go, they made my foot pain virtually disappear. When I got a retail job again and was spending my whole shift on my feet, Dansko was the first place I looked for new shoes. Unfortunately, the cuter shoes aren't quite as insanely comfortable as the clogs, thus resulting in a slightly lower comfort score.
The Look: It seems to me that the look aimed for with most of the shoe models is a sleek modernity. Sometimes the mark gets missed and the shoes end up looking a little bit more on the clunky side. Thus, if you hate wedge or chunky heels, Dansko will not be your shoe brand of choice! Most of the heels are pretty modest as well, usually clocking in at under 3″. Here's the two pairs I have:
I pretty much love the way the Ryan boot looks, although I wish there was a little bit more room in the toe box - the "roof" of the shoe is kind of low and rubs on my big toe sometimes. The double-strapped Mary Janes (sorry - don't know the name of the make) I really have no complaints about, except that they're just barely loose enough that they gave me blisters when I walked in them all day in Austin!
Here's my favorites out of their current wares at Zappos.com:
I might actually end up watching for that second pair on eBay. Hm.
Here endeth the lesson - stay tuned for further updates in the series!
Wedding pictures will be up later, probably in a big photo post with other pictures too. For now:
Thrifted cardigan, DIY'd bleached tank, high waisted Converse skirt, belt is from work (I about died, was digging through the belt rack looking for some brightly colored ones, when I found this one, with the original tags for $120 still on it - it was marked $6!), new Fluevog slingbacks! I am maybe showing some retro influence here, hm?
Yup, the Fluevog sale was yesterday, I was pretty happy with my haul. But I was kind of disappointed, I think the really good stuff (i.e. either of these shoes that I've been having serious lust for, when I got there, all that was left was a pair of 11s in each) probably went first thing on Friday morning, and what wasn't gone then went Saturday morning - we talked to some people at a pub down the street who said people were lined up at 10 (the sale started at 11, we got there at 11:30 or so due to taking the REALLY LONG WAY on accident) and that they'd talked to someone who drove up from Atlanta (!!!). On the bright side, this means those pairs I've been wanting will probably start showing up on eBay since I'm sure half of the people who were there were probably just buying to resell. It was pretty busy and they kept putting out new stuff - I snagged three pairs, one of which was wrongly in the men's section, one of which was put out while I was there, and one that was the last pair in its size (and there was only one other one left!). I looked for shoes for Ashe, but pickings were slim!
Total original retail price: $719. I paid $120. Hell. Yes. The shoes on the left are in the Angels series, the middle are in the Teapot family, and the ones on the far right look much cuter on, I promise! Pictures will probably come later.
I like Chicago so far, although the drivers are freaking insane. IN-SANE. For serious.
Yes, I do have several Posts of Substance (TM) planned for the future. But for now…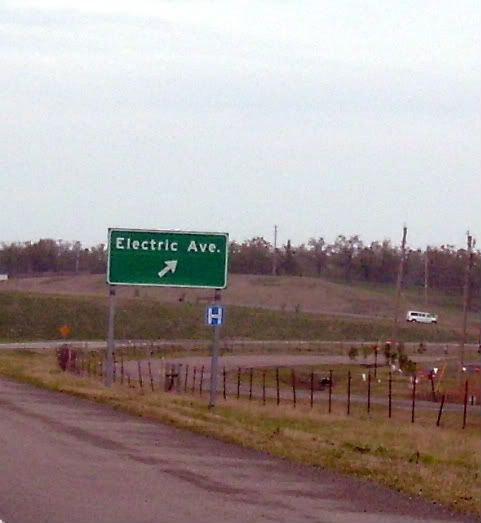 (no, that wasn't in Austin, just a sign on the way!)
Trip recap! I know you're excited.
So the drive from Joplin to Austin is a longgggg one. We left Joplin around 9-9:30 on Friday morning and didn't get in to the hotel until…probably 8? 8:30? It might've even been closer to nine! We nearly got in a wreck on the way there - very scary. It was either right before or right after Dallas, and it was raining - some idiot 2-3 cars in front of us slammed on their brakes and went from 70 mph to 0 in a very short span. Matt swerved at the last minute, and, although we got a bit in the ditch, we got out ok. The rest of the trip was (thankfully!!!) uneventful, and we got into Austin right as it was getting dark, so of course we got lost and drove around in circles for ages. First thing we noticed was that the people are ridiculously nice! We stopped and asked for directions twice that night and the direction-givers were super helpful. Also, and I had heard this before, but the whole city seems kind of…immersed in the background because there are a LOT of trees. There's not really a better way to explain it (I meant to take pictures and forgot, except for a few on the way back that didn't turn out so well), but the effect is lovely.
Once we FINALLY got to the hotel room, we pretty much ordered in some Italian and passed the hell out, even though it was only 10:30-11. Woke up around nine, messed around on the internet some, showered and got dressed, and headed out to get some breakfast. We were going to go to this diner place called Jim's, but it was PACKED - so we walked across the plaza to Southside Austin Subs instead. DELICIOUS. I got a sub with grilled portabello mushrooms and had Matt staring at it in envy the whole time (even though it didn't have any meat on it - usually a prerequisite for him!). More ridiculously friendly people. Then we headed out to Buda to look at our new place, meet the new landlord, and put down a deposit. It's a cute little 2BR with its own backyard that's almost completely private, due to a ton of bamboo. And our new landlady, Barbara, is great.
So! After that, we drove around Buda getting a good look at our new place of residence, then headed back into the city. We parked by the Buffalo Exchange on Guadalupe and walked down…a LOT of blocks. At least 2-3 past the church of Scientology and then back. I went in to several stores but couldn't find anything that fit me and I liked! Lame. Although to be fair, I didn't dig around at BE very much, as it was a total cluster and not very well air conditioned. There was a Pura Vida dress I really liked at Pangaea Trading Co., but the last size left was a 12, which looked too big, and the sales associate was rude enough to another customer in front of us it made me not want to shop there. And now I can't find the dress online. Sigh.
Anyways, while we were walking on Guadalupe, I was stopped by a homeless man who told me that I looked like Mary Poppins (and that he loved my hair). I definitely took it as a compliment!
There was also some pretty killer street art and stencilling: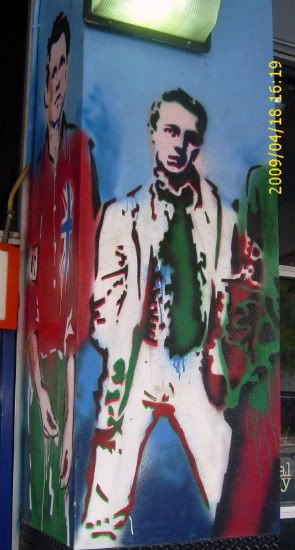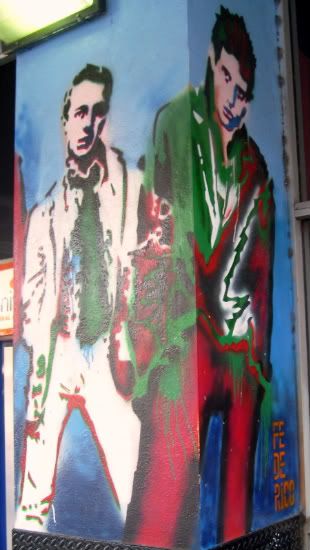 This was outside of a now-defunct music and bookstore (Intellectual Property, I want to say?), that had a ton of other artists painted/stencilled outside, including Johnny Cash. Even though it made me feel very touristy, I HAD to stop and take a picture! (For those not in the know - shame shame! - that's off of the cover of the first Clash LP.) Can you IMAGINE how long that stencil would take?! It gives me hand-cramps just thinking about it!
After we left Guadalupe, we got lost again and drove around looking for First. We eventually found it, and Flashback Vintage on it. They have a LOT of cute stuff in there! Unfortunately, not a whole lot that fit me (vintage dresses = TINY!) that I also had the spending money for. There was a cute vintage 40's dress that fit, although it needed taken in on the back pleats a little, but it would have been my whole spending budget for the trip (which wasn't a lot, $45), so I got this faux pearl necklace instead:

(yes, I did just model a necklace on our thermostat. It was the only thing available, ok?!)
The girl at Flashback Vintage was super sweet, adorable, and SO NICE. After that, we went to Congress and walked along it for a block or two to hit Lucy in Disguise - which was also packed. We didn't realize it until much later that night, but not only were there one or two music festivals going on this weekend, there was also the Lone Star hot rod show. Which explained a lot - Matt kept wondering aloud if there were always that many nice cars in Austin! Because of all that jazz, every place was SUPER crazyass busy. At this point (after 5-6 hours of alternately driving and walking around), I was exhausted, hungry, and my feet hurt, despite wearing the most comfortable shoes I owned, so we headed back to the hotel. I took off my shoes to realize that due to them being a tiny bit loose, I now had two shiny new blisters on my left foot. And a slight sunburn - ouch! We intended to go out for dinner but just ended up lazing around the hotel room the rest of the night.
The next morning we got up and around at a ridiculously early hour to me for a Sunday morning…8:30. ha. We headed down to the front desk to checkout and asked the woman there if she could recommend a close breakfast place, she recommended Jim's, so we thought we'd give it another shot. It was much less busy this time - we were seated, had eaten, and got our ticket all in 30-45 minutes. The food was awesome too! Better that IHOP fo'sho. After that, we got directions to I-35 and headed back out of town. I did get ONE good picture on the way back: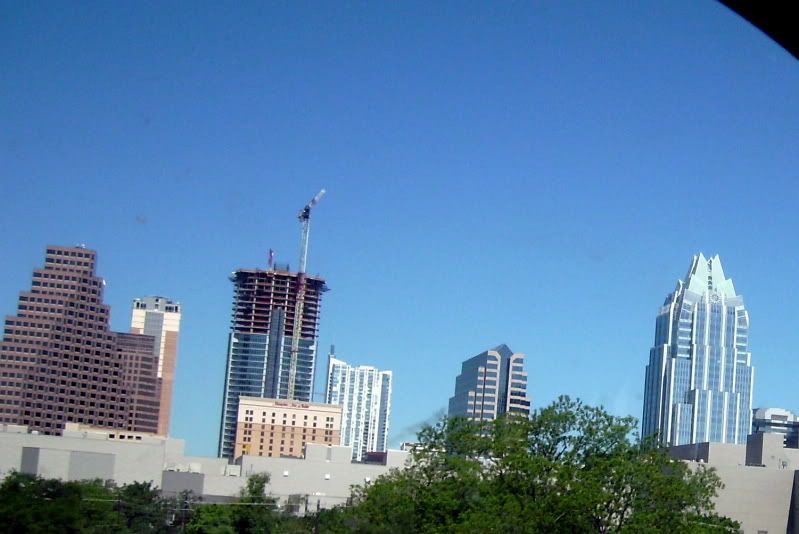 We made a lot better time on the way back - we got out of Austin around 10:30 and got home at 8:00 or so, and that was with us stopping 4-5 times for bathroom breaks and food (we only stopped TWICE on the way down!). Our kitties had obviously missed us, although Wesley seems to have turned into an even bigger spaz in our absence. And I came home to a big box from Amazon:
Yay! My Fluevog Molly shoes came in and they are super comfortable + fit great - I ordered a half size up to an 8, and they are a tiny bit loose on my right foot, but fit great on my left. The arch support and padding is FABULOUS.
I also came home to a package from Jupiter Moon 3, my corset that I ordered back in December. I was kind of disappointed that it took this long to make, as, since I've gone up a bra size in the four months between ordering it and receiving it…it fits great everywhere but is WAY too small in the bust area. Sigh. I'll probably just list it on the Corsetry community on LJ - more spending money for Chicago, right? The corset appears to be good quality though, all flat steel boning, and it certainly sucked in my waist…but there was no way I could have worn it in public!
I had been kind of disappointed that I had tried to hard to find something I wanted in Austin and came home relatively empty-handed. You know the feeling, when you hit several stores but just can't find anything worth your money. I was browsing Karmaloop to see if they had updated their sale section - lo and behold, they have, as well as having a warehouse sale, and a Kazbah (their premium store) sale! I got these two t-shirts, which I had already been eyeing:
Original price for the two of them? $69. I paid $20.70. SCORE. I'm also planning on hitting the thrift stores here (seeing actual vintage store prices sure made me appreciate our DAV!) and the fabric store later this week, as I have a few ideas for things to make.
Anyways! So that was my action-packed weekend (a nice change, believe you me). How was your's?!