When we were at Atomic City a few weeks ago, looking at the half off sale, I noticed a laptop bag hanging down from the ceiling. I've been in the market for a cute new one, and this one was adorable! Unfortunately, I wasn't for sure it would fit my laptop, and sale items were non-returnable, so I put it back. But, I did remember the brand name, and looked up Fluff when I got home.
Their stuff is ADORABLE. Not only do they make laptop bags, there's also luggage tags, makeup bags, cute coin purses, snap mirrors, passport covers, and small or large framed wallets.
CUTE OVERLOAD. I'll take one of everything! The prices aren't bad at all, especially for independent items that are this nice to look at.
The laptop bag I had spotted in the store was the Glamour Shoes Laptop Bag:
You can see its appeal to me, I assume. But now, looking around on the website, there's also the Glamour Girl Laptop Bag:
Which is just as cute and on sale to boot. Hmmm.
When I handled the bag in the store, it seemed like a quality product and well put together. I've been looking for cute laptop bags for ages and as it turns out, these will fit my laptop after all (wish I had known that at the time!). When I get around to purchasing it, I'll post a review and tell you all how it holds up!
Like I said, we went to the Botanical Gardens today. So I tried to pick something out that was semi-practical:
The practical comes in because I wore these boots instead of my heeled Bronx ones. It was still a little impractical because, you know, it was 95 degrees outside, but hey! Secondhand necklace, Fluevog engineer boots, ruffled Target skirt, and DIY'd tank. The tank has been shown before, but I've only worn it a time or two. I sat down to ponder why I never wear it, and decided that maybe it had too much going on around the necklace. Since I've been loving ruffly-shouldered stuff for fall, I decided to take everything off but the white ruffled ribbon and I think it'll be much more wearable this way. My eyes have been prone to being super-irritated lately, so I've been going very light on eye makeup. Just some mascara (the L'Oreal tubes kind is very good about not getting in my eyes) and that's it. It's a little annoying, though, especially since I just received some Stila SmudgePot from BeautyCrunch ($13 for three colors!) a week or two ago  and haven't got to use it yet.
The garden was gorgeous. I'm honestly in awe that they managed to get that many varieties of plants to not only grow, but stay green.
These koi were seriously two or three feet long. HUGE FISHIES.
I'm a total sucker for lotuses. Lotii?
We didn't see all of it because I'm a wuss and got tired of walking around when it was that hot out. Also, I forgot to eat much of anything beforehand. Silly! We just went around the Oriental Gardens and then went by the dinosaur section. There were butterflies everywhere, I was just waiting for one to land on my hair! We'll definitely come back on a slightly cooler day to explore the rest.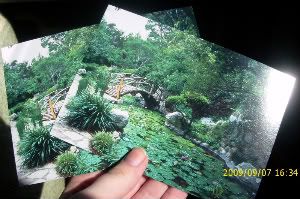 I snagged some postcards at the gift shop for the postcard swap Denise at Dream Sequins organized, and then we were off.
After that we hit a thrift store or two, didn't find much of anything except for lots of crowds. There was a cute pair of Giorgio Armani wedges for $15, but they were a size six. Sigh. Then I stopped in B&N to grab the Z!NK. I kept trying to find Bust and then realized that I already have the most recent issue. D'oh. Also, this Barnes and Noble, unlike the Books A Million in Joplin, was thoughtful enough to have a footstool so that us shorties can reach the top shelf. Awesome! (Yes. The little things excite me.)
We realized we were both craving pizza and decided to get some at Conan's. The guy at the counter was very funny, apparently while I was getting my drink he said something like "Yeah, the Dairy Queen next door? They have chili dogs. Leave it to Americans to turn meat into a condiment!".
Also, guess who won the Maghound giveaway at IFB?! Super psyched! It was a pretty good Labor Day all 'round, I'd say! How was your's?
PS - I joined Weardrobe in an attempt to motivate myself to do more daily outfit photos/posts. My goal is to do at least one a week, maybe two. They'll be posted on Saturdays and Tuesdays. Anyways, check out my profile here. They must have changed things around, because I joined it a while ago only to become so confused and annoyed with the set-up that I deleted my account roughly 24 hours later. But I'm finding it easy to navigate so far! If you're on there, let me know - I'd love to take a look
Over the past few weeks, Fluevog has been posting their new shoes for fall on the website, and they've outdone themselves yet again!
They debuted all kinds of gorgeous boots…the Fluevog Kona, above, is a deliciously wearable mid-calf boot, with saucy back laces and heel detailing. They also come in a gorgeous wine shade.
The Libby Smith boots have spat-style detailing with contrasing faux-buttons, and also come in all black with red buttons, and a very steampunk olive/gray version with blue buttons. Also new in the Bellevue family is the Mattie Silks boot, a knee high boot with buckle detailing.
And then there's the Silverlake. Oh my. I don't even need to explain this, do I? Let's all just drool at our screens in unison for a few minutes.
Right. Onward then.
The heels on these lovelies are a whopping (for me, anyways!) five and a half inches. However, there's a 1.5″ platform up front which should even things out a bit - I'd love to try these on, to see how they fit if nothing else.
The Sumatras not only have a dashing two-tone look, they make me think of a 50's glamour gal gone rogue. Very Bettie Page. I love the miniature laces, the pointed toe, the textured leather…insert dreamy sigh here.
Pearl Hart offers another great addition to the Bellevue family, with a twist on the classic mary jane shape. And it also comes in wine with black accents, or olive with gray accents.
And the newest addition to the Body Parts family, the Vibe. I think I would have to see these in person (in shoeson?) to reach a final verdict on them; I would either absolutely love them or absolutely not. I do have to agree with Jaka that a version with a black heel would be fab! The Body Parts pump has that color scheme available, so maybe there's hope?
I love so many of them, it's hard to pick which one or two pairs I might buy! Lots of olive and burgundy/wine, which are great autumn shades (although they don't fit into my wardrobe palette particuarly well).
What do you think of the new 'Vogs?
Right now, Heels.com is running a promotion for $20 off any order of $50 or more. I'm abstaining from shoes for a while* because, well, the rest of my wardrobe is getting mad at me for not paying attention to it, but I thought I'd pass the good news on to you and show you some of my favorites from the site:
Betseyville Olivet $94.99 $74.99 with code
I love these! They're sort of like the Fluevog Haights, but with more of a rocker-girl edge.
Dollhouse Rembrandt $76.99 $69.99 on sale $49.99 with code
Nothing like classic wingtip detailing with a pop of color.
Charles by Charles David Gazelle $154.99 $139.99 with code
And these…these are just awesome. Cage-esque without being over the top, and as always, I'm a sucker for metal detailing.
The code to use to get the $20 off is happy20 and it's valid until the twenty-third. Happy shopping!
*I'm keeping the definition of a while loose because I honestly don't know how long I can go without buying shoes. Probably like, a month. Maybe two. I'll let you know how long it lasts, ha!
I just discovered this lovely little Etsy shop, and I thought I'd pass the lovelies on to you!
It looks like there's a pretty nice variety of eras, from the 60's onwards, and the prices are great (most items are under $40, although there are some that are higher). There's an okay variety of sizes, although not great - out of 237 items, only 16 are larges, and I don't believe there's any XLs. Could definitely use some variety, although some of the items are things  like purses, etc. where size doesn't really matter.  Anyways, here's my favorites:
I think I would wear this with black and a darker pink, to offset the pale, delicate shade. And a pair of peep-toe heels.
This is too small for me, but I love the cut-out and the slightly puffed sleeves!
This is my absolute favorite from the shop and I think I will be getting it soon! I'm not 100% for sure how I'll make it not uber-gothy on me, but I'm thinking bright shoes and lots of funky accessories should do the trick.
What do you think of Beta Boutique? and what's your favorite Etsy vintage shop?
So, if I've learned anything, it's that every time I discover a new brand or find a shoe I like, I should immediately search for it on Amazon. Frequently the better price will be somewhere else, but just as frequently, Amazon has a rock-bottom price. Another tip: It's definitely worth watching the item for a few weeks to see how the price fluctuates; generally they get marked down for a week or two, go back up (but not to full price - just $10-30 higher than the original sale price) for a week, and then prices plummet. Something like that is what's apparently happened with the Fluevog shoes at Amazon…check these prices out! (disclaimer: affiliate links ahead!)
John Fluevog Parker $244.95 $36.74 in black
John Fluevog Erika $234.95 $107.01 (or $75.18 in Cappuchino/Ivory, or $112.29 in Cobalt/Cappuchino)
I hear spectator flats are supposed to be big for fall, now your chance to pick some up!
John Fluevog Helen $258.95 $38.84
John Fluevog Audrey $248.95 $79.66
And the pièce de résistance…
John Fluevog Body Part $358.95 $114.86
There are, of course, others as well; click this link for all of them. If I were you, I'd check out your favorite shoe brands too; I noticed some Irregular Choice shoes for super low prices too. AND, on several shoes, there's a promotion going where if the purchase is over $80, $20 is automatically taken off. Happy shopping!
Lately I've been craving a certain color; I'm not even sure if nude is the right descriptor - not too brown, not too pastel-pink, but a light dusty pink color. I don't think this would work in my wardrobe in large amounts, so I've been thinking of ways to work touches of it in here and there.
These shoes are just perfect! The slightly pointed toe…the color…and for those who have the super-light complexions, light colored heels like these elongate the legs!
I've been lusting after this tank for ages; in fact, I think that might be where the color obsession spawned from!
Nude nails not only look super classy (and I imagine it'd be less noticeable when they chipped!), but they elongate the finger too!
I couldn't find a picture of what I have in mind, but I think a bib or statement necklace with stones in that color would be a nice contrast against an all-black or monochromatic outfit without being garish.
And isn't this bag just the most gorgeous thing?!
Do you ever get "color cravings"? What do you do about it?
(a little photo from my new sewing room/work area…I set all of my shoes up on display!)
Everyone has favorites. It's only natural to like one thing the most out of a group! So here's where you ask yourself: what's my favorite part of getting dressed in the morning?
Seems like a silly question, I know. But it actually pays off to think about it. Do you like putting on your makeup the post? Or maybe picking out your shoes?
Whatever your favorite part is, whatever you love to do with a little bit of a flourish, let that become your focus. This doesn't mean neglecting all other aspects of your look! On the contrary, it can look a little odd when someone walks down the street who obviously put a lot of time and effort into their outfit, but their hair is a total mess. The point here is to recognize what you enjoy the most about your look, and then spend the most time, effort, and money on that.
Example: I, obviously, am a shoes person. Accessories come in a close second. To me, shoes and accessories make the outfit - you can spice up even the most boring outfit ever with the right pair of shoes and some funky jewelry. So I devote most of my wardrobe money (and more importantly, my time/energy spent shopping) into finding really good deals on shoes or accessories that I love. Clothing, on the other hand, I tend to be really cheap when it comes to, because I know I can usually make something similar if I really like it.
Possible focus areas include:
Hair: I was never much of a hair person; I tend to wear the same style almost every day aside from easy-to-put-in accessories. If you're a hair person you might be someone with long hair who enjoys styling it a different way every day (one reason I have short hair - FAR too lazy for that nonsense!), or someone who spends a while straightening it every morning. Places to invest are styling products, hair cut and color, hair accessories, etc.
(Photo is from Doe Deere Blogazine, photography by Grenouille)
Makeup: You might be a makeup person if you love to spend hours testing out new color combinations, finding the perfect one for your skintone and start planning a makeup scheme for every outfit you wear as soon as you put it on. Place to splurge: makeup and brushes/other utensils, obviously.
Accessories: If you love to own beautiful jewelry, build your outfit around certain accessories, or delight in finding just the right accents to make the rest of the outfit pop, then you're probably an accessories person. Things to focus on: a good mani/pedi, jewellery (which doesn't have to mean expensive jewelry, scouring thrift stores or vintage shops for one of a kind pieces is always fun), socks, belts, hats, etc.
Clothing: If none of the other options excite you terribly but you're constantly lusting after one clothing item or another, then you're probably a clothing maven! Obviously, feel free to spend the majority of your time and effort scouting out good clothing deals or splurgeworthy items.
Of course, there will be some overlap. Bargain shoppers (like me) will always be trying to find a good deal when it comes to anything, but if I find a shoe or brand I love, I'll scout all over (or, you know, just look on Amazon…) to find the best deal on it. And of course, there's a good chance that everyone reading this will love clothing to some degree - this IS a style blog, after all! The goal is to just find your one or two favorite areas. If you try to have impeccable hair AND makeup AND clothing AND shoes…it can get really tough and it's a lot easier to just say "fuck it" and stay in your PJs than make any effort at all! By all means, take care of yourself, but don't try to do it all perfectly all the time!
The best way to go about shopping, in my opinion, is to find the best deals on your favorite things (i.e. high quality items, on sale, or lightly used), and then fill in the gaps with DIY'd items, thrift store finds, new but deeply discounted items, etc. This gives you the focus you need, which will help you develop and maintain a unique personal style and take on things.
So - what's your focus and how do you express that in your style/outfits?
I am SO excited to announce that today is the grand re-opening of the shop! I have listed all sorts of yummy vintage dresses, all very reasonably priced (there isn't anything in the shop right now over $50 and I'm going to try and keep it that way!). I have more things on the way and will be updating on a very regular basis, so be sure to watch for future posts about it. BUT! The point of this post is something much more exciting than that!
In celebration of the store's re-opening, I'm doing a week-long sale! Twenty percent off everything in the store, until next Wednesday. So why don't you go take a look?
Be sure to keep checking back as well, since I'll be updating regularly!
I thought I would share the news, for those of you that aren't following Savvy Circle on Twitter and/or may have missed the announcement yesterday that the promo code SALE can be used until the end of this month on already on sale items at Shoes.Com for an additional 20% off! Pretty neat, no? Here's what caught my eye:
I LOVE these. I'm worried they might look a little cheap in person (faux-patent is always tricky) - but…free returns, right? Dr. Scholl's has some surprisingly cute stuff; I would have thought most of their designs would be ugly and clunky, for some reason. There are definitely some misses (the Dance looks like the unholy spawn of Crocs and 70's clogs, amirite?) but there are other cute shoes too; I really like the Diefy. Plus - you know it has to be comfy, look at the maker!
This one is for Elle and her recent "whedgle" obsession!
I keep hearing raves about how comfortable Naughty Monkey is, I've been dying to pick up a pair! Also on sale in black.
Great pop of color for summer, and I love the hardware accents!
One word: Fierce. And check out the savings - about $130 off!
Also, remember the $3 graphic tee sale Old Navy had several weeks ago? Apparently this weekend is a similar sale, only with $2 tank tops. I'll be searching out my local Old Navy! Who says updating your wardrobe for summer should be expensive, hmm?!
Update: I also just got an email from DSW with the code "SUMMERLUV" for $10 off a $49+ purchase; valid until the 22nd!