Posts Tagged 'things I love thursday'
My vintage bike is almost all fixed up and ready to go! There will be pictures!
Our cats are so funny. We didn't have blinds at the old house, and Wesley thinks it's easier to climb through them than go around:
Here! It is lovely here, I'm so glad we chose to move (although I will admit, sappily, that I miss my family and a few friends terribly). Everyone is RIDICULOUSLY friendly, our neighbors are awesome! And there are so many more opportunities for us here! I'm doing a sale this weekend (been very busy organizing everything for it!) and then I think I will soon be looking into venues to sell my vintage wares at at least once a month. Although I will say, I wish someone had warned us about the bugs. The bugs in Texas are terrifying. There are these beetles that, I shit you not, get up to almost 2 inches long - they look just like giant cockroaches and I screamed bloody murder the first time I saw one, thinking that's what it was. No, just a big scary water-beetle. And I also saw some sort of blue-black wasp-hornet thing that had to be three inches long. The mosquitoes here have been eating me alive too! Anyways, I digress…
My new sewing room! It's turning out so well, I'm so excited to show you guys!
On that note, framing torn out sheets from magazines gives me a very silly but very nice sense of accomplishment.
I think that's it for me this week! What is making YOUR week great?
This song by the Ting Tings. My mom left it on the laptop when I got it, and even though it's totally not something I'd normally listen to (what IS it?! electro-pop?) I cannot get enough of it!
Apricot, of Apricot Tea, started up a new website called Ask Apricot! And she is having a giveaway so be sure to check it out!
I'm not sure what it's been about this week, but I haven't had any writer's block at all! And keep coming up with new ideas. I've been writing them all down of course
Chocolate cake!
Discovering new shoe brands to check out and scouring for sales! (although my wallet does not like this so much)
Both of the cats are getting fixed next week! Sweet!
That's all I can think of right now - how is YOUR week going?
-this post at Already Pretty!
-Chocolate concretes (I think this is a midwest-centric term. it's frozen custard stuck into a blender with other things, basically) with brownies + hot fudge + whipped cream and cherries on top!
-travelling! Excited for travelling!
-getting married tomorrow!!!
-the Moulin Rouge soundtrack. has that been on TILT before? oh well.
-setting a Picasa-made collage of my inspiration folder as my desktop background. lovely!
-making a mix cd for my sister. I will expose her to the weirdest and most vulgar music in my library. muahahaha.
That is all for now. Back to packing/last minute sewing!!
Yup, another TILT full of links. Although I will say I loveloveloveee my Inge boots. The Mollys, I'm afraid I'm going to have to eBay - either my heel is too narrow or I need to go down a half-size (although, it feels like if I did that the toe box would be too narrow anyways), but I can't wear them as is (and yes, I tried everything I could think of - ball of foot inserts, heel grips, yadayada) because it's like wearing a pair of freaking flip flops. Urgh. Anyways, on to the linky goodness!!
-My Letter to the Retail Industry at the Curvy Fashionista. LOVE IT.
-Fashion and Patronizing, Colonial Rhetoric, Take #758080 at Racialicious.
-How to make a Butterfly Tiara at Pony and Pink
-two great posts from Outi at Outsapop Trashion: photos of the Victim Fashion Street Collection (I think I might make a skirt inspired by these) and a post full of photos from her inspiration archives. Yum.
-Some thoughts on the new Grey Gardens series at Lucite Box
-This chick has some pretty awesome shoes. No lie.
Ok. So maybe that was kind of a sad go but it's all I've got at the moment. Enjoy!!
-Eccentric Glamour! I'm rereading this and will have a full review posted in a few days, but man, I love this book.
-Bargain shopping! Here's some of my favorite things I've picked up in the last few days: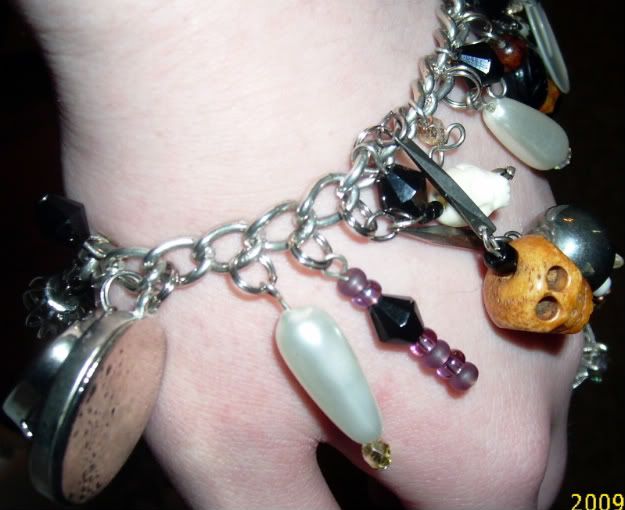 An incredibly noisy bracelet filled with random charms (including a ghost, a bat, and a few skulls) and beads, for $7ish from work.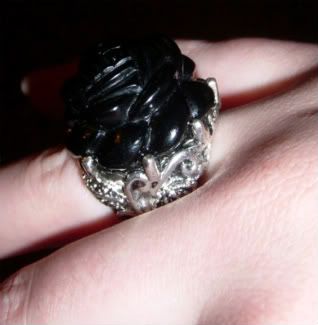 Ridiculously big rose ring, found in the costume jewelry section at work, also around $7! Love this to death, even though it feels like it weighs my hand down, haha.

And the best of them all - vintage, calf-length, gray leather jacket with black accents…for SIX DOLLARS AT THE DAV. I originally thought it was tight, but I think the leather is just a little stiff from years of non-use. It needs cleaned, probably, but holy cow I love this jacket a lot.
-My "new" (read: inherited from sister in exchange for a few things) iPod touch. It is awesome. I'm already trying to find as many fashion and blogging related apps as possible.
-My Fluevog boots are on their way and I apparently got the LAST pair of the teal 7.5s in the company!
-Because of the new iPod and an FM tuner, I can now listen to my music in my car. For the first time in like, a year.
-Going to Austin this weekend! eee!
What's making YOUR week great?
-Travelling! Oh, I'm so excited, we have some serious travelling coming up. Next weekend we're going to go down to Austin to put down the deposit on our new place, and hopefully do some shopping (Matt doesn't know about that part yet. shh.) We're getting MARRIED (excited!!) on May 1st and then going to Chicago for a week - and then we're planning on being moved in to Austin (again with the excitement!) by the end of May. Thinking of it all makes me want to do cartwheels! (except that I'm very bad at them and would probably break something in the process).
-The Sookie Stackhouse mysteries. I want to start renting True Blood now. Also, I'm pretty sure the author is a Buffy van, as I've caught a few references. They're surprisingly un-formulaic for a mystery series (though I've been able to figure out the culprit ahead of time in the last two books), and the characters are definitely the best thing about the stories.
-Fluevogs! For some reason, I was never a big fan before. I think all I had seen were the shoes with the hourglass shaped heels and for some reason, I just don't like those very much. But then after hearing Ashe Mischief talk about them I went and looked at the site…and holy cow. There are some gorrrrgeous heels.
-My new H&M skirt, which sits a bit low for my taste but is nice and floaty and pretty. I think I'll try dying it purple.
What's making your week grand?
Obviously, I would normally be doing several smaller posts with links interspersed but since I've been non-posting obviously that's not an option! I have, however, been keeping track of things I did want to post about, so here's a veritable smorgasboard of link deliciousness!
Ashe Mischief posted the first in a series called Curious About Corsets and I'm looking forward to reading the rest - there's a lot of myths about corsets and informed consumers are always a good thing!
Guest post by Fay Grimm at Yes And Yes titled 5 Ways to Show Your Sewing Machine That You Love It - adorable! And yes, my sewing machines have names. Although I'm still working on naming the Rocketeer.
New blog to watch: The Demioselles. Definitely looking forward to reading what these ladies have to say, since standard sizing is a pretty sticky subject.
I don't think I've posted about Clockwork Couture here before, but it is a fabulous new(ish) steampunk-themed clothing store. The woman who runs it, Donna Ricci, regularly posts on the steamfashion community and seems to be a super-sweet person, not to mention her dedication to getting cruelty-free products is admirable. They recently updated the store with several new items, many of which are ADORABLE.
It is a LOT harder than you'd think to find a cute pair of vertically striped thigh highs! I've seen a few that were lacey in between the stripes, which is a good look but I'm so picky - these are a dead ringer for what I've been looking for.
Great layering piece, and I love the use of ruffles to add some feminity to something traditionally viewed as more menswear.
I used to have a pair of plaid bondage pants - these capris remind me of them, except for a lot more, ya know, feminine. I love the dusty pink color with all of the buckles and etc…I really want a pair.
The jewelry section is definitely worth looking through too - there's gems like the Absinthe Necklace, Compass & Keys Charm Necklace, and the Laboratory Chaterlaine. Want? Yes, please.
There was a fantastic post on Craftster, showing off clothes that a Swedish design student (see her website here) made in her fashion curriculum. Definitely worth checking out - great eye candy!
Also, a random site from an ad I found in BUST - B & Lu. VERY cute fashion, starting at a size 14. In fact, I kind of want half the things from the website. The testimonials are absolutely glowing as well, and it looks like they have good cause to me - affordable, cute fashion for bigger gals, I'm just wondering why I haven't heard of them before!
That's about it for now, although there is of course, more to come. In my laptop-lacking boredom, I took on an old-school papercraft project (which will be posted as soon as I get it all finished), which meant going through my huge stack of old magazines. I found a lot of stuff I'd found before and forgotten about, and just a lot of neat stuff, so I'll be posting all of that too.
-Someone tried to steal our laundry at the laundromat. Yeah. WHO DOES THAT. Buttt I got there before they succeeded and got our clothes back, most of them anyways…I think I somehow missed my new tanktop I just got last week
-I got one of the pairs of shoes I won on eBay yesterday. And they. are. awesome.

-Pretty much everything in this shop. Um, want.
Oh yeah, and my new haircut. Which you can see in that photo. I've improved on the color some as well.
-…is anyone surprised that…Coraline! is on this list. Possibly the second week in a row but I honestly can't remember and I'm way too lazy to check.
-I got a job! Working for the MDA, which at least will give me warm fuzzies while dealing with people over the phone.
-The bread from the bakery in grocery stores is SO. GOOD. Ridiculously so. MMMM.
-This dress! C'mon, it has carousel animals on it.
-This video! I want to participate in a big street dance whilst wearing a blue corset, please?
That is kind of a pitiful list but it's all I'm coming up with at the moment. Oh well!
-I have an interview for a manager position at a shoe store next week! SWEET.
-this skirt (warning: pastied boobs). I'm totally going to attempt making my own version.
-I get paid tomorrow which means…corset supplies! Which means I'll be able to finally make my corsets.
-Firefly. Rewatching it and ohhh soo good.
-horoscope themed shoot in Russian Vogue. Eyecandy!
Yeah, unfortunately that's about all I can come up with now. But it's something!